RV Rental Houston: Discovering the Best of Space City on Wheels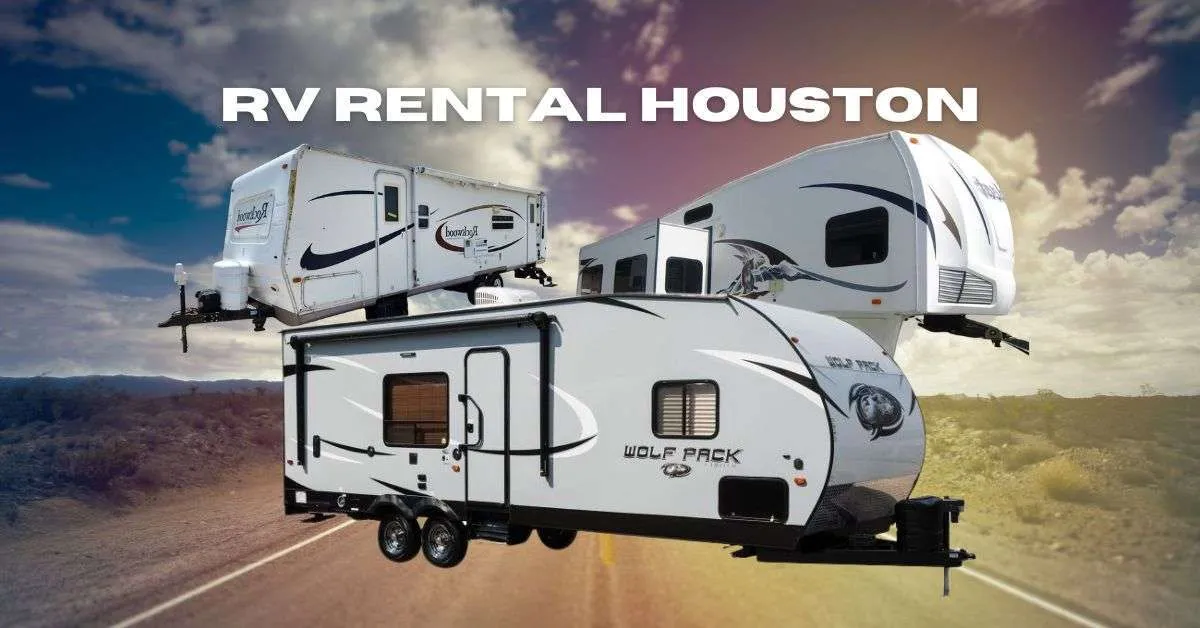 Last updated on November 16th, 2023 at 09:20 am
This is all about RV Rental Houston, Texas, renowned as the Space City, which is a thriving and culturally diverse metropolis with a plethora of captivating attractions. What could be a more captivating way to experience this dynamic city and its surrounding areas than by embarking on an adventure in an RV?
RV rental in Houston allows you to embark on a memorable road trip adventure, allowing you to discover the city's highlights and natural wonders at your own pace.

Advantages of Renting an RV in Houston
I love opting for an RV rental in Houston because it offers several advantages that enhance my travel experience. Firstly, it provides comfortable and convenient accommodation on wheels, eliminating the need for constant hotel bookings and allowing me to fully immerse myself in the journey.
Additionally, an RV presents an opportunity to immerse yourself in nature, as you weave through picturesque routes, traverse national parks, and revel in nearby campgrounds around Houston. Moreover, renting an RV empowers you with the flexibility to tailor your itinerary, effortlessly unearthing hidden gems and embarking on journeys less trodden.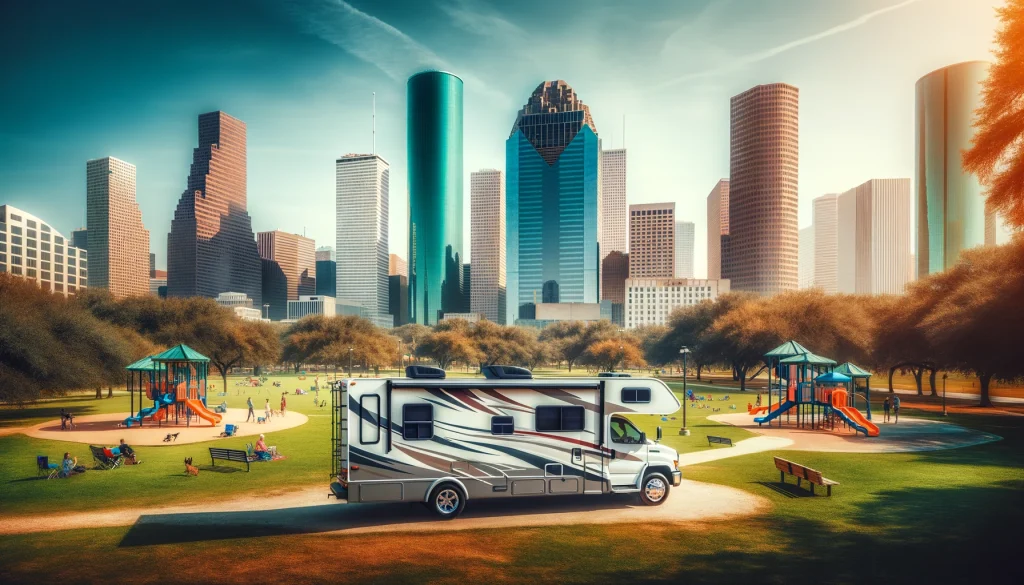 Popular RV Rental Options in Houston
When it comes to RV rentals, Houston offers a diverse selection of options to suit different preferences and group sizes. Here are some popular choices:
Class A Motorhomes
Class A motorhomes are spacious and luxurious, resembling a small apartment on wheels. They come equipped with all the amenities and comforts of home, including fully equipped kitchens, bathrooms, and sleeping quarters. Class A motorhomes are ideal for families or groups looking for high comfort and convenience during their RV adventure.
Class C Motorhomes
Class C motorhomes are smaller and more maneuverable compared to Class A motorhomes. They often feature a sleeping area above the driver's cabin, maximizing the available space inside. Class C motorhomes offer a good balance between comfort and size, making them suitable for small families or couples.
Travel Trailers
Travel trailers are towable RVs that can be easily hooked up to a compatible vehicle. They come in various sizes and layouts, offering a range of amenities, including sleeping areas, kitchens, and bathrooms. Travel trailers are a popular choice for those who prefer the flexibility of using their own vehicle for exploration while still enjoying the comforts of an RV.
Fifth Wheels
Fifth wheels are RVs that attach to the bed of a pickup truck using a specialized hitch. They offer spacious living areas with multiple levels and often include luxurious features such as slide-outs, full-size kitchens, and separate bedrooms. Fifth wheels are an excellent choice for those seeking a spacious and comfortable RV experience.
Finding the Perfect RV Rental in Houston
When it comes to finding the perfect RV rental in Houston, you have several options to choose from. Consider the following:
Rental Companies
There are reputable RV rental companies in Houston that offer a variety of RV options to suit different needs. Research and compare rental rates, policies, and customer reviews to find a reliable company that provides well-maintained vehicles and excellent customer service.
Online Rental Platforms
Online rental platforms, such as RVshare and Outdoorsy, connect RV owners with travelers looking to rent an RV. These platforms offer a wide selection of RVs in Houston, allowing you to choose based on your preferences and budget. Read the reviews and communicate with the RV owners to ensure a smooth rental experience.
Considerations for Choosing the Right RV
When selecting an RV for your Houston adventure, consider factors such as the number of travelers, desired amenities, budget, and driving comfort. Ensure that the RV is spacious enough to accommodate everyone comfortably and has the necessary features to make your trip enjoyable.
Planning Your RV Trip in Houston
Before embarking on your RV journey in Houston, it's essential to plan your itinerary and make the necessary preparations. Consider the following aspects:
Top Destinations
Houston presents a multitude of captivating attractions and destinations just waiting to be discovered. Embark on a captivating journey to iconic sites like Space Center Houston, where you'll delve into the rich history of NASA's awe-inspiring space exploration.
Be enthralled by the Houston Museum of Natural Science, boasting captivating exhibits showcasing a myriad of intriguing scientific disciplines. And don't forget to spend a leisurely afternoon amidst the picturesque serenity of Buffalo Bayou Park, with its enchanting walking trails and breathtaking vistas of the city skyline.
RV Parks and Campgrounds
Research and reserve spots at RV parks and campgrounds in and around Houston. Popular options include Lakeview RV Resort, Rayford Crossing RV Resort, and Brazos Bend State Park. Check amenities, availability, and proximity to the attractions you plan to visit.
Weather and Seasonal Considerations
Unfortunately, I got stuck in some bad weather with the ever-changing conditions and occasional rain showers in Houston. The city's hot and humid summers and mild winters should also be considered when planning your trip. Make sure to pack accordingly and be prepared for unpredictable weather!
Tips for a Memorable RV Adventure in Houston
To make the most of your RV adventure in Houston, consider the following tips:
Essential Packing List
Pack essentials such as bedding, toiletries, kitchen supplies, and outdoor gear. Don't forget to bring suitable clothing for different weather conditions, including comfortable walking shoes and sun protection.
Safety Guidelines
Familiarize yourself with RV safety procedures, including how to properly secure items inside the vehicle, operate gas and electrical systems, and handle emergencies. Adhere to speed limits, use seat belts, and follow all traffic regulations while driving.
Budgeting and Expenses
When planning your RV trip, it's important to create a comprehensive budget that takes into account various costs. These may include RV rental fees, campground fees, fuel expenses, meals, and attractions. Take some time to research affordable dining options and consider planning a few meals in the RV to help save on expenses while still enjoying your adventure.
Driving and Navigation Tips
Learn about the height and width restrictions of your RV to avoid any obstacles during your journey. Practice driving and maneuvering the RV in open areas before tackling busy streets. Utilize navigation tools like GPS or mobile apps specifically designed for RV travel to find the best routes and locate RV-friendly gas stations and rest areas.
Exploring Houston's Attractions with an RV
Houston boasts a wide range of attractions that are easily accessible with an RV. Here are some highlights to include in your itinerary:
Space Center Houston
Experience awe-inspiring wonders of space exploration at Space Center Houston. Unearth captivating interactive exhibits, step foot in the Astronaut Training Facility, and have the remarkable opportunity to meet accomplished astronauts. Delve into the rich tapestry of NASA's history and be enthralled by an array of captivating space artifacts.
Houston Museum of Natural Science
I absolutely loved immersing myself in the world of science and natural history at the Houston Museum of Natural Science! From encountering dinosaur fossils to exploring the vast universe in the planetarium and diving into captivating exhibits showcasing various scientific disciplines, it was an incredible experience that left me in awe.
Buffalo Bayou Park
Indulge in the serenity of Buffalo Bayou Park, away from the hustle and bustle of the city. Immerse yourself in the picturesque surroundings as you leisurely walk or cycle along the scenic trails. Rent a kayak or paddleboard and embrace the tranquility of the waterways. Find solace in the stunning gardens, unwinding amidst their beauty and charm.
The Museum of Fine Arts, Houston
I invite you to indulge in the world of art at the Museum of Fine Arts, Houston. You will be able to marvel at a vast collection of artworks from different periods and cultures, including masterpieces by renowned artists. Make sure not to miss the stunning sculpture garden.
Houston Zoo
Visit the Houston Zoo for an unforgettable wildlife experience. You'll encounter a diverse range of animals from around the world, participate in interactive exhibits, and enjoy educational presentations and events.
The Menil Collection
Experience the awe-inspiring art collection at The Menil Collection. This renowned museum showcases a diverse range of captivating artworks across different genres and eras. Take a leisurely walk through the serene campus as you immerse yourself in the captivating exhibits that spark contemplation.
Final Thoughts
Embarking on an unforgettable journey through Space City and its surrounding attractions is made perfect by renting an RV in Houston. Experience the freedom and flexibility of travel on wheels, immersing yourself in vibrant culture and exploring a diverse range of attractions. With meticulous planning and preparation, rest assured that your RV adventure in Houston will be a truly remarkable and cherished experience.
---
FAQs
How much does it cost to rent an RV in Houston? RV rental prices in Houston vary depending on factors such as the RV type, rental duration, and season. On average, you can expect to pay between $100 and $300 per night for a rental.
Do I need a special license to drive an RV? In most cases, a standard driver's license is sufficient to drive an RV in Houston. However, it's important to check the specific requirements and restrictions based on the RV's size and weight.
Can I bring pets in a rental RV? Pet policies vary among RV rental companies. Some allow pets with additional fees, while others have restrictions or specific pet-friendly RVs available. Check with the rental company beforehand.
Can I rent an RV for a one-way trip? Yes, many RV rental companies offer one-way rentals, allowing you to pick up the RV in Houston and drop it off at a different location. Additional fees may apply.
Are there overnight parking options for RVs in Houston? Yes, Houston offers various RV parks and campgrounds where you can safely park your RV overnight. It's advisable to choose established and secure locations for peace of mind.