Best Grill For RV Camping: Camp, Tailgate and Eat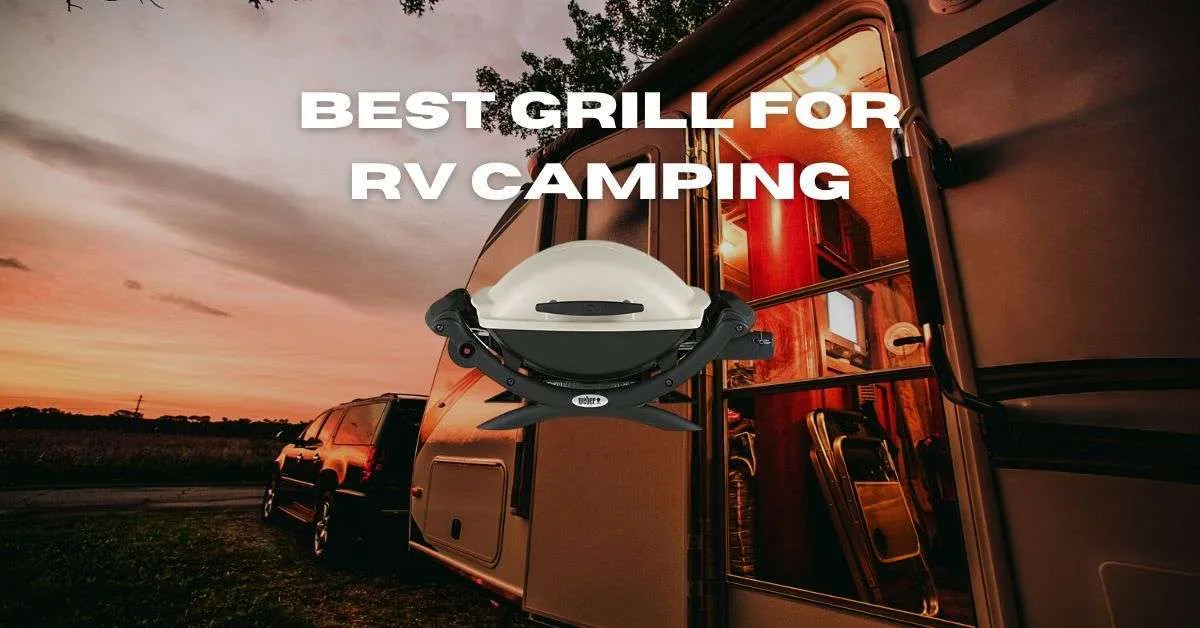 Last updated on July 28th, 2023 at 05:37 am
We recently stumbled across one of the absolute Best Grill For RV Camping ever! And let me tell you, these grills are game-changers for our outdoor getaway experiences! Not only will you be able to cook up a storm of mouth-watering meals, but these grills also boast some seriously impressive features you'll be thrilled to learn about!
We all know that taste and ease of use are essential when it comes to grilling while enjoying the great outdoors. Trust me, my friends, these grills are top-notch in delivering delectable food and providing unbeatable ease of use. Whether you're a novice or a seasoned grill master, I assure you, these beasts are ready to elevate your RV camping experience!
Our Quick Picks
There are various camping grills on the market, each with distinct features and merits. Here are some of the most commonly found ones:
6 Camping Grills to Choose From
Charcoal grills are a go-to for outdoor enthusiasts because of their portability and unique smoky taste. These grills operate on charcoal briquettes and feature a simplistic grate design above a charcoal bed. While heating up may take some time, the reward of its delicious, distinct taste is worth it. For more extended cooking sessions, an additional charcoal supply may be necessary.
Gas Grill: Gas grills are known for their convenience and quick heating. They use propane or butane gas as fuel and feature burners that generate heat. Gas grills often have multiple burners, allowing for different heat zones and cooking flexibility. They are easy to use, require minimal setup, and are suitable for both grilling and cooking with pots and pans.
Portable Grill: Portable grills are specifically designed for easy transportation and compact storage. They come in various fuel options, such as charcoal, gas, or electric, and offer a smaller cooking surface. Portable grills are lightweight and often foldable, making them ideal for backpacking, picnics, or car camping.
Electric Grill: Electric grills are powered by electricity and are popular for their simplicity and ease of use. They heat up quickly, require no open flames or fuel, and can be used in areas where open fires are not permitted. Electric grills are generally lightweight and easy to clean, making them a convenient choice for camping.
Wood Pellet Grill: Wood pellet grills combine the flavor of charcoal grills with the convenience of gas grills. They use wood pellets as fuel, automatically fed into a firebox by an electric drill. These grills provide a smoky flavor to the food and offer precise temperature control. Portable wood pellet grills are versatile and can be used for grilling, smoking, baking, and roasting.
Dutch Oven: While not technically a grill, a Dutch oven is a versatile camping cooking vessel that can be used for grilling, roasting, baking, and more. It is a heavy cast iron pot with a lid and can be placed directly on hot coals or suspended over a fire using a tripod. Dutch ovens are excellent for slow cooking and can create delicious, flavorful meals in the great outdoors.
Each type of camping grill has its own benefits, so consider your preferences, cooking style, and the type of camping you'll be doing to choose the grill that best suits your needs
Best Overall – Weber Q1000 Liquid Propane Grill
Make time for a fun day on the open water with your Q 1000 portable gas grill for RV Camping! This compact grilling solution is perfect for hitting up that secluded beach spot and whipping up great eats – so gather your crew, launch offshore, and enjoy deliciousness in no time.
Key Features
Porcelain-enameled, cast-iron cooking grates
Glass-reinforced nylon frame
Cast aluminum lid and body
Removable catch pan
Infinite control burner valve
Push button ignition
Reviews
Grilling season is here and I'm so excited to fire up my trusty grill again! With its easy-to-use design, it heats quickly. To keep my beloved grille in shape between seasons, I give her a good cleaning at the car wash with high pressure – just make sure you remove the heating element and regulator before doing this part or your barbecuing can get pretty frustrating. A universal brass replacement worked like a charm for me when my factory regulator kept clogging; now all i need to do if something goes wrong is buy another one for 15 bucks instead of spending 80 on an expensive mfg option!

Kevin
Best On Legs – Cuisinart CGG-180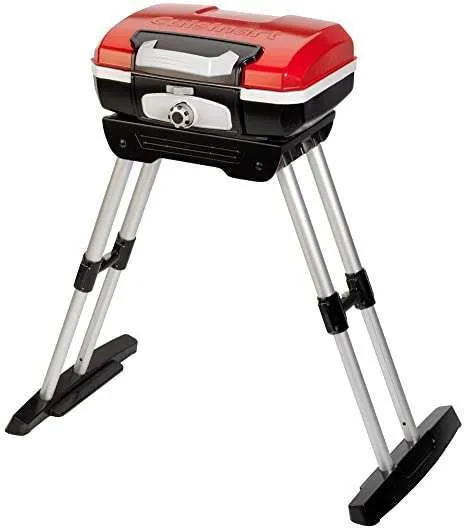 The Cuisinart Stainless Steel Petite Tabletop Grill is a modern backyard grilling wonder! This mighty mini packs all the punch of a full-size grill but fits in even the smallest patios. With strong steel construction and an easy twist start ignition, this trusty tabletop will keep your cookouts delicious for years to come.
Reviews
Looking for something small and easy to assemble? This BBQ was the perfect fit! After putting it together, I bought an adapter that allowed me to use a larger propane tank. The first item was burgers which cooked perfectly – as you can see in my photo – but when cooking chicken wings and drumettes on this little grill, they didn't quite turn out how I'd imagined; the center got very hot while around it everything remained raw due mostly to limited space. Despite this setback, having such a compact design is great for taking with us wherever we go: camping trips, park visits or catching ball games!

Todd
Best Budget – Coleman RoadTrip LXX Portable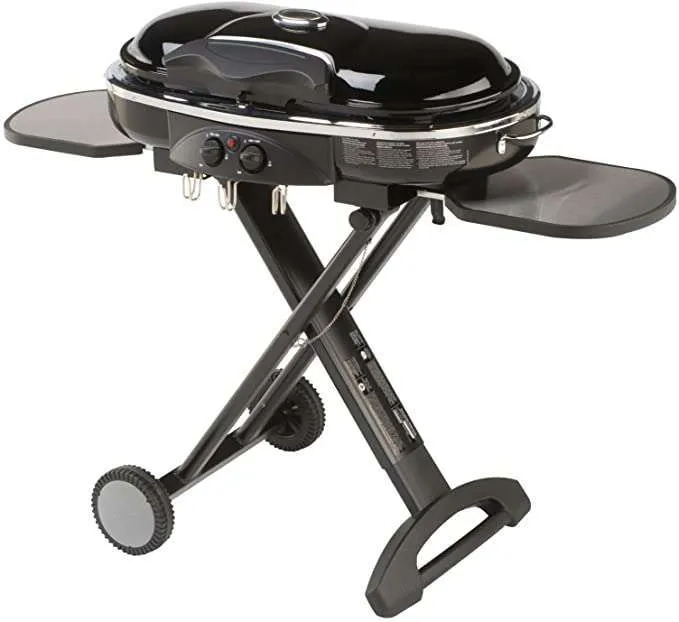 Take your grilling skills to the next level wherever you go! With Coleman's RoadTrip LXE Portable Propane Grill, a powerful combination of portability and performance is accessible. Dual 10,000 BTU burners offer precise heat control. At the same time, its collapsible design makes it easy to take on camping trips or tailgate parties alike letting you grill up everything from juicy veggies to succulent steak no matter where life takes you.
Bring your summer cookouts to the next level with Swaptop's interchangeable design and Instastart ignition. PerfectFlow technology keeps you grilling in even cold conditions while sliding tables on both sides of this high-performance gas grill offer easy access to accessories perfect for a hassle-free outdoor cooking experience!
Final Thoughts
So there you have it! Get excited about the possibilities that await you and your taste buds as you venture forth into the great outdoors! Hands down, for us, the Best Grill For RV Camping goes to the Webber Q1000, but remember, nothing brings people together quite like the mouth-watering scent of a fantastic meal cooking on the Best Grill For RV Camping. Happy grilling, my friends!