RV Rental Abilene, TX: Discovering the Heart of West Texas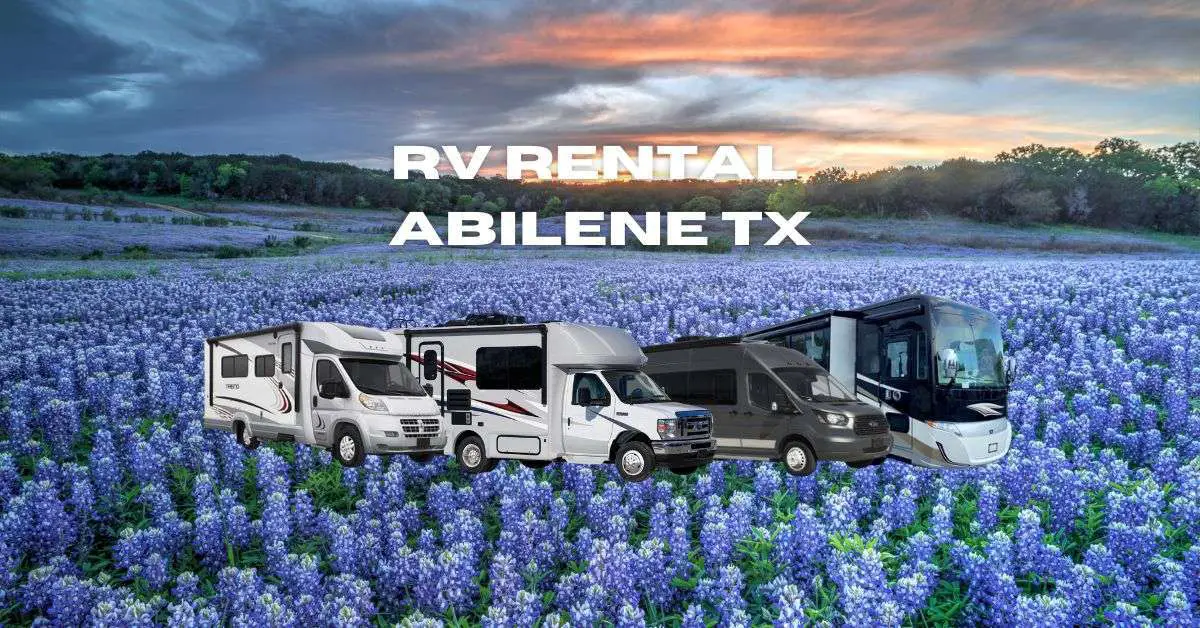 Last updated on August 17th, 2023 at 04:47 am
Are you looking to explore Abilene in class? Look no further than our RV Rental Abilene suggestions!
Abilene, situated in the heart of West Texas, is a lively city renowned for its fascinating history, cultural attractions, and outdoor escapades.
Renting a motorhome in Abilene offers a splendid opportunity to discover this delightful destination and its stunning surroundings.
Whether it's exploring acclaimed museums and art galleries, trekking picturesque trails, or indulging in local cuisine, an RV expedition in Abilene ensures an unforgettable voyage through the heart of Texas.
Benefits of Renting an RV in Abilene
Renting an RV in Abilene offers several benefits that enhance your travel experience. Here are a few advantages to consider:
Flexibility and Freedom: Renting an RV gives you the freedom to travel at your own pace and explore the area on your own terms. You can customize your itinerary, visit multiple destinations, and have the flexibility to adapt your plans as you go.
Comfortable Accommodation: An RV provides a comfortable and convenient home on wheels. With amenities such as sleeping quarters, kitchen facilities, and bathrooms, you can enjoy the comforts of home while on the road, making your journey more enjoyable.
Access to Local Attractions: Abilene offers a variety of attractions, including the Grace Museum, the National Center for Children's Illustrated Literature, and the Abilene Zoo. With an RV, you can conveniently visit these sites and immerse yourself in the local culture and history.
Outdoor Adventures: Abilene is surrounded by natural beauty, with opportunities for hiking, fishing, and wildlife viewing in nearby parks and lakes. Renting an RV allows you to easily access these outdoor spaces and enjoy the scenic landscapes of West Texas.
Popular RV Rental Options in Abilene
Abilene offers various RV rental options to suit different preferences and group sizes. Here are some popular choices:
Class A Motorhomes
Class A motorhomes exude spaciousness and luxury, providing an exceptional RV experience that is both comfortable and upscale. Boasting full kitchens, bathrooms, separate sleeping areas, and generous living space, these motorhomes are tailor-made for families or groups seeking maximum comfort and convenience during their Abilene getaway.
Class C Motorhomes
Class C motorhomes are more compact than Class A motorhomes but still offer ample living space and amenities. They often feature a sleeping area above the driver's cabin and a fully equipped kitchen, bathroom, and comfortable seating area. Class C motorhomes are a popular choice for families or smaller groups looking for a balance between size and maneuverability.
Travel Trailers
Travel trailers are towable RVs that can be hitched to a compatible vehicle. They come in various sizes and configurations, offering sleeping areas, kitchenettes, and bathrooms. Travel trailers provide the flexibility of using your own vehicle for exploration while still enjoying the comforts of an RV.
Camper Vans
Camper vans are compact RVs that offer a cozy and efficient way to explore Abilene. They often include a small kitchenette, sleeping area, and basic amenities. Camper vans are suitable for individuals or couples seeking a compact and budget-friendly RV option.
Finding the Ideal RV Rental in Abilene
To find the ideal RV rental in Abilene, consider the following options:
Rental Companies
Research reputable RV rental companies in Abilene that offer a variety of RV options. Compare rental rates, read customer reviews, and ensure that they provide well-maintained vehicles and excellent customer service.
Online Rental Platforms
Utilize online rental platforms such as RVshare and Outdoorsy, which connect RV owners with travelers looking to rent. These platforms offer a wide selection of RVs in Abilene, allowing you to choose based on your preferences and budget. Read reviews and communicate with the RV owners to ensure a smooth rental experience.
Consider Your Needs and Budget
When selecting an RV for your Abilene adventure, consider factors such as the number of travelers, desired amenities, budget, and driving comfort. Choose an RV that accommodates everyone comfortably and has the necessary features to make your trip enjoyable.
Planning Your RV Adventure in Abilene
Before embarking on your RV journey in Abilene, it's important to plan your itinerary and make necessary preparations. Consider the following aspects:
Explore the Cultural Scene
Visit the Grace Museum, which showcases contemporary and historical art, or the National Center for Children's Illustrated Literature, featuring exhibits of children's book illustrations. Immerse yourself in the vibrant arts and culture of Abilene.
Discover Historic Downtown Abilene
Take a stroll through historic downtown Abilene, where you'll find charming shops, restaurants, and beautifully preserved architecture. Explore local boutiques, indulge in delicious cuisine, and soak in the small-town atmosphere.
Enjoy Outdoor Activities
Abilene is surrounded by parks and outdoor recreational areas, offering hiking, fishing, and picnicking opportunities. Visit Abilene State Park or Lake Fort Phantom Hill for a dose of nature and outdoor adventure.
Experience Local Cuisine
Don't miss the chance to savor the flavors of West Texas. Abilene boasts a diverse culinary scene, ranging from traditional Texas barbecue to Tex-Mex specialties. Explore local restaurants and indulge in delicious dishes that showcase the region's unique flavors.
RV Parks and Campgrounds in Abilene
Abilene offers several RV parks and campgrounds that provide convenient facilities and access to local attractions. Consider the following options for your stay:
Abilene KOA Journey: This campground offers full hookup RV sites, amenities such as a swimming pool and a dog park, and easy access to downtown Abilene.
Red Eagle RV Park: Located near Lake Fort Phantom Hill, this park provides spacious RV sites, a fishing pond, and a peaceful setting surrounded by nature.
SeaBee Park: Situated on the shores of Lake Fort Phantom Hill, this park offers RV sites, boat ramps, and opportunities for fishing and water sports.
Final Thoughts
Renting an RV in Abilene allows me to immerse myself in the rich history, vibrant culture, and natural beauty of this charming West Texas city.
From exploring museums and historic downtown streets to enjoying outdoor adventures and indulging in local cuisine, Abilene offers a diverse range of experiences for RV travelers like me. I embrace the freedom of the open road, the comforts of my RV, and the warm hospitality of West Texas as I embark on a memorable journey through this captivating destination.
FAQs
When is the best time to visit Abilene, TX? Abilene can be visited year-round, but the spring and fall seasons offer pleasant weather with mild temperatures. Summers can be hot so you can crack open a cold one from the cooler box, while winters are generally mild with occasional cooler temperatures. Consider your preferred activities and weather preferences when planning your visit.