7 Crossroads Zinger Problems: Common Issues and Solutions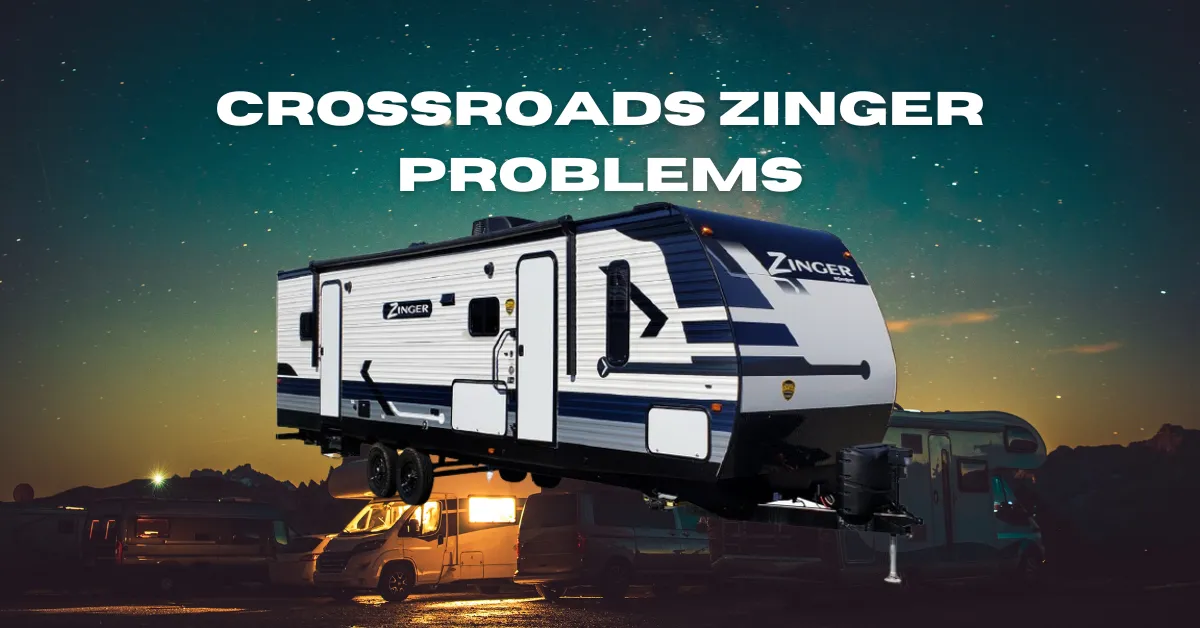 Last updated on August 15th, 2023 at 04:04 am

If youre like a few of my friends with Crossroads Zinger Problems, you are not alone. The Zinger is a well-renowned travel trailer brand, offering an affordable price, an array of floor plans, and family-friendly features.
Crossroads ensures that their RVs are designed and manufactured with reliability and high-quality in mind. However, being aware of potential issues is always advisable.
Our blog post delves into common problems experienced by Crossroads Zinger owners, and provides practical solutions and fixes to help you get the most out of your RVing experience. Read on to enhance your knowledge, avoid pitfalls, and savor the joys of cross-country travel.
Crossroads Zinger Problems
Water Leaks and Plumbing Issues: Problem: Water leaks and plumbing problems can occur in Crossroads Zinger RVs, leading to potential water damage, mold growth, and inconvenience.
Solution:
Regularly inspect the RV's plumbing system, including pipes, fittings, and connections, for any signs of leaks or damage.
Ensure all valves and faucets are tightly closed when not in use.
Use RV-specific sealants or thread tape to ensure watertight connections.
If leaks persist, consult with an authorized Crossroads service center or a qualified RV technician for professional assistance.
Electrical System Malfunctions: Problem: Some Crossroads Zinger owners have experienced electrical system malfunctions, such as issues with lighting, appliances, or power outlets.
Solution:
Regularly check the RV's electrical connections, including battery terminals, fuse panels, and circuit breakers, for tightness and corrosion.
Inspect the fuse panels for any blown fuses and replace them as needed.
Test and ensure proper functioning of lights, appliances, and electrical outlets.
If electrical issues persist, consult with a professional electrician or an authorized Crossroads service center for further diagnosis and repair.
Slide-out Operation Issues: Problem: Crossroads Zinger RVs equipped with slide-outs may encounter challenges with the smooth operation of these rooms, including difficulties extending or retracting, misalignment, or motor failures.
Solution:
Regularly lubricate the slide-out mechanisms according to the manufacturer's recommendations to ensure smooth operation.
Inspect the slide-out seals for any damage or wear and replace them as needed.
Check for any obstructions or debris that may impede the slide-out's movement and clear them.
If the slide-out continues to have problems, contact an authorized Crossroads service center for professional assistance.
Delamination and Exterior Seal Maintenance: Problem: Over time, some Crossroads Zinger RVs may experience delamination or deterioration of exterior seals, leading to potential water intrusion and damage.
Solution:
Regularly inspect the RV's exterior walls for any signs of delamination, including bubbling or separation.
Inspect the exterior seals around windows, doors, and compartments for any cracks, gaps, or signs of deterioration.
Clean the seals and reseal as needed using RV-specific sealants.
If you are unsure or need assistance, consult with an authorized Crossroads service center for professional guidance.
Final Thoughts
Well, this is an affordable and family-friendly RVing experience. The Crossroads Zinger has got you covered. And with proactive problem-solving, you can enjoy your adventures with peace of mind. To tackle common issues and extend the life of your RV, implement the suggested solutions discussed in our blog post.
Remember to stick to manufacturer guidelines, perform regular maintenance, and seek professional help whenever needed. For more persistent or complex issues, authorized Crossroads service centers and qualified RV technicians are there to help. Have a memorable RVing experience!