13 Aliner Camper Problems: Common Issues and Solutions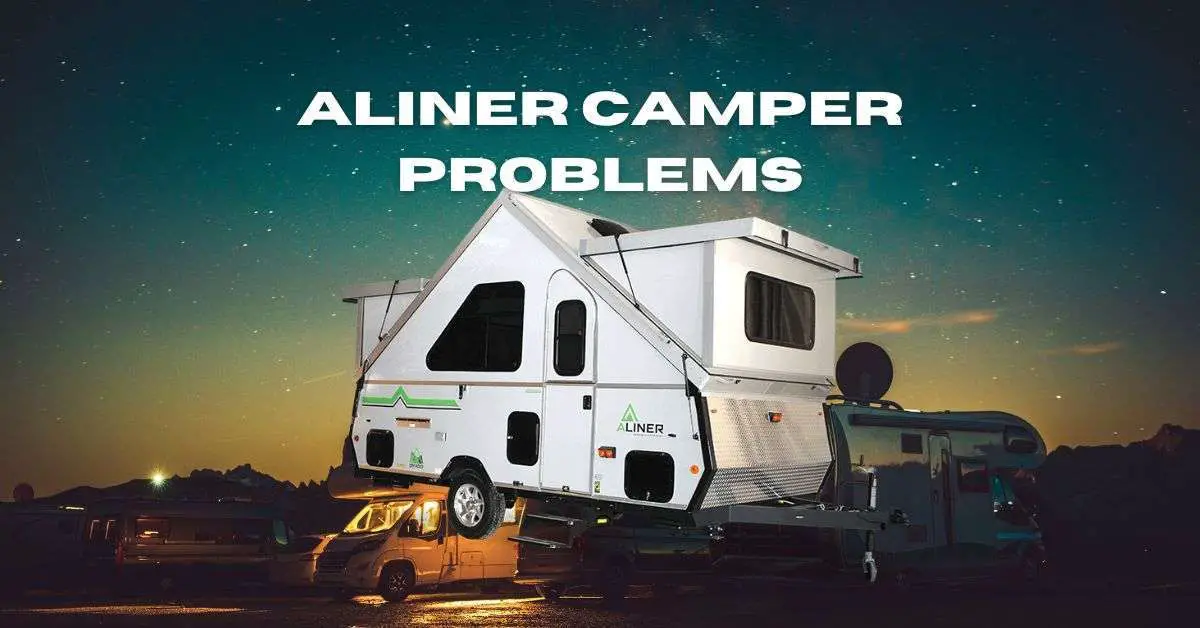 Last updated on August 15th, 2023 at 04:03 am
Aliner camper problems are minimal for this well-renowned compact and lightweight design RV, providing outdoor enthusiasts with a unique camping experience. However, being aware of potential issues that may arise, even with reliable and sturdy campers, is crucial.
In this blog post, we'll delve into common problems reported by Aliner camper owners and present possible solutions to address these issues so you can make the most of your camping adventures.
Aliner Camper Problems
Roof Seal and Water Intrusion: Problem: Over time, the roof seal on Aliner campers may degrade, leading to potential water intrusion and damage.
Solution:
Regularly inspect the roof seal for any cracks, gaps, or signs of deterioration.
Clean the roof surface and reseal as needed, following the manufacturer's recommendations.
Pay close attention to the seams, edges, and roof penetrations.
If you are unsure or need assistance, consult with an authorized Aliner service center for professional guidance.
Axle and Suspension Issues: Problem: Some Aliner camper owners have reported problems with the axle and suspension system, including uneven tire wear, bouncing or swaying while towing, or sagging.
Solution:
Regularly inspect the axle and suspension components for any signs of wear or damage.
Ensure proper tire inflation and alignment to prevent uneven wear.
Consider upgrading to heavy-duty shocks or adding stabilizer bars for improved towing stability.
If axle and suspension problems persist, consult with an authorized Aliner service center or a qualified RV technician for further inspection and repair.
Electrical System Malfunctions: Problem: Aliner camper owners may encounter electrical system malfunctions, such as issues with lighting, outlets, or the battery charging system.
Solution:
Regularly check the camper's electrical connections, including battery terminals, fuse boxes, and circuit breakers, for tightness and corrosion.
Inspect the fuse box for any blown fuses and replace them as needed.
Test and ensure proper functioning of lights, appliances, and electrical outlets.
If electrical issues persist, consult with a professional electrician or an authorized Aliner service center for further diagnosis and repair.
Canvas and Tent Support Maintenance: Problem: Aliner campers with canvas sections may require regular maintenance to keep the material in good condition and ensure proper tent support.
Solution:
Clean and dry the canvas sections thoroughly to prevent mold or mildew growth after each use.
Inspect the canvas for any tears or weak spots and repair them promptly using a patch kit or recommended repair materials.
Regularly lubricate and maintain the tent support system according to the manufacturer's instructions.
If you need assistance or replacement parts, consult with an authorized Aliner service center.
Final Thoughts
Aliner campers provide a lightweight and hassle-free solution to camping, and by proactively addressing potential issues, you can elevate your outdoor experience significantly. Implementing the recommended solutions and fixes outlined in this post will minimize common problems and ensure the long-term enjoyment and satisfaction of your Aliner camper.
To mitigate concerns, it's crucial to adhere to manufacturer guidelines and conduct regular maintenance. Seeking professional assistance when needed will also guarantee a worry-free and enjoyable camping experience. If persistent or intricate problems arise, it's highly recommended to contact an authorized Aliner service center or a qualified RV technician for assistance.