Is Enameled Cookware Good For Camping?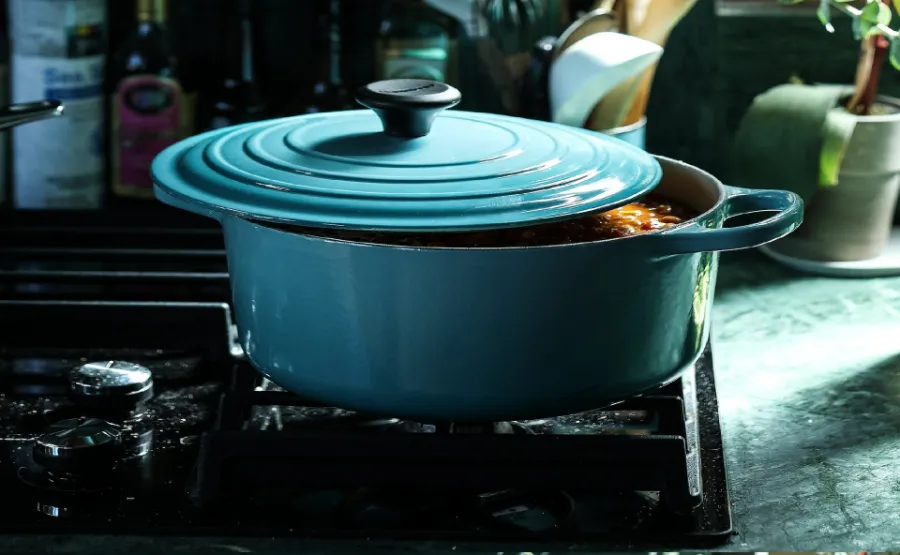 Last updated on August 6th, 2023 at 05:18 am
Cooking is an essential part of any camping trip. Good and healthy cooking is only made possible with the right cookware set. If you are thinking of enamelware, you are on the right track.
Enamelware is ideal for camping thanks to its durability, ease to clean, and lightweight nature. Moreover, it is non-toxic, hence there are no toxic fumes when the enamelware is heated. 
This article delves more into the topic, outlining the benefits of using enameled cookware when outdoors.
Is Enameled Cookware Good For Camping?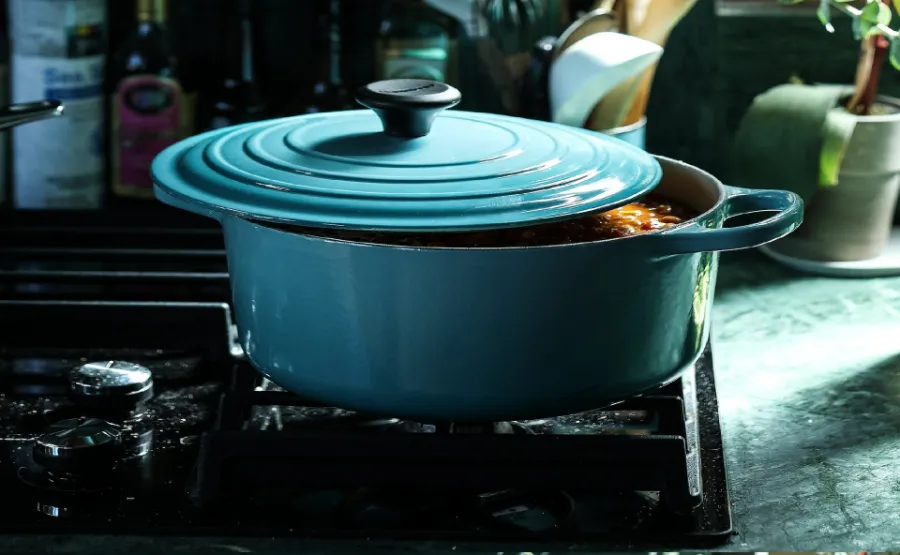 Campers enjoy themselves in the outdoors and interact with nature. And the food is never far from their mind. With the right cookware set, you are likely to have a more enjoyable experience. 
Enamelware is one of the popular choices for many campers. Firstly, it is conveniently lightweight, durable, and very easy to clean. On top of that, enamelware is corrosion- and rust-resistant, making it an ideal choice for camping in areas where there is snow or rain.
Thanks to its durability, you can rely on enameled cookware for all your camping trips with proper care. 
Moreover, enameled cookware is non-toxic thus ensuring healthy cooking. You can heat it on any fire or stove, even wood-burning stoves. However, it is important that it is not exposed to direct flames as this damage the cookware with time. 
What Is Enameled Camping Cookware Made Of?  
Enamelware is made of a combination of cast iron or steel with powdered glass. The process is step-wise and the materials are fired in a kiln.
The coating is made such that it is rust-resistant and can evenly distribute heat throughout its surface. 
Some of the cookware may be handmade, which guarantees high quality of products. 
When Was Enamelware Invented?
Enamelware was among the very first cookware invented in the United States. Production of the same started at around 1870 and went on through the World War 2.
This cookware was a healthier choice since many cooks developed arthritis as a result of using heavy aluminum pots when cooking on gas stoves and open fires. 
This discovery was passed on to the modern world with a resurgence that has long since been embraced by many. Enamelware offers an efficient way of cooking meals quickly and at the same time saves on energy. 
What Are The Advantages Of Using Enameled Cookware?
Using enameled cookware comes with many benefits. Firstly, cleaning it is a breeze, and it is conveniently lightweight. They are therefore ideal for campers who are looking to save on weight and space. 
Moreover, enamel cookware has nonstick properties, so you do not have to worry about food sticking onto the pots after use. Another thing is, that enamel cookware is versatile so you can use it on any stove. 
Enamel is durable and can last for years with use. They are not susceptible to rust and corrosion like stainless steel or cast iron. They are also relatively affordable and can be thrifted at a budget-friendly price.
What Are The Disadvantages Of Enamelware?
Enamelware has some disadvantages. The main one is that it is not chip or shatter-proof. Since its finish is from glass, it is fragile and can easily break. 
The products that are subjected to immediate temperature changes or mishandling tend to become stressed and can easily break down. 
Is Enamel Cookware Toxic?
The main concern when it comes to using enamelware while camping is whether it is a safe choice. The answer is yes, enamelware is safe. 
Enamel is made of glass that is fused with metal. Therefore, it is non-toxic so you do not have to worry about harmful fumes being produced when exposed to high temperatures.
Moreover, enamelware is safer than other cookware types such as cast iron and stainless steel. It is also highly resistant to corrosion and rust. It is, therefore, best suited for camping trips where there is rain or snow on the camping grounds. 
What To Look For When Buying Enamel Cast Iron Cookware 
If you have settled on enamel cookware for your next camping trip, choosing the best one is the next step. There are several factors that you need to consider as outlined below. 
Type Of Cookware 
Enameled cookware comes in a variety of styles and colors. This gives campers an opportunity to choose what best suits their style. You can choose between the fashionable one or the traditional white set. 
Weight 
The weight of a cookware set is a very important factor for campers, and also if you want to save on space as well. There are some sets with folding handles so they do not take up too much space.
However, if the cookware will not be limited to camping and outdoors, but also used at home, you might want something that is more durable and heavy-duty. 
Size Of Enamel Set 
The size of the set should be considered with regard to what will be cooked outdoors. It would be best to get a set of significant size so it holds more. A smaller-sized set is likely to leave you frustrated. 
Price Of Set 
You always have to check whether the set is budget-friendly. And while going for the one that fits your budget, check that it comes inclusive of all the pieces you need. Cheaper sets have thinner enamel and are more susceptible to damage. 
Conclusion 
Enamel cookware makes an excellent choice for camping. The right set will save you money, space, and time. You need to make the right considerations when out in the market for one. And with that, you will be set for many more camping trips. 
You Can Also Read: