RTIC Cooler Review: Soft & Hard Examinations
Last updated on September 21st, 2023 at 12:55 am
Our RTIC Cooler Review is vital in your decision making process as we always say here, "When it comes to keeping our beverages and perishables cold during outdoor adventures or in the great outdoors, the RTIC Cooler is an absolute legend."
In this comprehensive review, we will jump into the world of RTIC Coolers, exploring their features, benefits, and why they should be your go-to choice for all your cooling needs.
Our Top Pics In Each Category
Unveiling the RTIC Cooler Lineup
RTIC offers a diverse range of coolers designed to cater to different needs and preferences. From compact personal coolers to robust, high-capacity options, their lineup has something for everyone.
1. RTIC SoftPak Coolers
The RTIC SoftPak series is perfect for those who require portability without compromising on cooling performance. These soft-sided coolers are designed with the adventurer in mind. Made from durable materials and equipped with efficient insulation, they keep your items cold for extended periods.
2. RTIC Day Coolers
RTIC Day Coolers are ideal for short trips and picnics. They offer ample storage space and impressive ice retention capabilities, ensuring that your snacks and drinks stay refreshingly cool throughout the day.
3. RTIC Hard Coolers
For the serious outdoor enthusiasts, RTIC Hard Coolers are the pinnacle of cooling technology. These rugged, roto-molded coolers can withstand the harshest conditions and are certified grizzly bear-resistant. With features like T-latches and heavy-duty handles, they are built to endure any adventure.
Unparalleled Insulation Technology
What sets RTIC Coolers apart from the competition is their cutting-edge insulation technology. RTIC employs a combination of thick polyurethane insulation and a freezer-grade gasket to create an airtight seal that locks in the cold.
Superior Ice Retention
RTIC Coolers are renowned for their exceptional ice retention capabilities. Thanks to the premium insulation and airtight seal, your ice will last longer, keeping your contents colder for extended periods, even in scorching temperatures.
Durability Beyond Compare
When you invest in an RTIC Cooler, you're investing in durability. These coolers are built to withstand the rigors of outdoor adventures. From rugged terrains to heavy use, RTIC Coolers can take it all and come back for more.
Ergonomic Design for Convenience
RTIC understands that convenience matters. Their coolers feature ergonomic designs, including molded side handles and non-slip feet, making transportation a breeze.
The RTIC Cooler Advantage
So, why should you choose an RTIC Cooler over other options on the market?
1. Unrivaled Quality
RTIC Coolers are engineered to last. They are constructed using high-quality materials that are built to endure the toughest conditions. Whether you're on a camping trip or a fishing expedition, your RTIC Cooler will be your reliable companion.
2. Competitive Pricing
While RTIC Coolers offer top-tier performance, they do so at a fraction of the price of some of their competitors. You get exceptional quality without breaking the bank.
3. Wide Range of Sizes
RTIC offers a wide range of cooler sizes, ensuring that you find the perfect fit for your needs. From personal coolers to large-capacity options, you can select the one that suits your lifestyle.
4. Eco-Friendly
RTIC Coolers are designed with the environment in mind. They are made from eco-friendly materials, and their ice retention capabilities reduce the need for frequent refilling, minimizing waste.
RTIC SoftPak Coolers
RTIC SoftPak Coolers are perfect for those seeking portability and efficient cooling on the go. They are designed to be lightweight, easy to carry, and ideal for short trips, picnics, or daily use.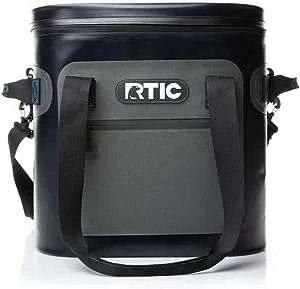 Below, we've listed the most popular RTIC SoftPak Cooler model along with its key specifications:
| Model | Capacity | Insulation | Dimensions (inches) | Weight (lbs) | Price |
| --- | --- | --- | --- | --- | --- |
| RTIC SoftPak 20 | 20 quarts | Up to 2 inches | 13.75 x 13.25 x 10.5 | 4.5 | $___(Price) |
Capacity: The RTIC SoftPak 20 has a spacious 20-quart capacity, providing ample room for drinks and snacks.
Insulation: With up to 2 inches of insulation, it offers impressive ice retention, keeping items cold for extended periods.
Dimensions: Its compact dimensions make it easy to carry and fit in various spaces.
Weight: Weighing just 4.5 pounds when empty, it's highly portable.
Price: current pricing.
RTIC Hard Coolers
RTIC Hard Coolers are built for durability and extreme outdoor conditions. They offer superior insulation and rugged construction.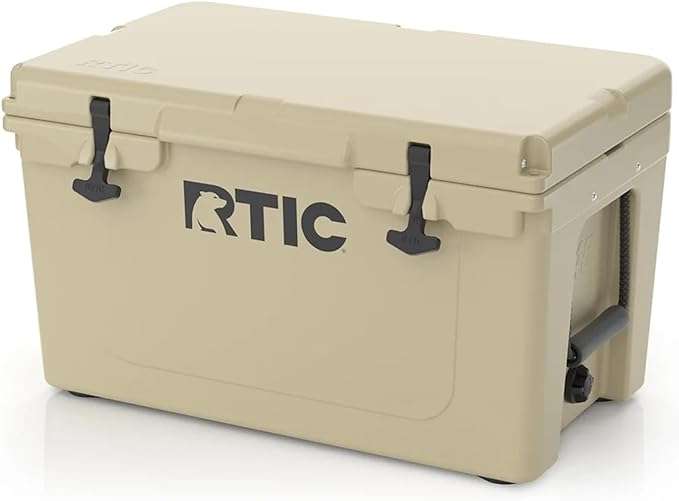 Here's an overview of the most popular RTIC Hard Cooler model:
| Model | Capacity | Insulation | Dimensions (inches) | Weight (lbs) | Price |
| --- | --- | --- | --- | --- | --- |
| RTIC 45 Hard Cooler | 45 quarts | Up to 3 inches | 26.5 x 16.5 x 16.5 | 25 | $___(Price) |
Capacity: The RTIC 45 Hard Cooler offers a substantial 45-quart capacity, making it suitable for extended outdoor trips.
Insulation: With up to 3 inches of insulation, it ensures exceptional ice retention.
Dimensions: While larger, its dimensions are still manageable and offer substantial storage space.
Weight: Weighing 25 pounds when empty, it's ruggedly built to withstand challenging environments.
Price: For the latest pricing detail
RTIC Backpack Cooler 30 Can, Insulated & Portable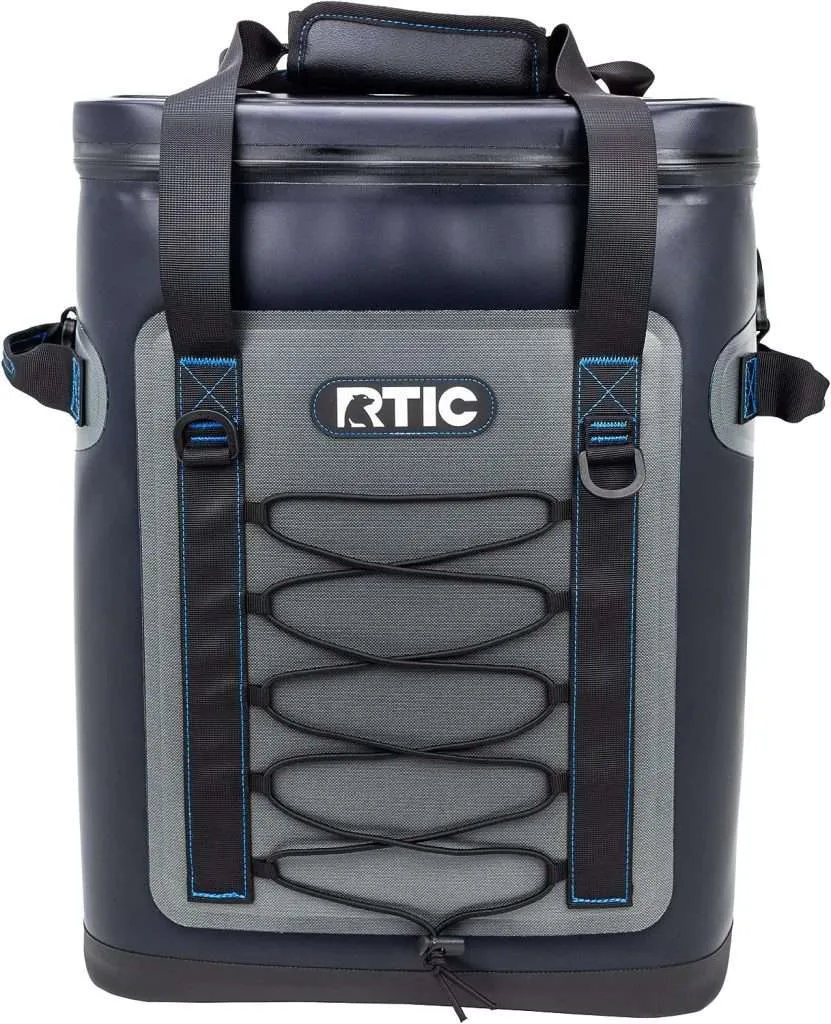 We have reviewed many Backpack coolers here at Agile Camping, but this RTIC backpack cooler is the bomb! Just Check out the specs:
| | |
| --- | --- |
| Brand | RTIC |
| Color | Blue/Grey |
| Material | Polyester |
| Package Information | Bag |
| Capacity | 35 Quarts |
| Item Dimensions LxWxH | 14.49 x 16.97 x 21.5 inches |
| Item Weight | 8 Pounds |
| Special Feature | Insulated |
| Recommended Uses For Product | Camping |
| Product Care Instructions | Hand Wash |
Key Benefits
HANDS-FREE COOLER – The RTIC backpack cooler is a hands-free insulated cooler bag that straps comfortably to your back, leaving both arms free for what your adventure calls for.
PREMIUM INSULATION – Built with premium insulation, the insulated backpack cooler will keep your items cold for days. Come in 2 sizes. Backpack cooler 20 can. Backpack cooler 30 can.
IT FLOATS TOO – Not to mention it's a floating cooler, it floats, so your drinks and snacks can go wherever you go. Ideal for a day at the pool or lake, no matter where the adventure takes.
100% WATERPROOF – It's the perfect ice cooler bag, drink cooler bag, travel cooler bag, beer cooler bag, lunch cooler bag, camping cooler bag, beach cooler bag. It's 100% waterproof.
DURABLE ZIPPER – The soft cooler backpack has a durable zipper to protect your drinks and snacks and prevent spills and leaks. This portable cooler bag measures 12 x 10 x 16 inches.
RTIC Day Coolers
RTIC Day Coolers strike a balance between portability and storage capacity, making them ideal for day trips and outdoor activities.
Here's a review of the most popular RTIC Day Cooler model, complete with specifications:
| Model | Capacity | Insulation | Dimensions (inches) | Weight (lbs) | Price |
| --- | --- | --- | --- | --- | --- |
| RTIC Day Cooler 28 | 28 quarts | Up to 3 inches | 15.5 x 13.25 x 13.75 | 11.5 | $___(Price) |
Capacity: The RTIC Day Cooler 28 boasts a generous 28-quart capacity, perfect for a day's worth of provisions.
Insulation: With up to 3 inches of insulation, it offers outstanding temperature retention.
Dimensions: Its dimensions are designed to maximize storage space while remaining easily portable.
Weight: Weighing 11.5 pounds when empty, it's sturdy yet manageable for day trips.
Price: To check the current price
Final Thoughts
RTIC Coolers are the epitome of cooling excellence. With their range of products, cutting-edge insulation, superior ice retention, and unbeatable durability, they are the ideal choice for outdoor enthusiasts and anyone who needs reliable cooling solutions. Make the smart choice today, invest in an RTIC Cooler and experience cooling like never before. Don't compromise on quality; choose RTIC.