How to Waterproof and Seam Seal a Canvas Tent – Step-by-Step Guide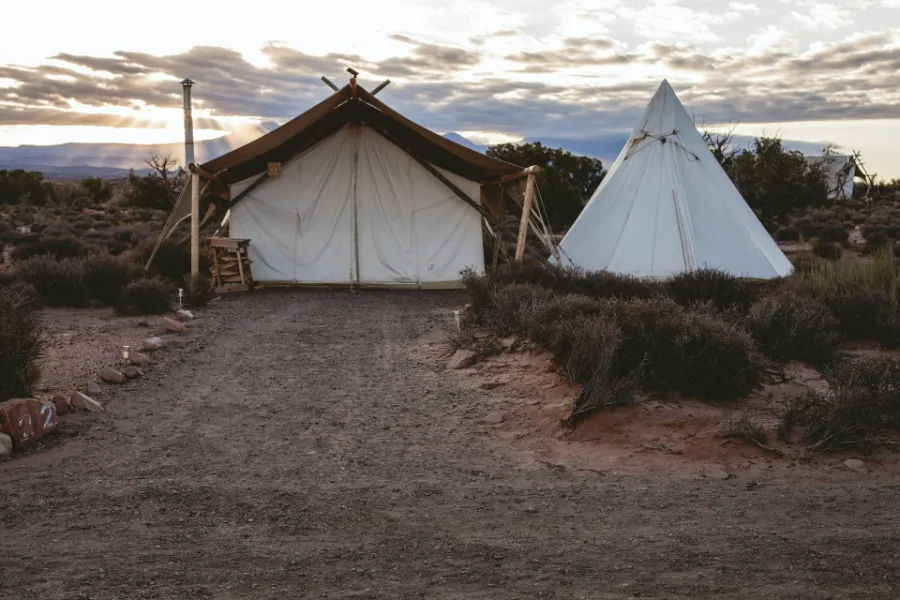 Last updated on April 11th, 2023 at 07:09 pm
Canvas tents are in the category of comfortable, luxurious, and durable tents on the market. However, one of their downsides is that they need special care and attention, without which, they are not completely waterproof. So how can you waterproof and seam seal a canvas tent? 
This DIY project is guaranteed success with the right waterproofing and sealing products. It is vital that you pick products that are compatible with the tent material. Moreover, the right procedure as highlighted below should be followed. 
This article covers all that you need to know about waterproofing your canvas tent, from the products that are canvas-friendly to the step-by-step guidelines on how to go about various procedures. 
What is tent seasoning?
Tent seasoning is a method of natural water repellence. An untreated canvas is soaked and dried multiple times to encourage natural water resistance. The process makes the cotton fibers swell, thus sealing the seams.
However, the process only makes the canvas tent less prone to damage when packed damp and not entirely waterproof. 
How often should reproofing be done to keep a canvas tent waterproof? 
Canvas tents do not stay waterproof due to their natural properties. For an extended service life, regular reproofing is a necessity. 
The frequency will depend on the climate the tent is exposed to, how often it is used, and the products used. The general rule of thumb is, for tents that are used occasionally, once a year, and if the tent is used often, three times.
How to waterproof and seam seal a canvas tent?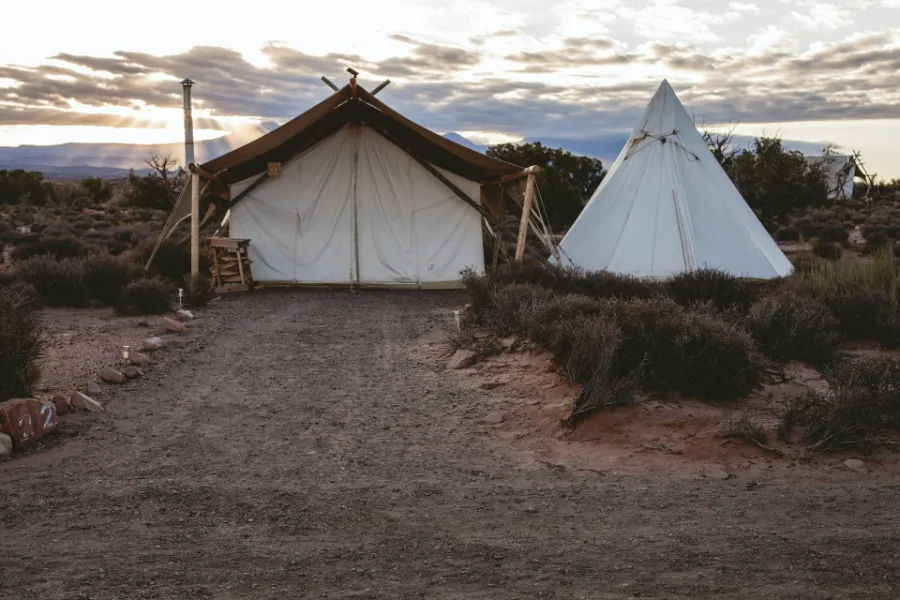 Water leaks into your tent just steal the fun of your outdoor adventure. Trying to salvage the situation once the damage is done can prove to be costly and futile. Waterproofing canvas tents differ slightly from other tents. 
Consequently, one of your camping trip preparations should include seam sealing and waterproofing your tent for the optimum experience. And we all know that prevention is better than cure, so here are a few methods you can adopt to waterproof and seam seal your canvas tent.
How to waterproof a canvas tent yourself in 6 steps?
One of the major problems campers encounter outdoors is water soaking on the inside of their tents. And that is the last thing any camper needs. Here's how you can easily go about waterproofing your canvas tent. 
What you need 
Waterproofing product (Hawk tools canvas Waterproofer, Dry Guy Waterproofing Concentrate, or 303 Fabric Guard)
Gentle soap 
Sponge/cloth/ brush 
Bowl of water 
A dry spot outside  
Step 1: Wash the Tent
If the tent has been used, or from a recent camping trip, it will require a decent scrub. For this, you can use any firm brush and soapy water. This is to ensure that the tent has no mildew, debris, or dirt before the application of the waterproof treatment. 
Step 2: Prepare Waterproofing Treatment
The waterproofing treatment should be prepared in readiness for the application. This depends solely on the product type and their respective instructions should be followed to the letter. For instance, some may require diluting before use while others can be applied directly. 
Step 3: Apply waterproofing treatment
The waterproofing treatment can now be applied to the canvas tent depending on the recommended mode of application. You can spray it onto the tent or paint it with a roll-on brush. 
Step 4: Evenly apply the treatment
Ensure that the product is evenly applied onto the tent—a brush can be used. Even with the spraying mode of application, a brush is also instrumental in getting the hidden spots initially missed. 
Step 5: Dry the tent
Leave the tent to dry completely. Hence, the perfect weather for such an activity is a sunny and warm day. 
Step 6: Repeat Steps 
The steps can be repeated more times as needed.  
How to seam seal a canvas tent in 5 steps?
Sealing tent seams work to increase the tent's durability. The right type of sealant goes a long way in preventing any water from seeping through. 
What you need 
Non-abrasive sponge
Bowl of cold water
Mild liquid soap (preferably Revivex Pro Cleaner)
Waterproof sealant 
Step 1: Choose the Location  
The tent is to be set up in a backyard or garage. Choosing the right location for this project is half a success. 
Step 2: Mix soap and water 
Mix the cold water with Revivex Pro Cleaner (1 oz) or other mild liquid soap. 
Step 3: Clean the tent  
Dip a wet sponge or cloth into the solution and wipe down onto the seams you intend to seal. Sealing is done on the inside of the tent. 
Step 4: Apply the sealant 
Apply your appropriate sealant (Seam Grip WP, Seam Grip FC, or Seam Grip SIL) with a brush in thin films. The excess sealant landing on the outside of the seams should be wiped off before they dry. A silicone-based sealant is recommended for canvas tents. 
The key to ensuring that this DIY project is correctly done is to use the right sealant that is compatible with the tent fabric. 
Step 5: Let tent cure  
Keep the tent level and let it cure as per the instructions on the packaging. Baby powder can be added to prevent sticking together of the seams.
Dos and don'ts in canvas tent waterproofing
Use appropriate products that are compatible with the tent material including sealants and waterproofing products. 
Avoid using harsh detergents or other chemicals when cleaning the tent. These tend to strip the waterproof coating making your tent more vulnerable to damage. 
Give the tent enough time to dry. Therefore, you need to plan ahead before reproofing or seam sealing so that the tent can dry for as long as required. 
The tent should not be put in a dryer or washing machine. Washing should be done gently with a gentle sponge and cloth.
FAQs
Conclusion 
Camping trips are all fun and games until you do not have a comfortable place to spend the night. Waking up to a puddle of water in your tent could easily make the camping trip your worst experience. 
To that end, waterproofing your tent before such an outdoor activity becomes vital for the best experience. Thankfully, it is a simple and straightforward process as highlighted above and you are good to go.   
You Can Also Read: