Solar Cooler For Camping [Expert Review 2023]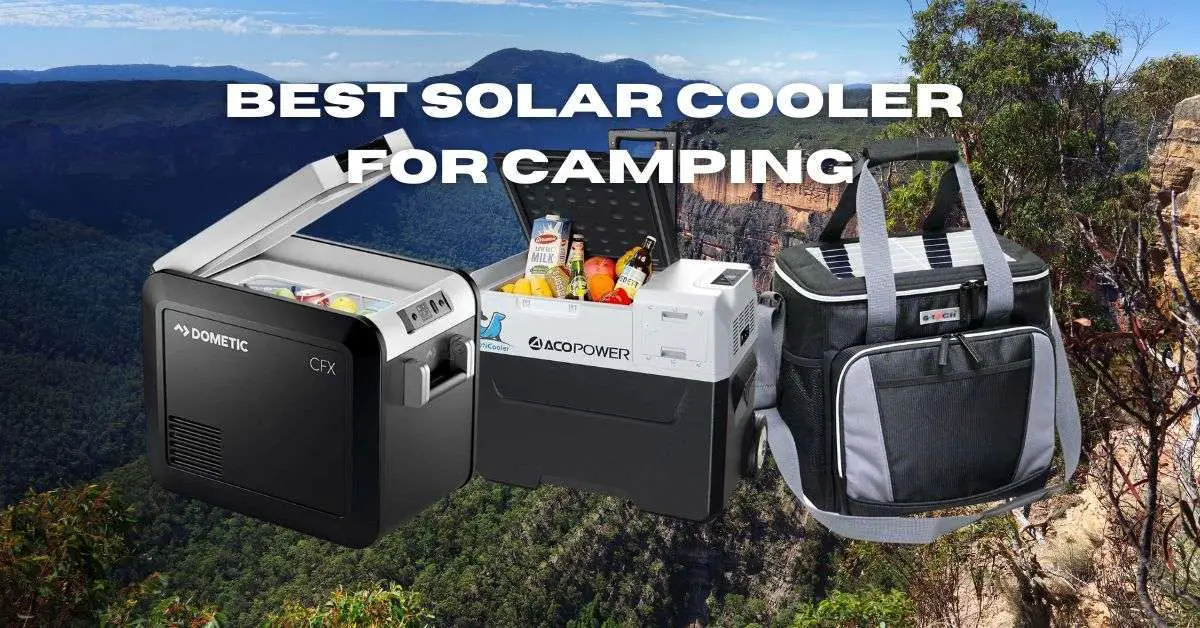 Last updated on November 27th, 2023 at 11:08 am
A solar cooler for camping is exactly what it sounds like- a food cooler that runs off of the power of the sun. As with all other things solar-powered, camping coolers are all about convenience.
They offer you more independence from the grid, allowing you to go for long without restocking on ice. Ditching the hassle of ice saves you money while allowing you more time to relax and connect with nature. 
My Solar Cooler Reviews
Wherever your adventurous spirit takes you in the great outdoors, the market has a solar cooler for camping for your exact needs. And don't worry- we've scoured the market for the best models and brands, so you don't have to!
Editor's Picks
Best Solar Cooler for Camping to Buy in 2023 
DOMETIC CFX3 Refrigerator and Freezer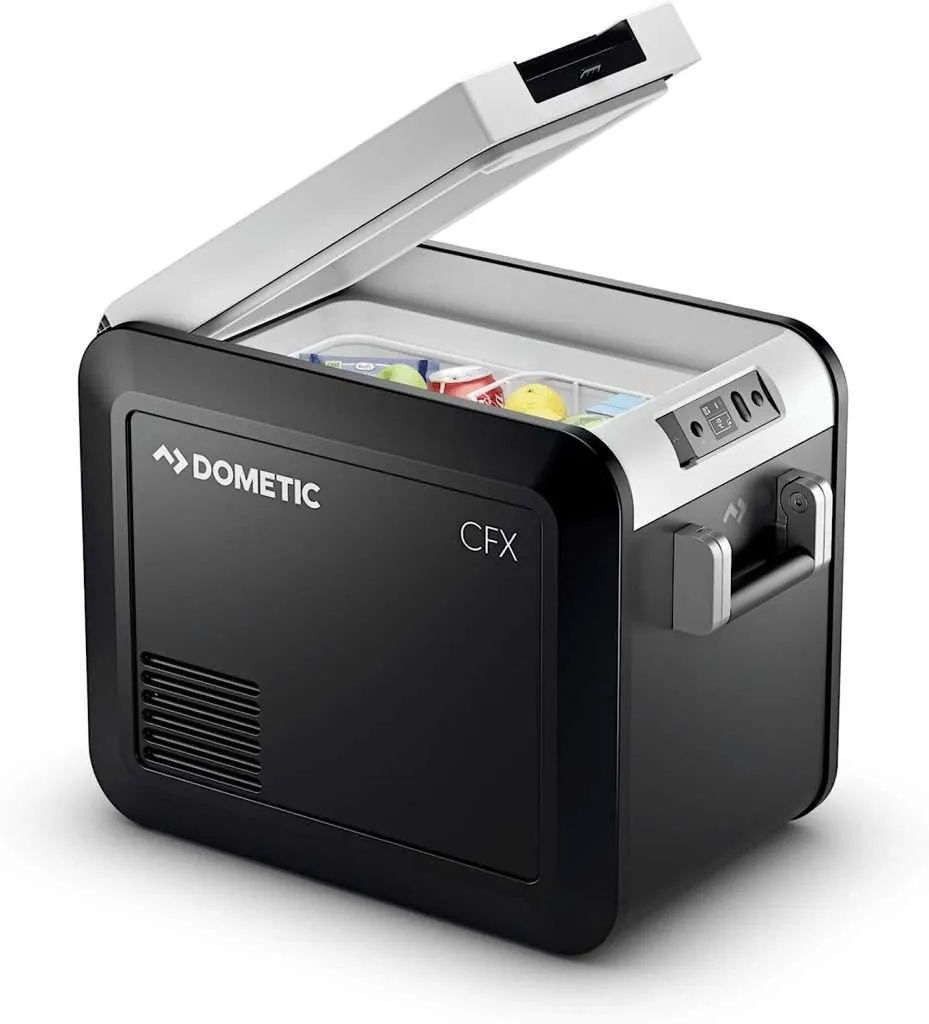 Highlights:
Product dimension:22.4″D x 13.5″W x 16.5″H
Capacity:25 Liters
Energy Star: 5 star 
Dometic is giving a new meaning to portability and convenience as far as camping goes. AC/DC and solar power their CFX3 portable refrigerator. It operates just as efficiently as its larger counterparts and has some awesome features that make it a must-have for any campervan. 
The Dometic cooler allows you to use 230V AC or 12V DC power. Its input current is (AC) 0.38A at 240V, (DC) 6.5A at 12V, and its daily consumption is 440Wh/24h, which equates to about 37Ah/day. You can also use it on 24V leisure batteries.
Aside from its versatile power options, the Dometic cooler has a sleek, compact design that makes it space-efficient. Its compressor works efficiently and effectively and has an easy-to-use temperature control. It can survive the toughest conditions and comes with a five-year warranty. 
Acopower RV Fridge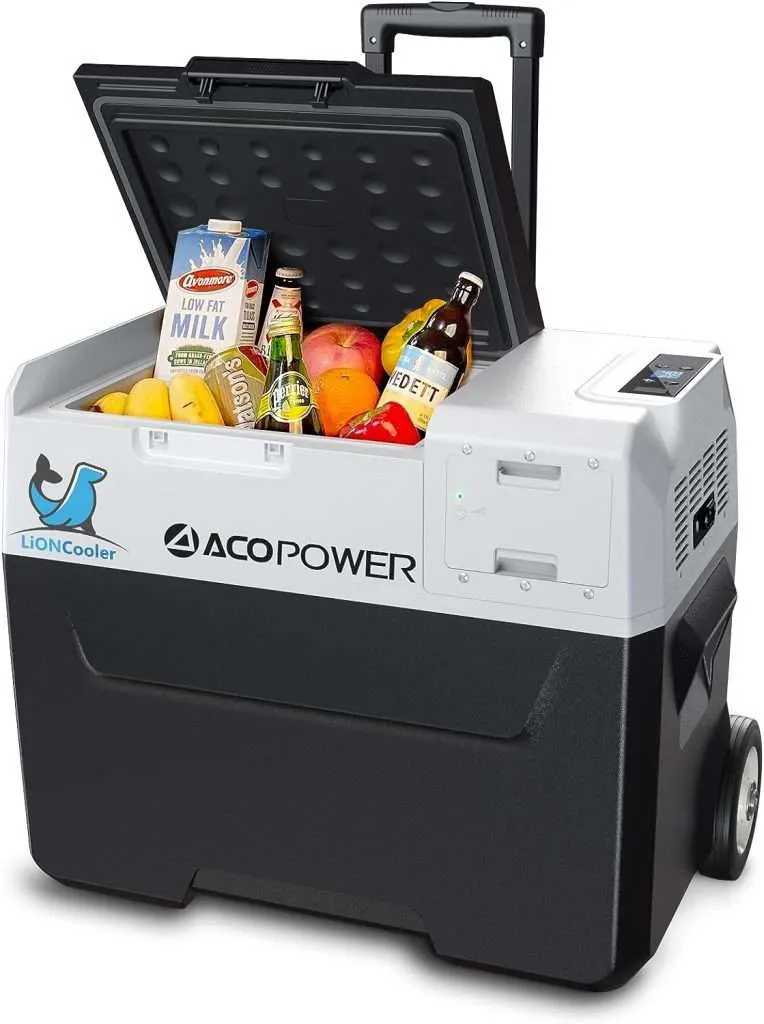 Highlights:
Product dimensions: 25″D x 20″W x 16″H
Capacity: 40 Liters
Energy Star: 4 star 
The Acopower cooler is a powerful and energy-saving product. It can operate for up to 10 hours at 0℃/32℉. Its compressor can quickly lower temperatures to 32°F (0°C) in under 20 minutes when on max mode. 
Acopower can be recharged with a 12V solar panel or a 120V AC, 12V/24V DC adapter. It contains a removable 173Wh lithium battery. But you can purchase additional batteries, giving you the added benefit of keeping items cool even when you switch off your power. 
This cooler has a large capacity of 42 Quarts / 40 Liters /10.5 gallons, making it a treasure for any camper, boat owner, or RV truck driver. It is highly portable, with stretchable handles and 6 off-road wheels. In addition, Acopower has a non-slip base that ensures your fridge remains stable even when you hit the hard terrains. 
With enough sunlight, this cooler can stay powered day and night without needing another power source. During the cold season, it uses less power since the compressor works less to keep things chilled. It can last up to 10 hours when off-grid, depending on the operating mode, ambient, internal temperatures, and other factors. You can power it using solar during the day and still use it at night. The only concern with the Acopower cooler is that it can be a bit noisy. Still, this is one of the most efficient solar-powered coolers on the market.
Preferred Nation Solar Cooler
Highlights:
Product dimensions: 13 x 12.5 x 8.5 inches
Capacity: Can carry 36 cans 
Chamber depth: 13 inches 
Material: Plastic 
Preferred Nation is not solar-powered in the true sense of the word. On the contrary, this is more of a traditional cooler with an onboard solar kit to keep your portable USB devices charged. If the convenience of not having to lug around your standalone camping solar and battery kit means something, then this is a tool you want in your camping gear. 
The Preferred Nation cooler is ideal for a day outdoors. It will keep your drinks cold using solar energy. The front has a foil-lined compartment to keep food warm. There's also the spacious cooler compartment that can carry up to 36 cans. The main compartment has a clear-removable liner that provides double protection against leaks. The dual mesh pockets are easy to clean. 
Additional features include a foil-lined front pocket for your gadgets and small items. We also love that it offers different carrying options with its carry handle and detachable shoulder strap. This product is right for you if you're looking for an affordable solar cooler for a day outside. It will charge your phone as you relax by the beach while taking your drink. 
What Factors Should you Consider when buying a Solar-Powered Cooler in 2023 
When shopping for a solar cooler, factor in the following:
Insulation
Solar coolers require good insulation to boost their efficiency.
Power Source
Despite their name, solar coolers for camping don't run off solar power alone. What you'll find in the market are models that support AC power and solar-powered rechargeable batteries.
Consider the amount of power you'll need to keep it running at optimal performance. Look for one that's energy efficient, particularly if you'll be relying mainly on solar power.
Durability
Shop for a durable cooler to handle the rough handling that will come with your outdoor adventures.  
Portability
Portability is everything when buying the best solar cooler for camping. You want a model that holds all your drinks and snacks without being a pain in the neck to move around with.
Solar coolers are a great buy as they are an eco-friendly alternative to AC and 12v camping fridges and refrigerators. These coolers let you enjoy your time outdoors in an earth-friendly way regardless of where you are on the planet.