Napier Sportz vs Backroadz Truck Tent – A Head-to-Head Comparison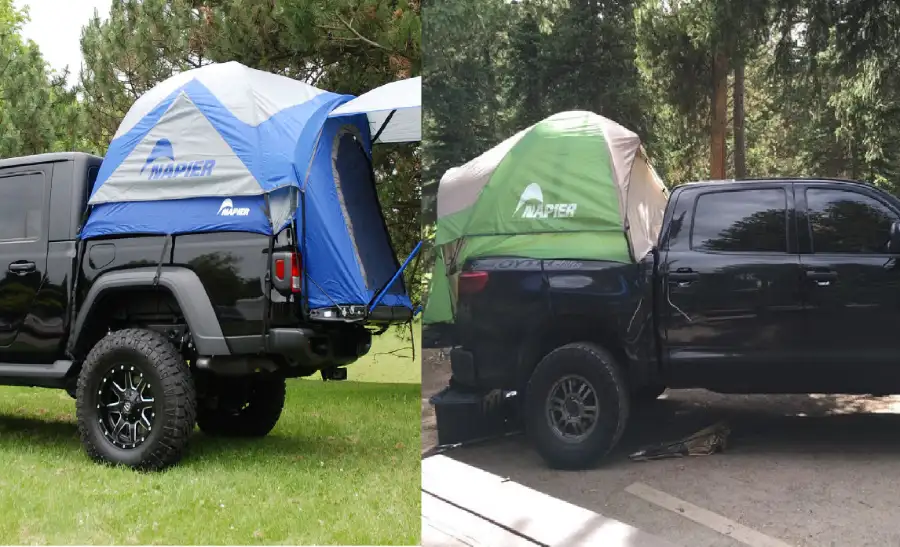 Last updated on September 21st, 2023 at 03:05 am
Truck tents are designed in such a way that you can attach them to a truck. These are more convenient as they facilitate easy setup ensuring you are equipped for any expedition in no time. Among the popular truck tent brands in the market are Napier Sportz and Backroadz. 
Many a time, outdoor enthusiasts have had to choose between the two. Well, the Sportz truck focuses on producing premium tents that feature a wide front door, ample headroom access window, and a full tent floorto lay my favorite sleeping bag, "the Ozark".
The Backroadz was specially created with the outdoors in mind. You get to enjoy significant headroom as well as an easy and secure setup. It offers unparalleled protection against the elements. 
This article gives a comprehensive review of these two truck tents to help you decide on the ideal one for your adventure. Read on. 
Napier Sportz vs Backroadz Truck Tent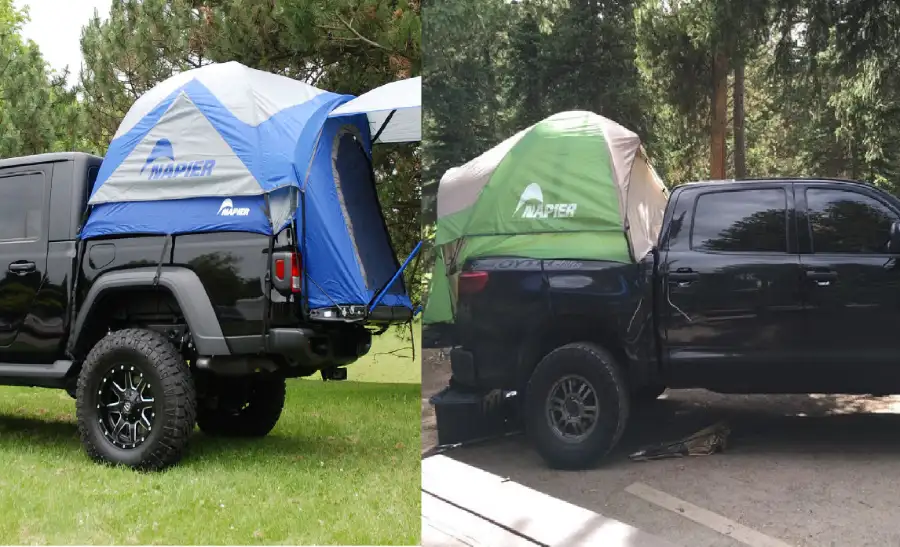 Truck tents are a new invention that makes a perfect alternative to the typical ground camping tents. These are more convenient and easy to set up while offering the same protection and functionality as ground tents. Regardless of the camping site, with your truck tent, you can set up at the back of your truck in no time and enjoy your adventure. 
There are several brands in the market that are devoted to the manufacture of these truck tents for those who seek a unique adventure outdoors. Among the renowned brands are Napier Sportz and Backroadz. Below is a comparative review that can help you decide between the two. 
Comparison Chart 
| | | |
| --- | --- | --- |
| Tent | Napier Sportz  | Backroadz |
| Star aspect  | Rainfly  | Portable and tall, rainfly |
| Purpose  | Car camping  | Travel and car camping  |
| Material  | Polyester  | Fiberglass  |
| Weight  | 16 pounds  | 1 pound |
| Price | Check Price | Check Price |
Backroadz Truck Tent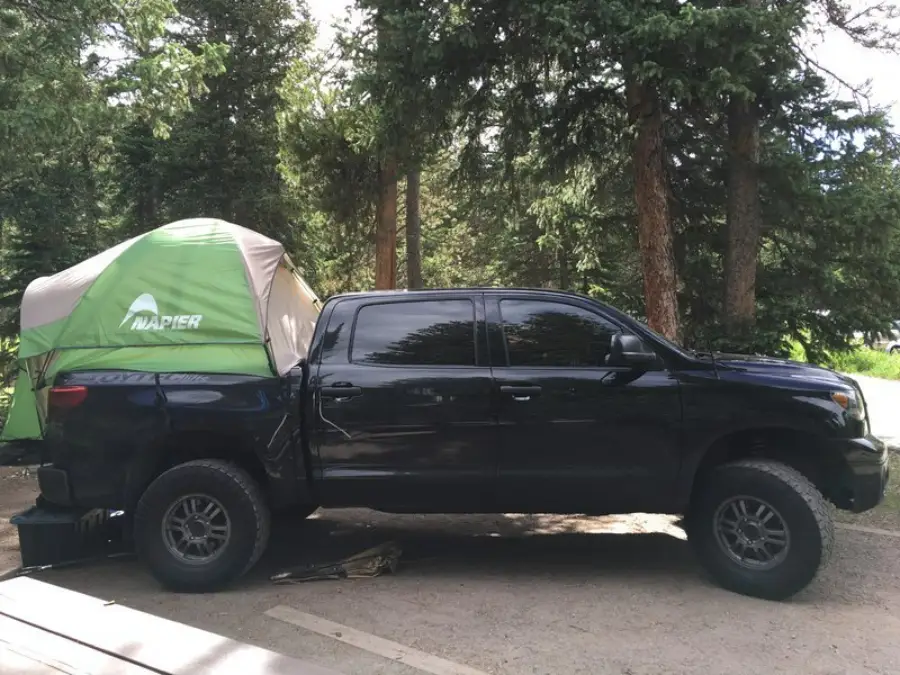 Main Features 
Construction 
The poles are made of fiberglass which can easily be assembled and disassembled. Moreover, they are shock-corded and flexible enough to create a robust shelter. The shell is made of polyester taffeta.
Moreover, the rainfly is made of the same material and is waterproofed to resist downpours. The tent is also designed to maximize the full dimensions of the walls with the door as the opening gate.
Furthermore, the polyester mesh is dense enough to prevent insects while allowing air circulation. 
Easy to Use
Assembling this tent will not take you more than 10 minutes. Ensure you use the fiberglass poles after you remove them from their carrier bag. The rainfly can be attached afterward by fastening it to the included buckles. 
Survivor 
You need not worry about the elements with this tent—it comes with waterproofing elements so you are dry at all times. The polyester fabric rainfly is also coated with water resistance. The walls and the truck's bed have polyethylene flooring akin to those of tarps. This ensures that no water soaks through or collects in the bed. 
Advantages 
The Backroadz truck tent comes with several advantages that make it a popular choice as outlined below.
The Backroadz tent camper features a waterproof floor ideal for outdoor conditions. Moreover, the rainfly is similar to that the common ground tent in functionality and protection. 
This truck tent makes a perfect choice when you have to decide between other distinctive types of tents. 
When compared to its counterpart Napier Sportz, the Backroadz tent is more lightweight and less expensive. Moreover, it is very easy to set up and has a conveniently compact design that allows you to fold it into a small bag for transportation. 
On top of that, it is a great affordable solution for those seeking for greater comfort and an alternative to the typical ground tent.
Napier Sportz Truck Tent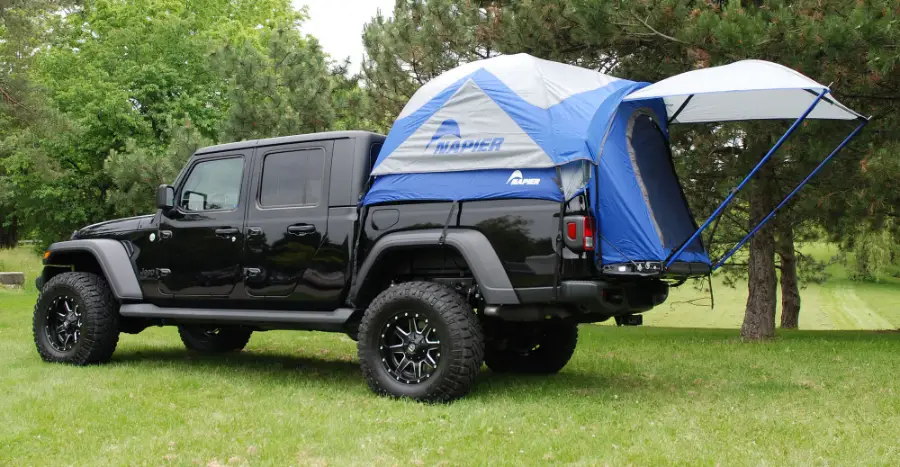 Main Features
Construction 
The Sportz brand does not compromise on quality. The poles are made of a perfect combination of steel and fiberglass that make up the frame. There are additional fiberglass poles used for entry arches.
These poles can be adjusted to the awning height. When it comes to vehicles and packing camping tents, polyester is the best material. It offers excellent fabric strength while still being lightweight and absorbent when wet. Moreover, it allows good airflow and offers superb UV shielding. 
Adjustable 
When the tent is closed, the adjustable side ceiling vents can be employed next to the windows. Also, the apertures come with zip-up storm flaps that keep you dry in inclement weather.
There are built-in mesh windows that allow entry and exit of natural light. Furthermore, this tent utilizes the entire area of your bed and offers more than 5 feet of headroom. 
Choice of Material 
With polyester mesh and rainfly for openings, this shelter is made of sturdy polyester. The floor is made of thick polyester oxford that ensures it stays parallel with the truck bed even with years of use.
Moreover, the mesh not only enables air circulation within the tent but also keeps mosquitoes away so you can enjoy the view in peace. 
Advantages 
Napier Sportz truck tent has also made it in the ranks of good truck tents for a reason. Below are some of its advantages. 
The Napier Sportz is a new design compared to the Backroadz model. 
It is often wide with an extended awning that offers protection against weather elements. Also, it has a back access window that allows you to reach within your truck if necessary. 
It is made with durable and high-quality materials
Disadvantages 
It is a lot heavier than its competitors 
FAQs 
Conclusion 
Napier Sportz and Backroadz are the most popular vehicle tents worldwide. The Napier Sportz can easily get transported anywhere since it packs into an extendable lightweight carrying bag. It is also made with the best materials. Backroadz boasts of being an affordable solution without compromising waterproofing qualities. 
You Can Also Read: