Texas Road Trip Ideas: 🚗🌄🎶 Plan, Itinerary, And The Lot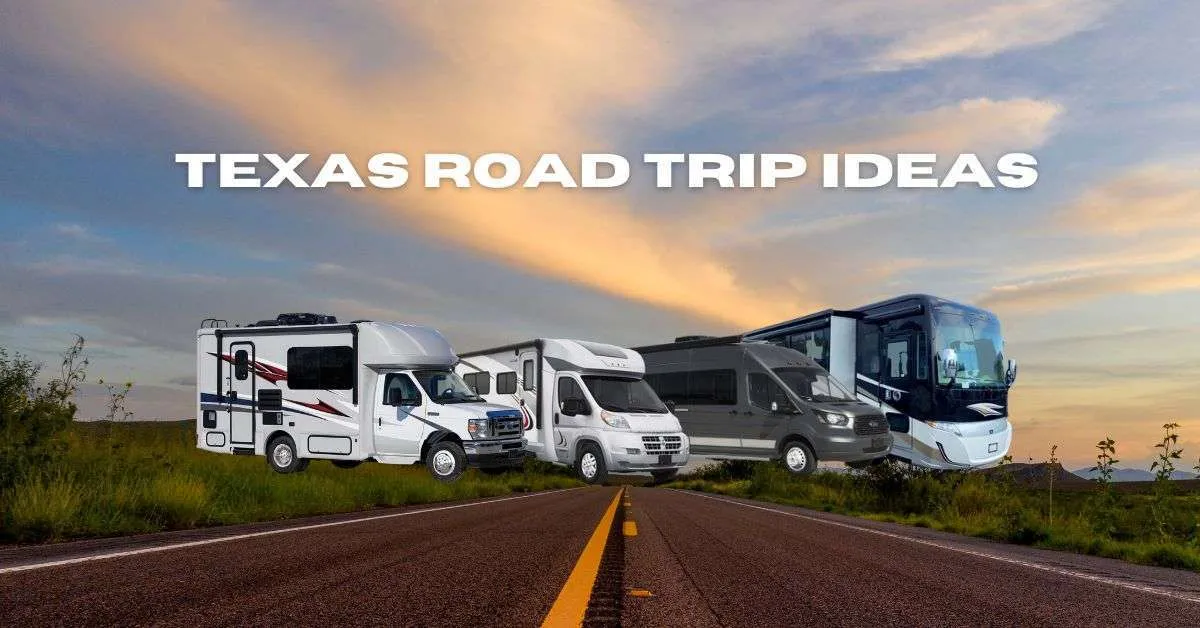 Last updated on August 17th, 2023 at 04:47 am
Picture this for the ultimate Texas Road Trip: cruising down winding roads, the wind gently brushing against your face, and the Texas sun shining brightly overhead.
Welcome to your dream Texas road trip adventure! Texas has it all if you're an outdoor enthusiast looking for a perfect blend of breathtaking landscapes, exciting activities, and warm hospitality. So fasten your seatbelts, grab your map, and let's hit the road!
Getting Ready for the Journey
Before diving into the exciting destinations, let's prepare for an amazing road trip. Here are some essentials to consider:
Plan Your Route: Decide on the cities and attractions you want to visit, but also leave room for spontaneous discoveries, a well-calculated RV trip is a good one..
Pack Smart: Don't forget your camping gear, hiking boots, swimwear, and your camera to capture the unforgettable moments.
Fuel Up: Research gas stations and rest stops along the way to avoid unnecessary stress.
Discover our extensive review of the top-rated RV rental sites in this beautiful country! With a wide selection of RVs available for hire, you can embark on your next adventure in style. Let the journey begin!
Exploring the Vibrant City of Austin
Start your journey in the vibrant city of Austin, where live music, mouthwatering barbeque, and a thriving arts scene await you.
Explore the Live Music Capital: Wander along Sixth Street, where live music fills the air, and immerse yourself in the electric atmosphere.
Discover Outdoor Art: Visit the Graffiti Park at Castle Hill and marvel at the ever-changing street art.
Bat Bridge Experience: Witness the famous bat colony emerge from Congress Avenue Bridge at sunset.
Embrace Nature's Majesty in Big Bend National Park
As you venture west, you'll encounter the awe-inspiring Big Bend National Park, where the Rio Grande carves its way through the Chihuahuan Desert.
Hike the Chisos Mountains: Lace up your hiking boots and traverse the trails of the Chisos Mountains for breathtaking views.
Raft the Rio Grande: Experience the tranquility of the river as you raft through the canyon's majestic beauty.
Stargazing Extravaganza: Stay up late and witness a sky filled with stars at one of the darkest places in the country.
Unveiling the Beauty of Hill Country
Escape to the enchanting Hill Country, a haven of rolling hills, clear rivers, and charming small towns.
Visit Enchanted Rock: Hike up this massive pink granite dome and enjoy panoramic views of the countryside.
Float the Frio River: Grab an inflatable tube and leisurely float down the crystal-clear Frio River.
Wine Tasting in Fredericksburg: Savor the flavors of local wine in the German-influenced town of Fredericksburg.
Discovering the Enchantment of San Antonio
Continue your journey to San Antonio, a city rich in history and culture.
The Alamo: Pay homage to the historic site where a pivotal battle for Texas independence took place.
River Walk Exploration: Stroll along the scenic River Walk and indulge in delectable cuisine at waterfront restaurants.
Natural Bridge Caverns: Explore underground wonders in one of the largest caverns in Texas.
Experiencing the Unique Charm of Galveston Island
Head southeast to Galveston Island, where you'll find sandy shores, charming architecture, and a laid-back atmosphere.
Seawall Urban Park: Take a leisurely walk or bike ride along the Seawall and enjoy views of the Gulf of Mexico.
Moody Gardens: Immerse yourself in the rainforest, aquarium, and discovery pyramids of Moody Gardens.
Historical Pleasure Pier: Enjoy thrilling rides and nostalgic amusements at the iconic Pleasure Pier.
Venturing into the Stunning Palo Duro Canyon
Explore the second-largest canyon in the United States, the Palo Duro Canyon, and be captivated by its grandeur.
Hiking and Biking Trails: Embark on scenic hikes or challenging mountain bike rides through the canyon.
Outdoor Theater: Catch a mesmerizing performance of "Texas" at the outdoor amphitheater.
Camping Under the Stars: Spend the night camping amidst the beautiful canyon landscape.
Diving into the Crystal Clear Waters of Hamilton Pool
Experience paradise at Hamilton Pool Preserve, a natural pool with a stunning waterfall.
Swim and Relax: Take a refreshing swim in the emerald waters and bask in the beauty of the natural grotto.
Picnic in Nature: Enjoy a picnic surrounded by lush greenery and the sounds of nature.
Nature Trails: Explore the trails around the pool and discover hidden spots.
Chasing Ghosts in the Historic Town of Jefferson
Step back in time in Jefferson, a town rich in history and rumored to be haunted.
Historic Haunts: Take a ghost tour and hear chilling tales of the town's eerie past.
Steamboat Cruise: Enjoy a nostalgic steamboat cruise on the Big Cypress Bayou.
Antique Shopping: Browse through antique shops and discover unique treasures.
Unwinding in the Oasis of West Texas
Escape to West Texas and find solace in the tranquility of its breathtaking landscapes.
Marfa's Mystery Lights: Witness the unexplained phenomenon of Marfa's Mystery Lights.
Prada Marfa: Visit the iconic art installation blending fashion and remote desert landscapes.
Balmorhea State Park: Take a dip in the crystal-clear waters of the world's largest spring-fed swimming pool.
Trekking the Guadalupe Mountains National Park
Discover the Guadalupe Mountains, a paradise for hikers and nature lovers.
Hike the Guadalupe Peak Trail
Visiting Frijole Ranch and Smith Spring
Go camping in the National Park
Visit McKittrick Canyon for its scenic views
Take a scenic drive to see Salt Basin Dunes
Go bird watching at Dog Canyon
Relax and enjoy the stunning views of El Capitan
Take a nature walk through Devil's Hall Trail
Enjoy a picnic lunch by Pine Springs Visitor Center
Explore the historic ruins at Williams Ranch
Go stargazing at night in Tejas Campground
Marveling at the Enchanted Rock
Get ready to be spellbound by the allure of Enchanted Rock, a massive pink granite dome that rises 425 feet above the ground.
Climb to the Summit: Challenge yourself with a hike to the summit for panoramic views that will take your breath away.
Sunset Serenade: Experience the magic of a sunset at Enchanted Rock as the sky transforms into a canvas of colors.
Nighttime Stargazing: Bring a blanket and witness the night sky illuminated by countless stars. It's a stargazer's paradise!
Encountering Wildlife in the Padre Island National Seashore
Head south to Padre Island National Seashore, where miles of untouched beaches and diverse wildlife await.
Sea Turtle Nesting: Depending on the season, you might witness the nesting and hatching of sea turtles. It's a truly rare and mesmerizing sight.
Birdwatcher's Paradise: Grab your binoculars and spot migratory birds as they make their way along the Great Texas Coastal Birding Trail.
Beachcomber's Delight: Stroll along the pristine beaches and collect seashells and unique treasures washed ashore.
The Ultimate Texas Hill Country Road Trip
Welcome to the picturesque landscapes of Texas Hill Country! This road trip will lead you through charming small towns, vineyards, historic landmarks, and natural wonders.
Day 1: Arrival in Austin
Highlights:
Arrive in Austin, the live music capital of the world.
Explore South Congress Avenue for quirky shops and delicious food trucks.
Catch an electrifying live music performance in one of the city's iconic venues.
Day 2: Wimberley and Gruene
Highlights:
Head to Wimberley for a relaxing morning by the Blanco River.
Visit the Wimberley Market Days for unique crafts and local goods.
Drive to Gruene, a historic town with charming shops and the famous Gruene Hall, Texas' oldest dance hall.
Day 3: San Antonio
Highlights:
Explore the iconic Alamo and learn about Texas' rich history.
Wander along the vibrant River Walk and enjoy a boat tour.
Indulge in mouthwatering Tex-Mex cuisine at one of the city's restaurants.
Day 4: Fredericksburg
Highlights:
Visit Enchanted Rock for a scenic hike and breathtaking views.
Discover the National Museum of the Pacific War, dedicated to World War II history.
Explore the main street of Fredericksburg for quaint boutiques and German-inspired treats.
Day 5: Llano and Lost Maples State Natural Area
Highlights:
Drive to Llano and have a delightful lunch at Cooper's Old Time Pit Bar-B-Que.
Head to Lost Maples State Natural Area for a hike among stunning fall foliage (best during fall season).
Relax by the Sabinal River and have a peaceful picnic.
Day 6: Bandera and Medina
Highlights:
Experience the cowboy culture in Bandera, the "Cowboy Capital of the World."
Go horseback riding or watch a thrilling rodeo performance.
Explore the scenic Medina River and try tubing for a refreshing adventure.
Day 7: Garner State Park and Concan
Highlights:
Spend the day at Garner State Park, enjoying activities like swimming, hiking, and paddle boating.
Experience the nightly Summer Dance at the park's pavilion during the summer months.
Head to Concan for a serene evening by the Frio River.
Day 8: Luckenbach and Johnson City
Highlights:
Visit the iconic Luckenbach, known for its "where everybody's somebody" slogan and live country music.
Explore the Lyndon B. Johnson National Historical Park in Johnson City, showcasing the life of the 36th President of the United States.
Enjoy a scenic drive through the rolling hills of the Hill Country.
Day 9: Hamilton Pool Preserve and Austin
Highlights:
Head back to Austin and stop at the Hamilton Pool Preserve for a refreshing swim under a beautiful waterfall.
Relax and soak in the natural beauty of the pool's surrounding grotto.
Return to Austin for a farewell dinner, reflecting on the incredible journey you've had.
Final Thoughts
There you have it, a perfect Texas Hill Country road trip that will leave you with unforgettable memories. From the bustling music scene in Austin to the small-town charm of Gruene and Fredericksburg, and the natural wonders of Hamilton Pool Preserve, this road trip offers a delightful mix of experiences.
So pack your bags, gather your friends or family, and hit the open road. Texas Hill Country is waiting to amaze you with its beauty, hospitality, and unique Texan flair. Enjoy the journey, take plenty of photos, and embrace every moment of this fantastic adventure!
Frequently Asked Questions (FAQs)
1. Is Texas road trip suitable for families with kids? Absolutely! Texas offers a plethora of family-friendly destinations and activities. From exploring national parks to enjoying family-friendly attractions in cities like Austin and San Antonio, there's something for everyone.
2. What's the best time of year for a Texas road trip? Spring and fall are usually the most pleasant times to visit, with mild temperatures and blooming wildflowers. However, if you love warm weather and want to experience lively festivals, summer can also be a great time to visit.
3. Are there any camping grounds along the way? Yes, Texas is known for its excellent camping facilities. Many of the national and state parks, as well as private campgrounds, offer various camping options, from basic tent sites to RV hookups.
4. Can I cover all these destinations in one road trip? It might be challenging to cover all the destinations mentioned in one trip, given the vast size of Texas. However, you can customize your itinerary based on your interests and the time you have available. Remember, the journey is about quality experiences, not just ticking off places.
5. What are some must-try Texan dishes on the road trip? Don't miss out on trying delicious Tex-Mex cuisine, including mouthwatering tacos, smoky barbecue, and flavorful chili. Also, indulge in pecan pies, kolaches, and refreshing sweet tea, which are quintessential Texan treats.
Now that you have the ultimate guide to a Texas road trip, pack your bags, buckle up, and get ready for an adventure of a lifetime! Happy travels! 🚗🌵🤠