Renting an RV for a Week: Good Bad or Awesome?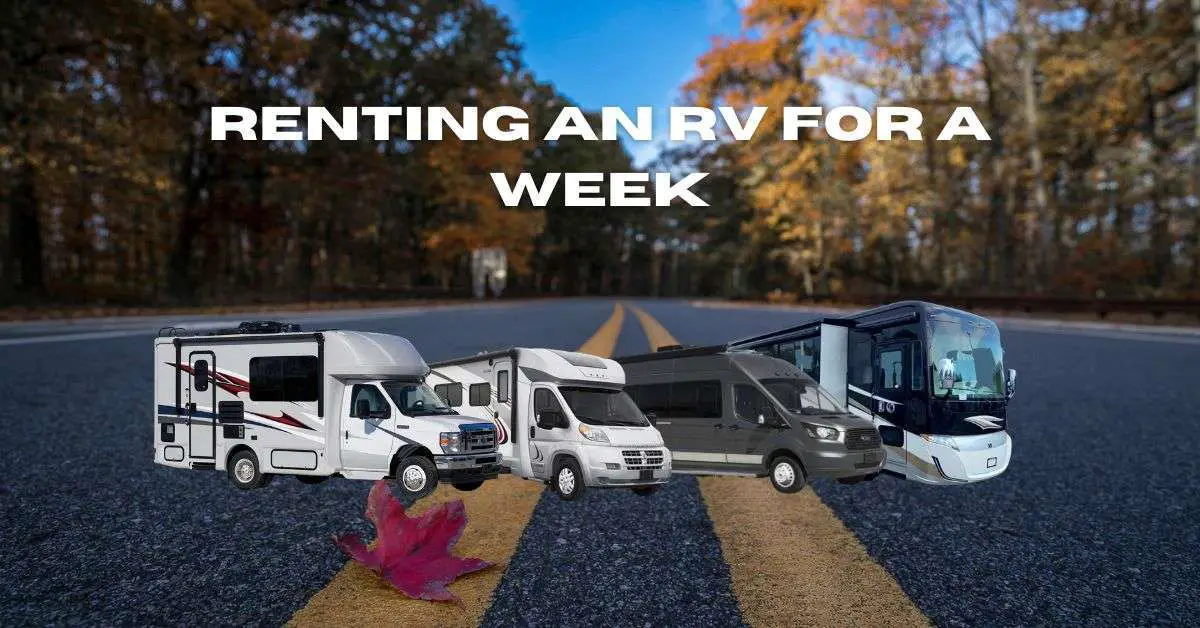 Last updated on August 18th, 2023 at 04:44 am
If you're seeking an exciting and flexible way to explore new destinations, renting an RV for a week could be the perfect choice.
An RV offers the freedom to travel at your own pace, immerse yourself in nature, and experience the joys of a road trip without sacrificing comfort. This comprehensive guide delves into everything you need to know about renting an RV for a week, ensuring an unforgettable and stress-free journey.
The Advantages of Renting an RV for a Week
1. Travel Flexibility
One of the most significant benefits of renting an RV for a week is its unparalleled travel flexibility. Unlike traditional vacations, where you are tied to a single location, an RV lets you chart your own course. You can easily change your plans and explore multiple destinations, giving you the freedom to follow your desires and discover hidden gems along the way.
2. Cost-Effective Travel
Renting an RV for a week can often be more cost-effective compared to other vacation options. It eliminates the need for expensive hotel bookings and dining out at restaurants. With an RV, you can cook your meals onboard or enjoy a picnic in scenic spots, thus saving on dining expenses. Additionally, you can camp at various campgrounds or even opt for free camping in designated areas, further reducing accommodation costs.
3. Home on Wheels
An RV becomes your home on wheels, providing you with essential amenities such as a comfortable bed, kitchenette, restroom, and storage space. This means you can pack less and travel lighter without sacrificing the comforts of home. You can unwind after a day of exploration in your private space, enjoying the company of your loved ones or the tranquility of nature surrounding you.
Choosing the Right RV
Top Rental Companies we Trust
Venture on an exquisite exploration of the finest RV rental Sites in this captivating country! Discover a splendid assortment of luxurious RVs at your disposal and indulge in your next thrilling escapade. Let the extraordinary journey begin!
Outdoorsy is a famous RV rental platform connecting owners and renters. Find a wide selection of RVs in Beaumont and surrounding areas. Rent unique and personalized RVs directly from owners for an authentic experience. See Review
Cruise America RV Rentals is a reputable national rental company with a branch in Beaumont. They offer reliable and well-maintained RVs for comfortable and convenient travel. We did a review With locations nationwide, you can easily pick up and drop off your rental across the country.
RV Share, the largest RV rental marketplace, is an excellent resource for finding the perfect RV. With thousands of nationwide listings, you'll have abundant options. Connect directly with RV owners through RV Share for a wide selection and competitive pricing. See Review
Selecting the perfect RV for your week-long adventure is essential to ensure a comfortable and enjoyable trip. Here are some common types of RVs to consider:
1. Class A Motorhome
Class A Motorhomes are spacious and luxurious, resembling buses. They offer abundant living space, large windows for scenic views, and a wide range of amenities. Perfect for families or groups who prioritize comfort and convenience.
2. Class B Camper Van
Camper Vans, also known as Class B RVs, are compact and easy to drive. They are suitable for solo travelers, couples, or small families looking for agility and versatility. Despite their smaller size, they still offer essential amenities for a cozy trip.
3. Class C Motorhome
Class C Motorhomes strike a balance between Class A and Class B RVs. They are more maneuverable than Class A and offer more living space than Class B. Ideal for medium-sized families or groups.
4. Travel Trailers
Travel Trailers are towed behind a vehicle, making them an excellent choice if you prefer to have your vehicle for exploring at your destinations. They come in various sizes and layouts, accommodating different group sizes and budgets.
5. Fifth-Wheel Trailers
Fifth-Wheel Trailers are similar to Travel Trailers but attach to a pickup truck with a fifth-wheel hitch. They provide additional space and stability, making them a great option for extended trips.
Planning Your Itinerary
To make the most of your week-long RV adventure, thoughtful planning is key. Here are some essential steps to create a memorable itinerary:
1. Choose Destinations Wisely
Research potential destinations along your route and identify the places you most want to visit. Consider natural wonders, national parks, historical landmarks, and recreational areas that align with your interests.
2. Create a Flexible Schedule
While having a rough schedule is beneficial, remember to keep it flexible. Embrace spontaneity and allow room for unexpected discoveries or experiences. Strike a balance between planned activities and leisure time.
3. Reserve Campgrounds in Advance
During peak travel seasons, popular campgrounds can fill up quickly. To secure a spot at your desired locations, make campground reservations ahead of time. Alternatively, consider boondocking or free camping options if you prefer a more rustic experience.
4. Be Mindful of Driving Distances
Factor in driving distances between destinations when planning your itinerary. Avoid long drives on consecutive days to prevent fatigue and ensure you have ample time to explore each location.
Safety and Maintenance Tips
Safety should always be a top priority during your RV adventure. Follow these tips to ensure a secure and trouble-free journey:
1. Perform Pre-Trip Checks
Before hitting the road, conduct a thorough inspection of your RV. Check the tires, brakes, lights, and all essential systems to ensure they are in excellent working condition.
2. Drive Cautiously
Driving an RV requires a different approach than driving a regular vehicle. Practice driving in an open area before starting your journey, and always drive cautiously, especially in unfamiliar terrain or adverse weather conditions.
3. Pack Emergency Essentials
Be prepared for unexpected situations by carrying a first-aid kit, emergency tools, and a spare tire. Familiarize yourself with common RV issues and how to handle them.
4. Respect Campground Rules
When staying at campgrounds, respect their rules and regulations. Follow quiet hours, maintain cleanliness, and dispose of waste properly to be a responsible camper.
Renting an RV for a Month
To truly immerse yourself and delve into a richer travel experience, why not consider the idea of renting an RV for an entire month?
This option is tailor-made for adventurers longing to explore various regions or embark on a journey of great distances.
By renting an RV for a whole month, you'll have ample time to visit captivating attractions leisurely, revel in breathtaking landscapes, and fully embrace the allure of the nomadic lifestyle. It grants you unparalleled freedom and flexibility to meticulously plan your itinerary, allowing you to delve deeper and fully immerse yourself in the charm of every destination you encounter.
Final Thoughts
Renting an RV for a week opens up a world of possibilities for me. I can embark on a remarkable journey filled with freedom, adventure, and unforgettable experiences. The flexibility of RV travel and the comfort of having a home on wheels make it an ideal choice for explorers like me.
Whether I prefer picturesque landscapes, vibrant cities, or tranquil wilderness, an RV adventure promises to be an enriching and rewarding escape from the ordinary. So, I'll pack my bags, plan my route, and embark on a week-long journey of a lifetime!