Ironclad Rocket Stove Review: Shuttle Your Camp Cooking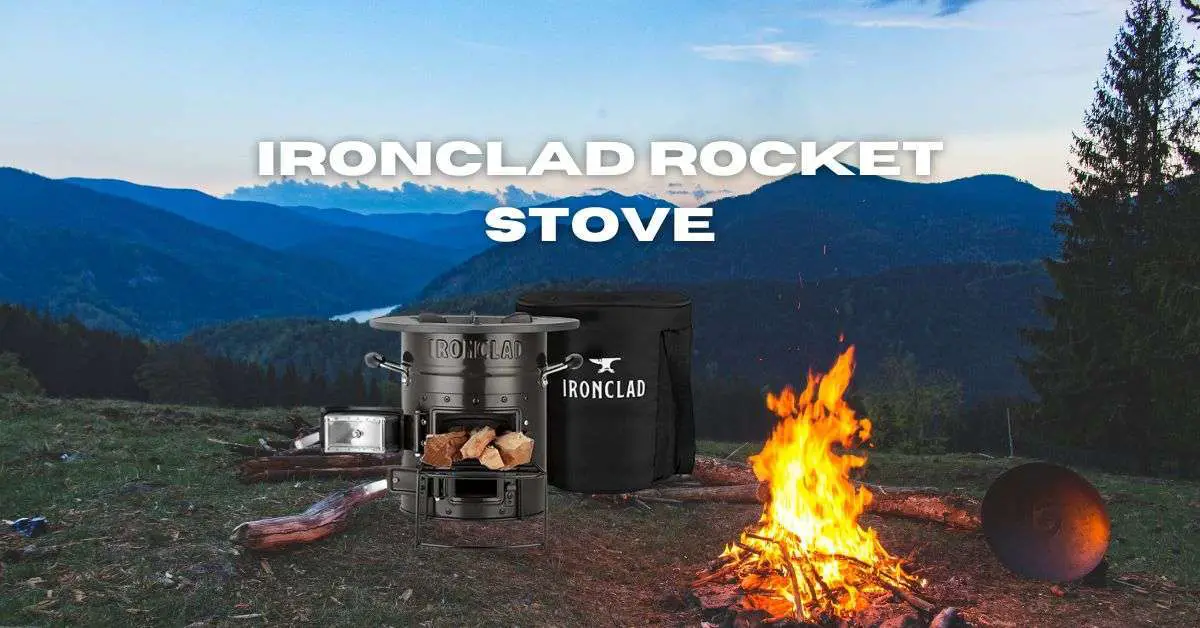 Last updated on September 21st, 2023 at 12:42 am
The Ironclad Rocket Stove is a new and exciting way to cook or heat things up outdoors, I absolutely love it. This compact stove is said to be the ultimate solution for all of your outdoor cooking and heating needs.
But before you make an investment, I want to provide you with a comprehensive review of this unique stove.
The Ironclad supply rocket stove is:
incredibly easy to use
requires no assembly
Get cooking right away
lightweight and portable
perfect for camping trips or outdoor hangouts
fueled by wood
pleasant aroma
no gas emissions.
Putting the Ironclad Supply Rocket Stove to the Test
First things first: the Ironclad Rocket Stove is built to last. Its durable steel design makes it rugged enough to withstand almost any conditions, and the compact size means it's easy to pack and take on the go. And let's be honest, who doesn't love a good, sturdy object especially when it comes to cooking outside!
But let's get down to the real nitty-gritty: how well does it actually work? The Ironclad Rocket Stove uses wood or charcoal as fuel, and its unique design allows for efficient and quick cooking. It can heat up in just a few minutes and cook your food quickly.
The flame is enclosed so you don't have to worry about any stray sparks or flames as the stove gets hotter. Not only is this stove great for cooking, it's also perfect for outdoor heating on chilly nights.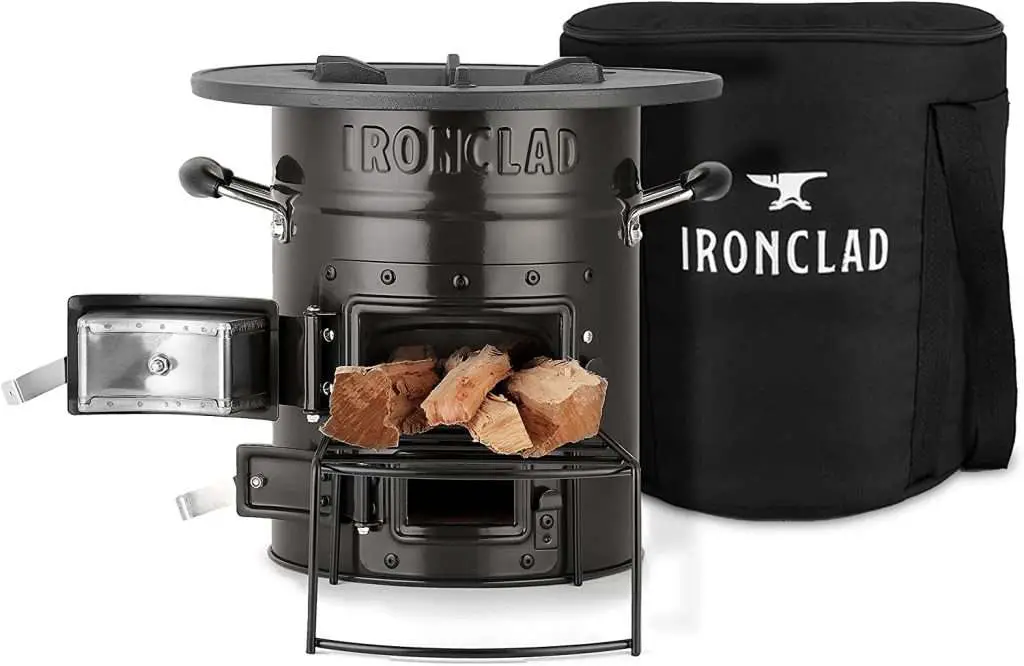 One of the best features of the Ironclad Rocket Stove is its ability to use almost any type of wood or charcoal as fuel. This means you don't have to spend much money on expensive fuel options or lug around bulky propane tanks. Simply gather some wood or charcoal and you're good to go!
And it's not just about its use. Clean-up is a breeze with this stove, which is a bonus when looking for hassle-free outdoor cooking. The ash tray makes it easy to dispose of the used fuel, and the stove itself can easily be wiped down with a damp cloth.
Another thing to note about the Ironclad Rocket Stove is that it's great for the environment. Not only does it allow you to use natural fuels, it also reduces the amount of smoke and emissions released into the air. So not only do you get to enjoy delicious food outdoors, you get to do it while being eco-friendly.
| | |
| --- | --- |
| Brand | Ironclad Supply |
| Fuel Type | Liquefied Petroleum Gas |
| Material | Cast Iron |
| Product Dimensions | 9″L x 9″W x 12″H |
| Power Source | Gas Powered |
| Maximum Energy Output | 23000 British Thermal Units |
Key Features
THE ULTIMATE CAMPING WOOD STOVE – Extremely durable, long-lasting and energy efficient. This portable wood-burning stove fuels solid, dry biomass like wood, branches, pinecones, twigs, and charcoal. Perfect addition to your camping gear and equipment, great for emergency preparedness when disaster strikes and even as a cooking solution for your RV or off-grid cabin.
PERFECT FOR OFF-GRID LIVING AND EMERGENCY PREPAREDNESS – No need for gas, propane, or electricity. The Ironclad Supply portable camping stove burns solid biomass like wood as fuel, which means that you can cook a full meal and boil water for your family anywhere, anytime. Its efficient design means that all you need to cook a entire meal is just a handful of sticks! The perfect emergency stove for every situation.
SUPER EFFICIENT ROCKET STOVE DESIGN – This camping cooking stove has a fully insulated vertical combustion chamber that forces gases to mix with flames, leading to decreased smoke while boasting tremendous fuel efficiency. This means that you can use less fuel to increase cooking times. This rocket stove can efficiently produce up to 23,000 BTU with minimal biomass fuel.
BULLET PROOF DESIGN – Designed for the harshest conditions, every Ironclad Supply Rocket camp wood stove is built with the strongest materials to ensure it will last. The large six-pronged cast iron stove top can accommodate most camp kitchen cookware like pots, pans, woks, and dutch ovens to meet all your outdoor cooking needs. The powder-coated body also increases durability from wear and tear and the heat resistant handles make it a breeze to move, even when your wood cook stove is in use.
INCLUDES CANVAS STORAGE BAG AND FUEL SUPPORT SYSTEM – Our camping stove includes a weather resistant canvas storage bag that also doubles as a fuel carrier for dry biomass and charcoal and a fuel support system for longer firewood to prolong the life of your flame. The Ironclad Supply wood burning rocket stove also makes a perfect gift for those that love the outdoors, camping, hiking, backpacking, bushcraft and have a plan for emergency preparedness situations.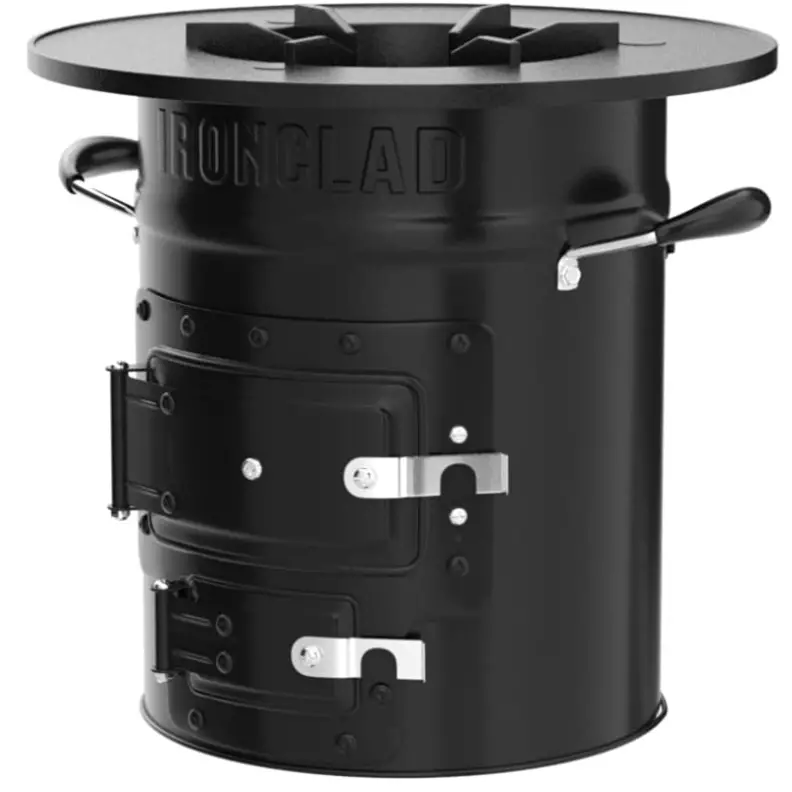 Final Thoughts
Overall, the Ironclad Rocket Stove is a great investment for anyone who loves spending time outdoors. From cooking a delicious meal to keeping warm on a chilly night, this stove delivers great results repeatedly. Its sturdy design and efficient performance make it a must-have for any camping trip, picnic, or outdoor adventure. So don't hesitate to give it a try and see why the Ironclad Rocket Stove is gaining popularity amongst outdoor enthusiasts worldwide.