9 Best Camouflage Tents for Stealth Camo Camping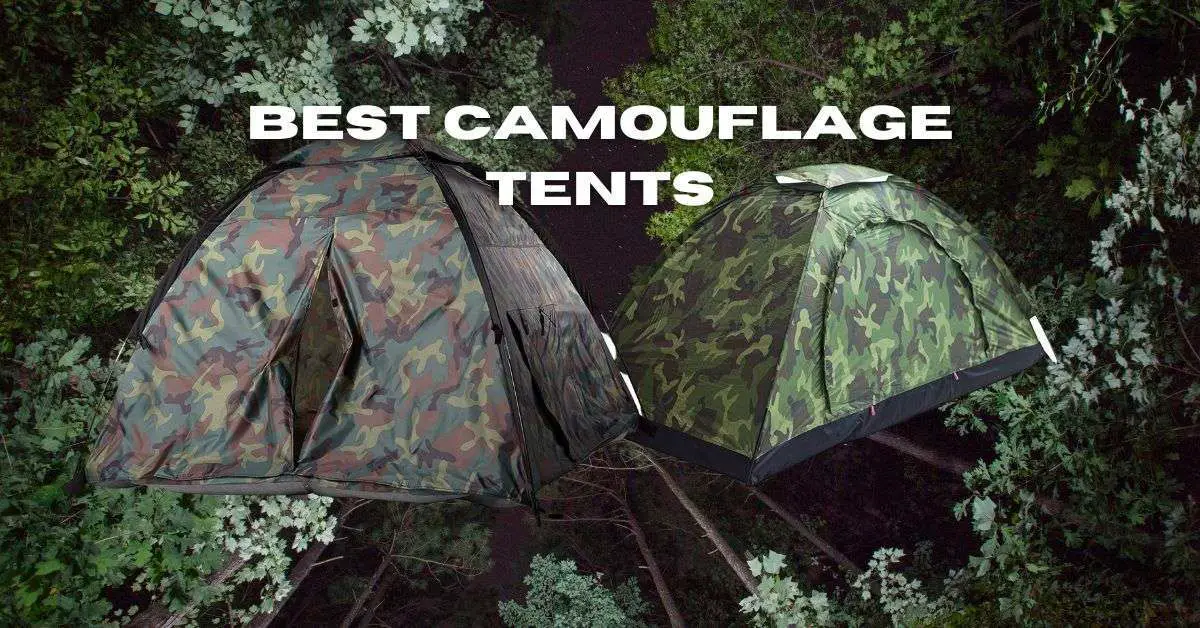 Last updated on August 18th, 2023 at 04:33 am
Different materials, sizes, shapes, and weight are some of the critical factors to consider when selecting the best camouflage tent.
Camouflage tents offer an essential solution for those seeking discretion and concealment in the great outdoors.
Whether used by hunters, wildlife photographers, or campers who want to blend in with nature, these tents provide an ideal shelter while maintaining a low visual profile. With a variety of designs emulating the diverse landscape, camo tents are a must-have addition to any outdoor excursion equipment.
The quality of the material is essential, as it directly relates to the tent's durability, weather resistance, and overall performance. Size and shape influence the tent's versatility in various terrains and environments, while weight plays a critical role for those who need to carry their gear over long distances.
Camo Tents Explained
In pursuing the perfect camo tent, it's also important to consider the ease of setup and takedown. A tent with user-friendly features can make a significant difference when it comes to spending more time enjoying the outdoors and less time struggling with a complicated setup.
While camouflage tents can often be found under various price ranges, it's important to note that investing in a well-known, trusted brand may result in a higher-quality product built to last.
We have analyzed an array of camouflage tents on the market, meticulously examining their features, materials, and customer feedback. In doing so, we have narrowed down the search to the top selections that best meet the balance of quality, performance, and value. The following guide will provide you with detailed information on these top contenders, ensuring you can make an informed decision and find the ideal camouflage tent for your outdoor needs.
Best Camouflage Tents
Discover the top camouflage tents in the market that cater to your outdoor adventure needs. Our carefully curated list offers you a selection of the best options for a discreet and comfortable experience.
This versatile and high-quality camouflage tent is perfect for both indoor and outdoor play, making it an excellent choice for kids and families.
Pros
Durable and waterproof fabric with silver coating
Easy to assemble and pack away
Spacious, 60 x 60 x 44-inch size
Cons
Floor may be too thin for rough surfaces
Pocket sewn upside down in some units
Price may be slightly higher than alternatives
The NARMAY Camouflage Dome Tent is designed to provide endless playtime for children while keeping them protected from the elements. It features a silver and waterproof coated fabric that effectively blocks UV rays and moisture, ensuring a comfortable environment for kids inside the tent. The tent is spacious, measuring 60 x 60 x 44 inches, providing ample room for multiple children to play.
Assembling the tent is a breeze, thanks to the black PE-coated fiberglass shock-corded tent poles and easy-to-follow instructions. Once playtime is over, the tent can be easily packed away in the handy take-along storage tote, making it a convenient option for families on the go.
While the tent's waterproof floor keeps kids dry when playing outdoors, it may be too thin for prolonged use on rough surfaces. Additionally, some customers received units with a pocket sewn upside down, which could be an inconvenience but ultimately does not affect the tent's overall functionality.
Overall, the NARMAY Camouflage Dome Tent is a fantastic option for those looking for a durable and versatile play tent for their children. Despite some minor drawbacks, its high-quality construction and engaging design make it well worth the investment.
A reliable and affordable option for solo campers seeking a lightweight and easy to set up camouflage tent.
Pros
Lightweight and portable
Easy to set up
Resistant to light rain
Cons
Limited ventilation
Weak tent stakes
Can be challenging to make it waterproof
The Sutekus Camouflage Camping Tent offers a simple solution for backpackers and campers in need of a compact and lightweight tent. Made with 180D Oxford material, this tent is durable enough to withstand light rain, ensuring you remain dry during unexpected showers. It is also relatively easy to set up, even for beginners, allowing you to spend more time enjoying your camping experience and less time struggling to pitch your tent.
While this tent is mostly ideal for solo adventurers, one may find its ventilation to be a bit limited, especially during warmer months. It is advisable to consider acquiring additional or spare tent stakes, as the ones that come with the Sutekus tent may not provide the most reliable support.
Despite these minor drawbacks, the Sutekus Camouflage Camping Tent packs a punch when it comes to value for a small single-person camouflage tent. Its lightweight design is perfect for those who prioritize portability when it comes to transported camping gear. If you can overlook some ventilation issues and provide your own solution for increased tent sturdiness, this tent could be a worthy investment.
The Outvita Camping Dome Tent is a great choice for those seeking a spacious, easy-to-set-up tent with decent weather protection for 3-4 people.
Pros
Spacious for 3-4 persons
Durable materials
Enhanced breathability
Cons
Limited rain protection
Fragile pole sleeves
Not ideal for heavy rain or inclines
The Outvita Camping Dome Tent provides a roomy and comfortable experience for families or groups of 3-4 people. With large dimensions (6.56 x 6.56 x 4.43)', this tent can be set up quickly and easily within 10 minutes, perfect for weekend getaways or longer trips. The tent's materials are durable and somewhat resistant to light rain, making it suitable for various outdoor activities.
The tent's upgraded frame includes fiberglass poles, fixed ropes, and tent stakes to ensure stability and resistance to deformation in windy or rainy conditions. While the tent is well-ventilated due to its window and ceiling vent designs, the small roof vents might be a concern for some users. The inner gauze protects occupants from mosquitoes while allowing fresh air to circulate.
One downside of the Outvita Camping Dome Tent is its limited rain protection, which may not hold up in heavy rain or on inclined surfaces. Some customers have reported fragile pole sleeves, which can tear easily during setup. Despite these drawbacks, this lightweight tent is an ideal choice for various outdoor activities, including hiking, surfing, BBQs, field trips, fishing, and beach excursions.
In conclusion, the Outvita Camping Dome Tent is a reliable and moderately weather-resistant option for 3-4 person camping trips. However, its limitations in rain protection and durability may be considerable factors when deciding whether this is the right tent for your needs.
The Vokodo Kids Pop Up Camouflage Play Tent is a fun and engaging choice for children who enjoy imaginative play, both indoors and outdoors.
Pros
Easy pop-up and fold-down functionality
Durable, non-woven fabric material
Suitable for indoor and outdoor use
Cons
May be too small for older children
Durability could be an issue with rough use
Limited design – only in camo theme
The Vokodo Kids Pop Up Camouflage Play Tent is an excellent addition to any kid's play area, sparking their imagination and promoting creative learning. It features a fun and authentic camouflage theme, which will appeal to children who love adventures and role-playing games. With its ceiling window screen, side window openings, and roll-up entry door, this tent offers a cozy hideout where kids can enjoy countless hours of play.
One of the standout features of this play tent is its pop-up function, which means that there's no assembly required. It easily pops open and folds down, making it convenient for both setup and storage. The tent is made from a non-woven fabric material, designed for both indoor and outdoor use. It's also easy to clean with a damp cloth and soap.
However, it's essential to note that this tent might be too small for older children, so it's ideal for ages 3-7. In addition, the durability of the fabric might not withstand rough play, so it's best for gentle use. Lastly, the design is limited to a camouflage theme, which might not appeal to all children.
Overall, the Vokodo Kids Pop Up Camouflage Play Tent is an engaging and exciting option for young children who enjoy imaginative play. Its ease of use and versatile design make it a worthy addition to your child's playtime collection.
The GEERTOP Ultralight Bivy Tent is a great choice for solo campers in need of a lightweight, reliable, and comfortable shelter.
Pros
Lightweight and portable
Waterproof and UV protection
Easy setup and takedown
Cons
Limited to one person
Camouflage pattern may not suit everyone
Could be difficult to set up for inexperienced campers
The GEERTOP Ultralight Bivy Tent is an excellent option for those who enjoy solo camping adventures and need a durable, lightweight shelter. Weighing just 4 lbs, this tent is easy to carry and won't weigh you down on your backpacking trips. The double-layer design, combined with its PU 2500mm waterproof rating, ensures that you'll stay dry during rainy weather. Furthermore, its ventilation windows and doors provide an airy, comfortable environment in the tent.
Besides its technical benefits, the GEERTOP Ultralight Bivy Tent stands out because of its easy setup and takedown process. Even those new to camping can put this tent together in under ten minutes. The two-pole frame and aluminum poles make the structure strong yet lightweight. However, its one-person capacity may be a downside for those who prefer sharing their space with a companion or furry friend on camping trips.
The camouflage pattern on the tent adds a touch of style, although it may not be everyone's taste. If you want a discreet presence in the great outdoors, this design may cater to your preferences. In summary, the GEERTOP Ultralight Bivy Tent is an ideal choice for solo campers seeking a portable, weather-resistant, and comfortable shelter during their outdoor adventures.
A decent option for casual campers seeking a lightweight and portable camouflage tent for two people.
Pros
Good view with mesh net and cover
Insect and small animal protection
Easy to set up
Cons
Questionable waterproofing
Possible durability issues
Limited space
The Keenso Outdoor Camouflage Tent is a portable and lightweight option ideal for casual camping and hiking trips with a partner. It features a mesh net and cover design that allows users to enjoy a good view of their surroundings, both during the day and at night. The mesh net also serves as protection against insects and small animals, providing a safe space for campers to relax.
Setting up this tent is a breeze, thanks to its simple and compact structure. It's an excellent opportunity to involve children in assembling the tent, enhancing their skills and allowing for family bonding time. The tent is also rated for 40+ UV protection, ensuring you and your family are shielded from the sun's harmful rays.
However, reviews suggest that the tent may not provide adequate waterproofing. Additionally, there have been concerns about the tent's overall durability, particularly related to the poles ripping out. Lastly, some customers felt that the tent's size is not suitable for two adults comfortably. While the Keenso Outdoor Camouflage Tent may not be suitable for more demanding camping experiences, it could be a reasonable choice for casual campers who prioritize portability and ease of use.
The Neso Grande Beach Tent is an excellent choice for anyone seeking a lightweight, portable, and durable shelter for beach outings.
Pros
Lightweight and portable, with easy-to-carry design
Durable Nylon/Lycra material with UPF 50+ protection
Versatile and functional with corner anchor bags and cooler pocket
Cons
Setup may require some practice to perfect
May struggle in extremely windy conditions
A sand shovel is needed for optimal use
This Southern California-designed camouflage tent is both stylish and practical. Weighing only 6.5 pounds, it is easily packable in a 19.5-inch shoulder carrying bag that can fit in a carry-on suitcase. While using the Neso Grande Beach Tent, I appreciated its thoughtful, convenient design, which includes a cooler pocket for drinks and snacks.
Constructed with a high-quality blend of Nylon and Lycra, the tent's material offers UPF 50+ protection from harmful sun rays and water repellency for rainy days. The patented reinforced corners and rust-proof aluminum poles are durable, ensuring the tent's longevity. Standing 7 feet tall and measuring 9×9 feet, this tent provides ample space and comfort for a day at the beach.
The setup can be initially tricky, but after watching a few helpful videos, I was able to master it. Be prepared to invest some time in learning the proper techniques to pitch the tent at the perfect angle. One potential downside is that the tent may not withstand extremely windy days. It's advisable to use a sand shovel to fill the corner anchor bags optimally.
In summary, the Neso Grande Beach Tent Camo is an ideal option for beachgoers who value lightweight portability, durability, and sun protection. Just be prepared to perfect the setup and come equipped with a sand shovel.
A reliable camouflage tent suitable for solo adventurers seeking a blend of durability and convenience.
Pros
Sturdy and durable materials
Mesh net provides insect protection
Lightweight and portable
Cons
Only suitable for one person
No mention of waterproofing
Limited ventilation options
The Sutinna Outdoor Camouflage Tent is an excellent choice for those who prefer solo outdoor adventures, such as camping, hiking, or even enjoying a day at the beach. The tent is constructed from a combination of 170T polyester with silver coating, providing protection up to 40+, and a durable 210D oxford polyester bottom, ensuring a long-lasting and sturdy shelter.
We found the setup process to be quite user-friendly and time-saving. With easy-to-follow instructions and the included pegs and poles, there's no difficulty in assembling the tent single-handedly. As someone who values efficiency, especially in the great outdoors, this tent delivered on its promises.
One caveat we experienced was the lack of adequate ventilation. While it does have a mesh net to keep insects at bay and an air vent with a cover for stargazing, there could be some issues on humid nights. This, however, is a tradeoff for the lightweight and portable design of the tent.
In conclusion, the Sutinna Outdoor Camouflage Tent offers a reliable option for solo trips, with its sturdy construction and easy setup. Just keep in mind its limitations in terms of ventilation and waterproofing. Overall, a solid choice for those who don't mind roughing it a bit in the great outdoors.
A budget-friendly camouflage tent for casual camping trips, suitable for short stays and fair weather conditions.
Pros
Easy and quick setup
Waterproof and rainproof
Suitable for various outdoor activities
Cons
Limited space for two adults
Fragile zippers
Not suitable for cold weather
CCAN's 3-4 Person Camping Dome Tent is a simple and convenient solution for those in need of a lightweight tent for casual camping outings. Its easy setup allows you to spend more time enjoying the great outdoors, rather than struggling with complicated assembly. The tent's waterproof and rainproof features ensure that you stay dry and comfortable during unexpected showers.
However, the tent's size might pose issues for its users. It might be a tight fit for two adults, let alone three or four, as the name suggests. The fragile zippers also call its durability and longevity into question, making it less suitable for more rugged or long-term camping trips.
Additionally, this tent is not designed for use in cold or harsh weather conditions. The material and construction lack insulation, and it's not built to withstand heavy snow or extreme temperatures. It's best suited for fair-weather camping in milder seasons.
In conclusion, the CCAN 3-4 Person Camping Dome Tent is a decent choice for casual campers who prioritize portability, affordability, and ease of setup. However, it may not be suitable for more experienced outdoors enthusiasts who require a larger, more durable, and insulated tent for their adventures.
Buying Guide
When looking for the best camouflage tent, consider several factors to ensure you choose the best product for your needs. Here are key features to look at:
Material: The tent's material plays a significant role in its durability and protection against harsh weather conditions. Opt for high-quality materials such as polyester, nylon, and canvas. These materials offer varying levels of water-resistance and breathability.
Size: Before purchasing a camouflage tent, consider its size and purpose. Will it be used for solo camping, hunting with a partner, or a larger group? Choose a tent size according to the number of people using it and the required storage space for gear.
Ease of Assembly: A camouflage tent should be easy to set up and take down. Some tents are designed with color-coded poles and clips to ensure a more straightforward assembly process. Choose a product that requires minimal time and effort to assemble.
Portability: The tent's weight is an essential factor, especially if you plan to carry it long distances. Lightweight tents are more portable and convenient for backpacking trips. Remember that lighter materials might compromise durability.
Ventilation: Adequate airflow is vital to prevent condensation buildup inside the tent. Look for features such as mesh windows and vents that allow air circulation while still preserving the camouflage effect.
Design: The tent's design should blend well with the surrounding environment. There are various camouflage patterns available, such as woodland, snow, desert, and digital. Choose a pattern that best matches your intended environment to remain concealed effectively.
Frequently Asked Questions
What are the top camouflage tents for hunting?
There are many high-quality camouflage tents designed specifically for hunting. Some popular options include the CamoTent-Barronett Ground Blind, Rhinowolf SoloTent, and Ameristep Care Taker Hub Blind. These tents offer features such as 360-degree view, adjustable windows for better visibility, and durable materials for long-lasting use.
Which stealth tents are highly recommended for wild camping?
For wild camping, stealth tents like Snugpak Ionosphere, MSR Elixir 2, and Vango Mirage Pro 200 are highly recommended. These tents provide low visibility due to their camouflaged color schemes, lightweight materials, and compact packing size, making them ideal for discrete wild camping experiences.
What are the best 2-person camouflage tents?
Some of the best 2-person camouflage tents include the MSR Hubba Hubba NX, Coleman Hooligan 2, and Kelty Dirt Motel 2. These tents offer features like easy setup, roominess for two people, and sufficient ventilation, making them ideal for a comfortable camping experience with a companion.
Which camouflage tents are designed for photography?
Camo tents designed for photography often prioritize features like adjustable windows, light- and sound-trapping materials, and unobtrusive designs. Two popular choices include the Tragopan V6 Photo Blind and the Stealth Gear Two-Man Wildlife Photo Tent. Both of these tents are tailored to meet the unique needs of photographers in the field.
How to choose a non-leaking camo tent?
To choose a non-leaking camo tent, prioritize features like waterproof materials, reinforced seams, and a durable rainfly. Additionally, look for tents with a bathtub floor design and ventilation systems to prevent condensation. Brands such as Big Agnes and Nemo incorporate these features into their tents, ensuring your camping experience remains dry and comfortable.
What factors contribute to a stable camo tent structure?
A stable camo tent structure relies on factors like sturdy, lightweight poles (typically aluminum or fiberglass), adequately tensioned guylines, strong anchor points, and a suitable tent site. Dome or tunnel designs tend to offer more stability, especially in windy conditions. Always follow manufacturer guidelines for setting up the tent and using the appropriate stakes for the terrain.