Best Battery Powered Heater for Camping: The Truth & 3 Alternatives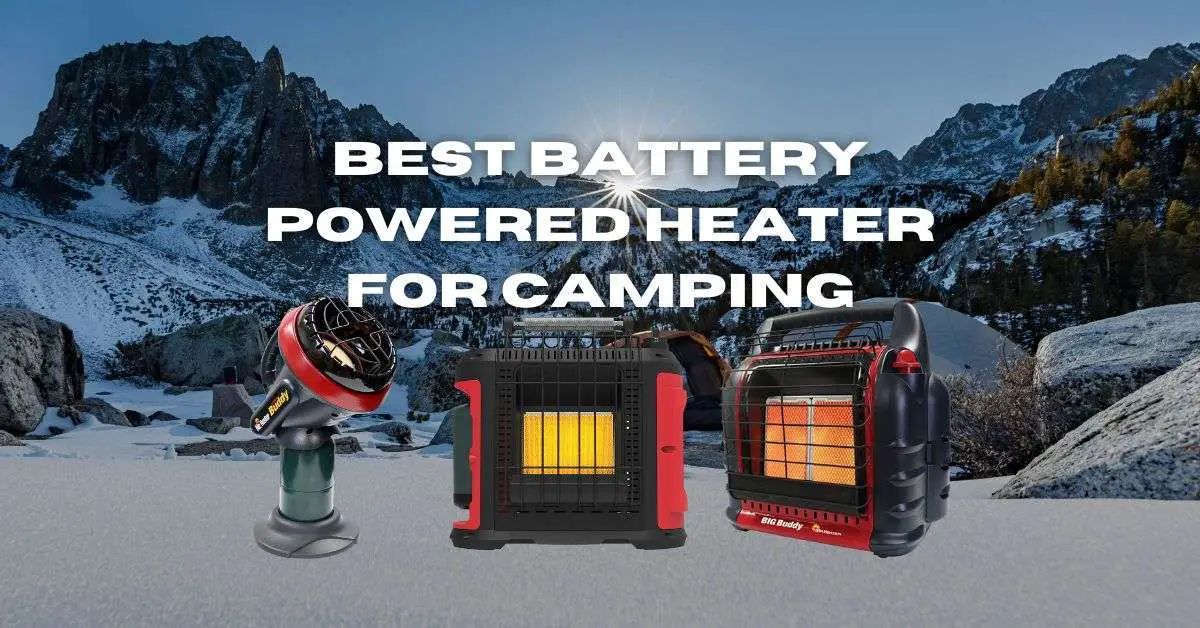 Last updated on September 21st, 2023 at 09:08 am
I have been giving a lot of thought lately to finding the ideal Battery Powered Heater for Camping. Can you imagine how convenient it would be to operate such a device for camping trips or when unexpected power outages suddenly arise, like what happened in Texas in February 2021?
Unfortunately, I discovered the hard way that battery operated heaters simply don't exist. It's definitely a letdown, but don't worry; after researching, I uncovered other options worth exploring, like cordless battery-operated heaters. We'll take an in-depth look at these soon.
Our Top Battery Operated Heater Alternatives
The idea of having a battery-powered heater is very appealing. It would be great to have the convenience of bringing a 5000 mAh power bank to run a space heater while camping outdoors. Unfortunately, I realized that even a large 100 Ah 12V battery could only sustain a standard 1,500W space heater for under an hour; around 48 minutes, to be precise. That's because space heaters require an immense amount of energy just like washing machines do and regular batteries simply aren't able to provide enough power for them.
I recently researched the cost of a battery-powered space heater and was dismayed to discover that the Tesla-type batteries, renowned for their power, would make such a device too expensive. At the current time, it seems unlikely that purchasing one would be a feasible or affordable option. Nonetheless, it's always important to have all the facts!
Best Overall – Mr. Heater Propane Heater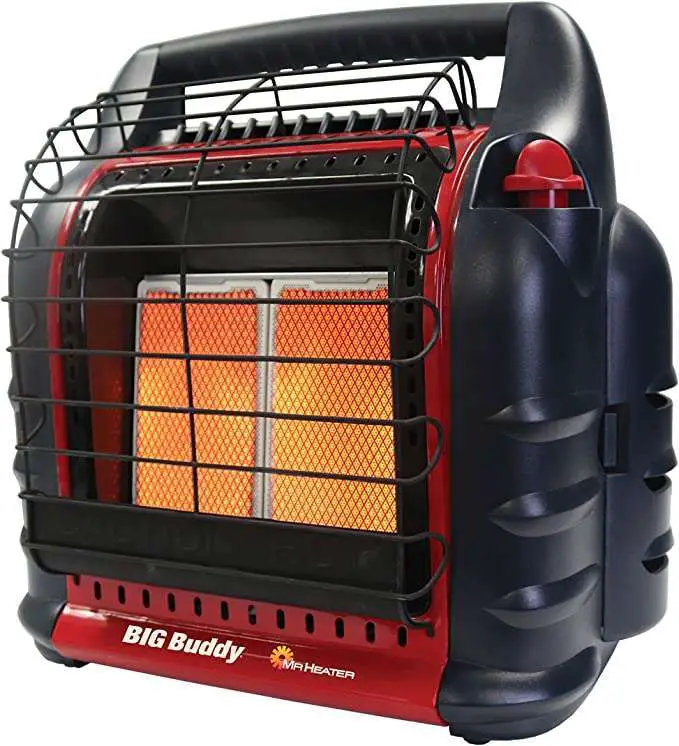 | | |
| --- | --- |
| Brand | Mr. Heater |
| Special Feature | Portable |
| Color | Red |
| Form Factor | Pedestal |
| Indoor/Outdoor Usage | Indoor |
Key Features
4,000- to 18,000-BTU radiant heater for spaces up to 450 square feet. Approved for indoor/outdoor use; clean-burning; nearly 100-percent efficient
When operating the heater at altitudes over 7,000 FT above sea level the heater may shut off. Maximum Hours Of Operation- 220.0
Auto shut-off if tipped over, if pilot light goes out, or if detects low oxygen levels
Low, medium and high heat level control knob for steady temperatures; connects to propane tank (not included). Note- Due to recent governmental changes to import tariffs, Mr. Heater has removed the fan on some models of the Mr. Heater Big Buddy (MH18B).
THE USE OF UN-AUTHORIZED ACCESSORIES/ATTACHMENTS WITH THIS HEATER ARE EXPRESSLY PROHIBITED, MAY CAUSE SERIOUS INJURY, AND WILL VOID THE WARRANTY.
Most Portable – Mr Little Buddy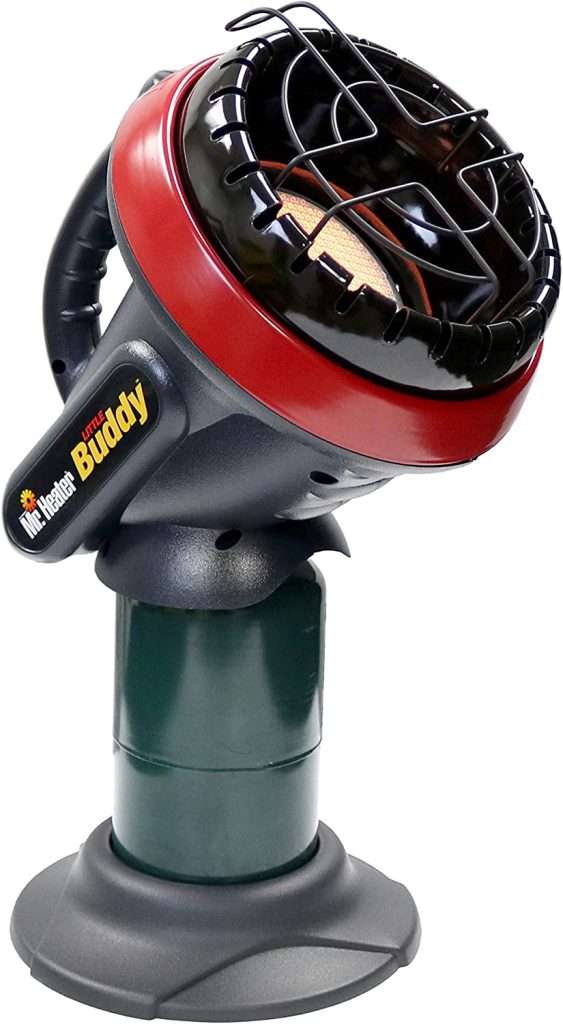 Mr. Heater offers the latest evolution in portable heating with their Portable Little Buddy Propane Heater, which can be operated in garages, tents, workshops, cabins, porches, patios or hunting blinds to heat up to 95 sq. ft.. Equipped with a low-oxygen shut-off pilot system and an accidental tip-over shutoff for indoor safety and one heat setting of 3,800 BTU/hr, allowing you to control the comfort level. With a lightweight design for easy portability and operation, this product is ideal for those who need heat wherever life takes them.
| | |
| --- | --- |
| Brand | Mr. Heater |
| Special Feature | One Handed easy start system |
| Color | Black/Red |
| Indoor/Outdoor Usage | Indoor |
| Power Source | Gas Powered |
Key Features
Indoor-safe portable propane heater for rooms up to 95 square feet. THIS UNIT IS NOT INTENDED FOR GOLF CART USE OR FOR MOTORIZED VEHICLES.
Continuous odor-free, 45-degree heating angle. Maximum Elevation (Ft) 7000 Feet. Automatic low oxygen shut-off system (ODS). Perfect solution for heating small enclosed spaces like tents up to 95 square feet
Simple on/off buttons; uses 1-pound disposable propane cylinder (not included). Run time at minimum btu and maximum btu is 5.6 hours. Do­ not­ operate­ heater­ in­ any ­moving­ vehicle. This ­heater ­requires ­a­ vent­ area­ of­ 4­ square­ inches­ minimum ­for­ adequate ventilation ­during­ operation
Low-oxygen sensor and accidental tip-over switch with auto shut-off for safety.THE USE OF UN-AUTHORIZED ACCESSORIES/ATTACHMENTS WITH THIS HEATER ARE EXPRESSLY PROHIBITED, MAY CAUSE SERIOUS INJURY, AND WILL VOID THE WARRANTY.
Recommended for emergency heat, tents, campers, workshops, job sites, porches, patios, decks, garages, storage buildings, picnics, tailgate parties, construction trailers, sporting events, barns, sheds, hunting blinds, shelters and ice fishing shanties
Best On Budget – Dyna-Glo Grab N Go Portable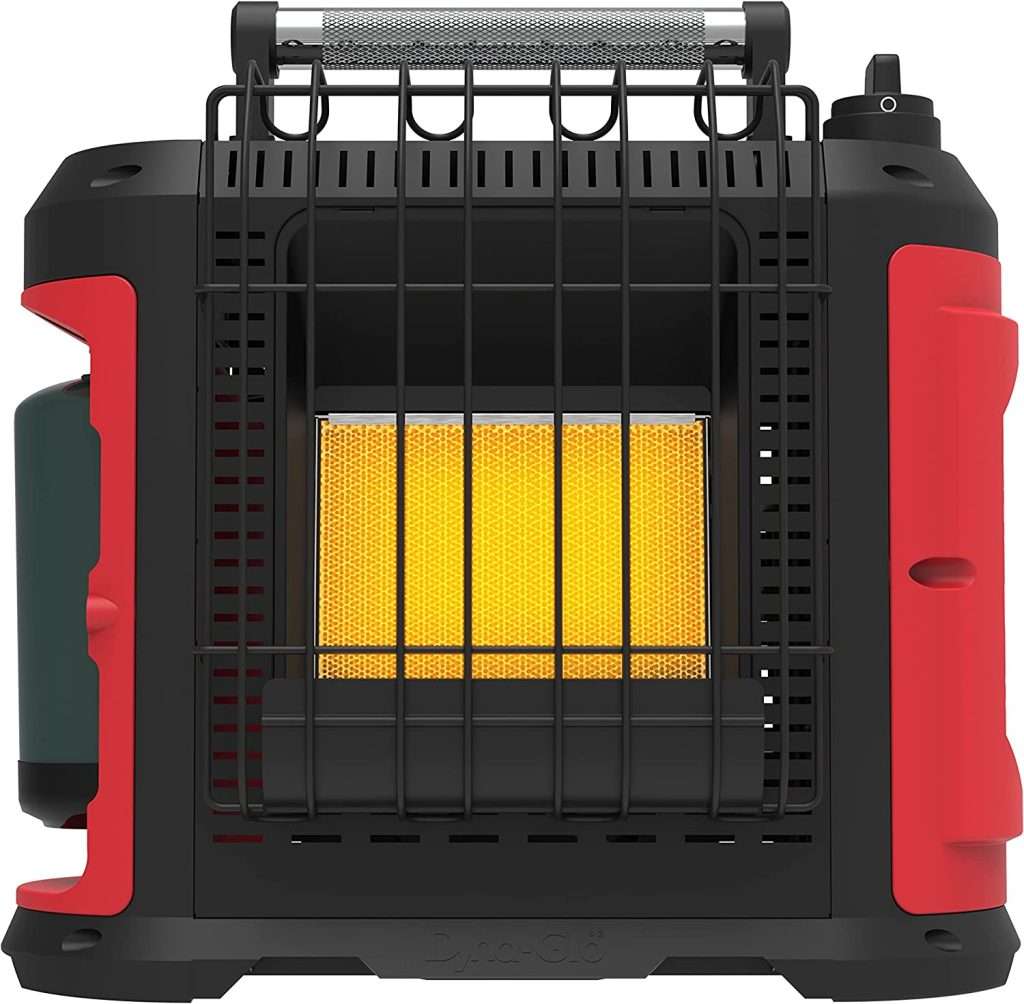 I know you want a battery powered heater but this portable propane heater provides a great heat on the go experience. Look no further than the Dyna-Glo Grab N Go! With stylish and durable design, this heater is perfect for outdoor activities and emergency indoor situations. Plus, its disposable 1 lb propane cylinder makes it completely portable and usable inside during emergencies. And when you're outdoors, just hook it up to a 20 lb refillable tank with the optional extension hose. The carrying handle makes it easy to take with you wherever you go. With 2 heat settings and up to 10,000 BTUs per hour, the Dyna-Glo Grab N Go is the ultimate in convenience and comfort.
| | |
| --- | --- |
| Brand | Dyna-Glo |
| Special Feature | Portable |
| Color | Red |
| Indoor/Outdoor Usage | Outdoor, Indoor |
| Power Source | Gas Powered |
Key Features
Heats up to 250 sq. ft.
Fueled by One 1 lb LP tank (tank not included)
Swivel Valve for easy tank replacement
Piezo Ignition; CSA certified
Continuously Variable Heat Settings
Final Thoughts
After considering all the options available in the market, it's safe to say that Mr Buddy is the best propane heater for camping. This portable heater has managed to stand out and become a fan favorite among campers, and it's not hard to see why. Look if you need a Batteryless Flash Light For Camping then check it out here.
Mr Buddy has an impressive heating capacity compared to other portable heaters, meaning it can heat up larger spaces quickly and efficiently. It's also equipped with safety features such as automatic shut off in case of overheating or tipping, making it a safe choice for families with children and pets.
In terms of fuel efficiency, Mr Buddy is ahead of the game thanks to its low-oxygen shut off feature. It senses when the oxygen level in the area is too low and shuts off automatically, saving propane and potentially prevent dangerous accidents.
Its compact and lightweight design make it very easy to carry around and store. You can easily fit it inside your backpack or car trunk without taking up too much space. The heater also operates quietly, which means you can enjoy a warm, peaceful night without any noise disturbance.
In conclusion, Mr Buddy's high heating capacity, safety features, fuel efficiency, and portability make it the top choice for those who want to enjoy camping without worrying about the cold. It's a product that truly delivers on its promises, and it's no wonder that campers all over the world swear by it. Happy camping!