9 Best Backpacking Tent for Dogs: Top Picks For Pet Campers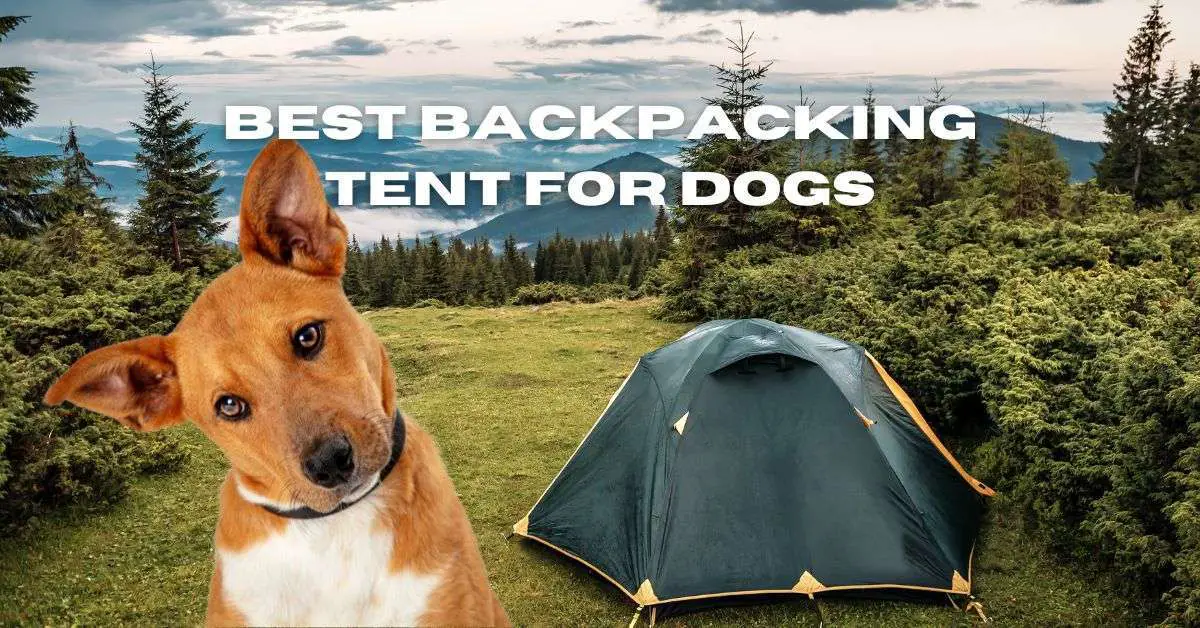 Last updated on October 26th, 2023 at 04:45 am
When I was selecting the best backpacking tent for my dogs, I paid special attention to the tent's dimensions and weight, as well as the materials used in its construction.
I found that a tent made of ripstop fabric with a durable floor was crucial in resisting damage caused by my dogs' nails or movement. Additionally, ensuring proper ventilation was a priority to maintain a healthy airflow inside the tent, preventing overheating or excessive condensation.
My Top Picks
Backpacking with your furry companion is a thrilling and bonding experience. The wilderness offers countless possibilities for you and your dog to enjoy the great outdoors together.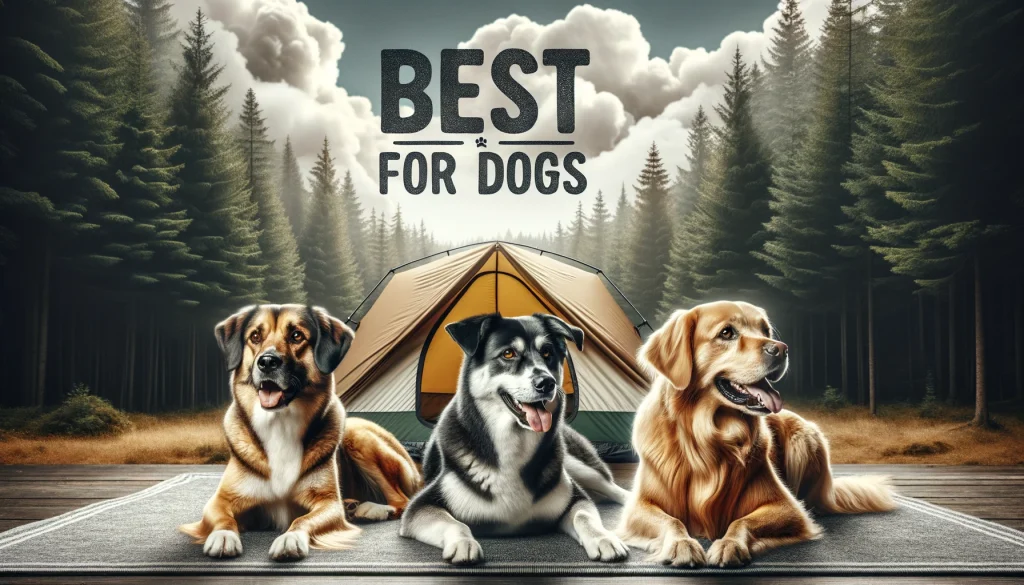 While backpacking, it's essential to have a reliable shelter to protect you and your pet from the elements while resting after a long day on the trail. A backpacking tent designed to accommodate dogs provides the ideal solution to ensure comfort and safety for both you and your canine partner.
Dogs require their own space and considerations when camping, especially when it comes to their sleeping arrangements. A backpacking tent for dogs must be durable to withstand your pet's nails, and roomy enough to comfortably fit both of you. Additionally, the tent should be lightweight and compact to make it easy to carry in your backpack.
With these considerations in mind, we meticulously researched, and tested various backpacking tents to determine which ones best cater to the specific needs of dog owners on the trail. Our findings will help you choose the perfect tent for an unforgettable backpacking adventure with your canine companion.
Best Backpacking Tents for Dogs
Before heading out on an adventure with your canine companion, take a look at our handpicked selection of the best backpacking tents for dogs. These tents offer excellent durability, space, and comfort to ensure an enjoyable outdoor experience for both you and your furry friend.
I absolutely love the Alcott Explorer Pup Tent! As someone who enjoys backpacking and camping with my furry friend, this lightweight and breathable shelter is a perfect choice for my canine companion. It provides a comfortable and secure space for them to rest after a long day of exploring.
Pros
Lightweight at just 1.5 pounds
Waterproof base to keep pets dry
Five mesh windows for optimal air circulation
Cons
Thin materials not suitable for restless dogs
Potential for minor defects in construction
Not large enough for multiple large dogs
The Alcott Explorer Pup Tent is a highly practical and functional shelter solution for dogs joining their owners on outdoor adventures. With a waterproof base, your canine buddy will stay comfortable and dry even if the ground is damp. Thanks to the five mesh windows, air circulation is ensured, keeping the tent from getting stuffy in hot weather.
Setting up the tent is quite straightforward, which is essential, especially if you're tired after a long day of hiking. It also comes with four ground stakes and a convenient travel bag, making transport and storage a breeze. However, it's important to keep in mind that this tent is designed for well-behaved, crate-trained dogs. The fabric is relatively thin, so it's not the best choice for more energetic or restless pets.
Measuring 32″ wide, 42″ deep, and 30″ tall, the Alcott Explorer Pup Tent is suitable for a large dog or a couple of medium to small dogs. This versatility proves particularly useful if you plan on backpacking with more than one pet. Pairing the tent with the Alcott Explorer Sleeping Bag ensures your dog has the ultimate thrill-sniffing adventure.
In conclusion, the Alcott Explorer Pup Tent is perfect for the outdoorsy dog owner in search of a portable canine shelter that occupies minimal space without compromising on comfort. Be mindful of your dog's behavior and size, and this tent could be an excellent addition to your backpacking gear.
The AceCamp Corkscrew Steel Peg is a reliable and durable choice for securing your dog during outdoor adventures, offering 360-degree freedom and easy installation.
Pros
Corkscrew design ensures secure anchoring
Rotating side mount provides 360-degree freedom for your dog
Sturdy and durable steel construction
Cons
Not suitable for all ground types
May be difficult to install in rocky areas
Some users reported breakage with heavy use
The AceCamp Corkscrew Steel Peg offers secure anchoring with its easily twistable corkscrew design, ensuring that it stays in place even if your dog pulls on it. The rotating side mount allows your dog to enjoy 360-degree freedom, preventing any tangling while they explore the great outdoors.
Weighing about 10 ounces and measuring 16 inches long, this screw-in stake is made of durable steel, perfect for use during camping, hiking, or even in your backyard. The wide grip handle makes it easy to install and screw into the ground, depending on the terrain.
While the AceCamp Corkscrew Steel Peg is an excellent option for most outdoor situations, it may not be suitable for all ground types. Users with rocky terrain might have difficulty installing the stake. Additionally, some customers have reported the stake breaking under heavy use. However, the overall satisfaction and performance seem to outweigh these minor drawbacks, making it a solid choice for those looking to secure their dog during outdoor activities.
A lightweight and durable choice for backpackers seeking a comfortable 1-person tent for their adventure with their dog.
Pros
Easy to set up with minimal components
Ultralight at only 2 lbs, perfect for backpacking
Highly durable materials for 3-season use
Cons
Requires external trekking poles (not included)
Limited ropes and stakes included
Relatively narrow space for one person and a dog
The LERATCH Ultralight Tent 3-Season Backpacking Tent is an excellent solution for minimalist backpackers who want a lightweight and portable shelter for their outdoor adventures with their furry friend. Its easy setup process and ultralight nature make it convenient to carry and set up at your campsite after a long day of hiking. The tent is constructed with durable materials like the seam-taped rainfly and bathtub floor to withstand different weather conditions, offering protection during 3 seasons (spring, summer, and fall).
However, it is essential to note that the LERATCH Ultralight Tent requires trekking poles for proper setup, which are not included, adding an extra expense for those who don't already own them. Additionally, the tent comes with limited ropes and stakes, which might require you to purchase extra for optimal tension and stability. When it comes to space, the tent provides a relatively narrow area for one person and a dog. You might want to consider this before making your purchase, especially if you have a larger breed.
In conclusion, the LERATCH Ultralight Tent 3-Season Backpacking Tent is a reliable and comfortable option for solo backpackers who value lightweight gear. Its combination of easy setup, durability, and 3-season versatility makes it an appealing choice for those who frequently venture into the outdoors with their canine companion. Just keep in mind the need for additional accessories and potential space limitations when making your decision.
This baby beach tent offers a comfortable, safe, and portable shelter for dogs during outdoor adventures.
Pros
Made of eco-friendly and safe materials
Provides 50+ UV protection
Lightweight and easy to carry
Cons
Zipper quality may be cheap
Limited to small and medium-sized dogs
May not be suited for very windy conditions
When it comes to backpacking with your furry friend, the TETINY POP Baby Beach Tent is a thoughtful option to consider. Designed initially for babies, this tent is made from certified, high-quality materials making it not only eco-friendly but also safe and comfortable for your dog.
One of the most significant advantages of this tent is the UV shelter it provides. With a UV rating of 50+ (UPF 50+), your dog will be well-protected from harmful sun rays. Additionally, it keeps the interior cool, ensuring your dog stays comfortable while they rest or play.
Portability is also a crucial feature of the TETINY POP Beach Tent. Weighing just under a pound and easily folding into a compact size, it's perfect for backpacking. You can conveniently pack it into your luggage or bags, making it easy to bring on hikes, trips to the beach, or a day at the park.
However, some users have noted that the tent's zipper quality may feel cheap, so it's essential to handle it with care. The tent size is restricted to small and medium-sized dogs, which may be a drawback for those with larger breeds. Lastly, in very windy conditions, this tent may not be the best choice as it is lightweight and not as stable as some heavier tents available.
In conclusion, the TETINY POP Baby Beach Tent is a reliable, safe, and portable option for dogs while backpacking. It provides a comfortable resting spot and protection from the sun. Though limited in size and potentially not suitable for windy situations, it remains a versatile and practical solution for your furry friend in various outdoor environments.
The Go Gear Dog Bed by Max & Marlow is an excellent choice for pet families who love outdoor adventures with their furry friends.
Pros
Easy to roll and pack for convenience
Non-slip backing for stability on uneven surfaces
Easy to clean with both hand and machine-wash options
Cons
May not come with a carrying strap as advertised
Product dimensions might be too thin for some pets
Unclear instructions about additional product features
The Go Gear by Max & Marlow Dog Bed is designed for adventurous pets and their families, making it an ideal option for camping, hiking, and traveling. The bed is easy to roll up and pack, ensuring convenience during your outdoor adventures. Moreover, the buckle closure and strap allow for effortless carrying on your shoulder or hand.
One of the standout features of this dog bed is its non-slip backing, which keeps it steady on uneven outdoor surfaces. This ensures your pet stays comfortable and safe while resting on the mat. Additionally, the bed is easy to clean, with the option to hand or machine-wash depending on your preference. Stains and dirt can be wiped off with little effort, keeping the bed looking fresh.
However, some customers have reported that the bed may not come with a carrying strap as advertised, which may affect portability. The product dimensions, specifically the thickness, might be unsuitable for pets seeking extra cushioning. Additionally, the instructions regarding other features included with the bed may be somewhat unclear for some users.
Overall, the Go Gear by Max & Marlow Portable Dog Bed is a versatile and practical option for pet families who enjoy spending time outdoors with their furry companions. With easy packing, a non-slip backing, and simple cleaning options, this bed is a valuable addition to your outdoor gear – just be mindful of potential missing straps, product thickness, and unclear instructions.
An excellent choice for backpacking with your dog, HEYTRIP tent offers spacious and comfortable shelter with ventilation and versatile protection.
Pros
Spacious for up to 2 adults, dogs, and gear
Upgraded ventilation to minimize condensation
Convenient double D-shape door design
Cons
May be a bit bulky for some backpackers
Requires practice for quick setup
Rainfly may need to be adjusted for optimal coverage
As a dog owner who loves taking my pup with me on my backpacking trips, I recently tried out the HEYTRIP Backpacking Tent for dogs and found it to be a great choice for keeping us both comfortable and sheltered during our adventures. One of the most impressive features is the spacious interior, which easily accommodates 1 to 2 adults along with your pet and all your camping gear. Not only is the tent roomy, but folding it down and packing it into its compact carry bag (19″ x 6.5″ x 6″) was relatively simple after a bit of practice.
The upgraded ventilation system, featuring two side panels that can be extended and fixed with guylines, was another standout aspect of this tent. This feature ensures that fresh air is constantly circulating in the sleeping area while minimizing condensation, creating ideal conditions for a good night's sleep. Additionally, the tent is designed with privacy in mind, boasting double D-shape doors that allow for easy access without disturbing your fellow campers.
The only drawbacks I noticed during my experience with the HEYTRIP tent were the slightly bulky packed size and the initial learning curve for setting it up quickly. However, once you've practiced a bit, the process does become more manageable. Adjusting the rainfly to cover the tent optimally was also a minor issue, but once it was positioned correctly, the tent provided excellent protection against the elements.
In conclusion, the HEYTRIP Backpacking Tent for dogs is a well-designed, comfortable, and protective shelter option for those seeking to bring their furry friends along during outdoor activities. Its spacious interior, ventilation system, and privacy-centric design are perfect for both you and your dog to have a great camping experience.
The Furhaven Outdoor Travel Dog Bed is an excellent option for pet owners seeking a comfortable and portable bed for their dogs during outdoor adventures.
Pros
Spacious and open design for various sleep positions
Smooth, gentle fabric with cushioned padding for insulation and comfort
Foldable with a separate stuff sack for portability and easy storage
Cons
Can be too lightweight, causing it to blow in the wind
Padding might be insufficient for some dogs
Not suitable for pets with excessive teething or destructive chewing behavior
Since I started using the Furhaven Outdoor Travel Dog Bed, I noticed that the open design gives my dog enough room to sleep comfortably in various positions, making it ideal for outdoor use. The smooth fabric is gentle on her paws and nose, and the high-loft polyester adds cushioning for insulation and improved snuggling experience. The bed also comes in different colors and sizes, so it can cater to various dog breeds and preferences.
One of the main benefits of this travel dog bed is its portability. It easily folds and comes with a separate stuff sack for carrying. This feature makes it the perfect choice when going on hikes, camping trips, picnics, or other outdoor activities. It's also machine washable, making it easy to clean after use.
However, the Furhaven Outdoor Travel Dog Bed has its drawbacks. Firstly, it can be too lightweight, causing it to blow in the wind and become less stable. Secondly, the padding might not be sufficient for some dogs that require extra cushioning for comfort. Lastly, it's not suitable for pets with excessive teething or destructive chewing habits, as they may easily damage the bed.
Overall, the Furhaven Outdoor Travel Dog Bed offers a comfortable and portable solution for pet owners who love taking their dogs on outdoor adventures. While it has some minor setbacks, it still provides a cozy and convenient option for both dogs and their owners.
The Camppal 1 Person Tent is a lightweight option with solid waterproofing capabilities, making it an affordable choice for solo backpackers and their furry friends.
Pros
Spacious enough for taller individuals
Strong waterproofing and windproof features
Easy and quick setup (3 minutes)
Cons
Potential condensation issues
Limited space for changing clothes indoors
May not be suitable for harsh winter conditions
The Camppal 1 Person Tent provides ample space with an extended length of 8.2 feet, allowing for a comfortable sleeping area for both the user and their dog. It's designed to withstand harsh weather conditions, thanks to its 3500-4000mm water resistance, strong aluminum poles, and anti-tearing rip-stop fabric. This sturdy construction ensures a safe shelter during unexpected storms.
Despite being a relatively small and lightweight tent (weighing only 3.75 lbs), setting up the tent is a breeze, taking only around 3 minutes. This feature is particularly beneficial for first-time users or those looking to minimize time spent on constructing the tent. Additionally, the tent comes with a larger carry bag to make packing and transport more convenient.
However, the Camppal 1 Person Tent does have a few drawbacks. Condensation may be an issue, which can be problematic during colder weather conditions. There is also not much room to maneuver, making it difficult to change clothes indoors. Lastly, while the tent offers reliable protection against rain and wind, it may not perform as well during extreme winter conditions.
In conclusion, the Camppal 1 Person Tent is a great choice for those seeking a lightweight, easy-to-setup, and budget-friendly option for backpacking with their dogs. Its weather-resistant features provide a safe shelter during unexpected storms, but users should be aware of potential condensation issues and limited room for activities inside the tent.
A must-have for campers with dogs, providing comfort and convenience for spending nights outdoors.
Pros
Built-in foot pump for easy inflation
Double size and extra thickness for enhanced comfort
Ergonomic wave design that supports the body evenly
Cons
Difficulty in fitting it back into the storage bag
Plugs can be challenging to open and close
Material quality could be improved
The MAMBAKOTR Double Camping Sleeping Pad is a great option for those who enjoy backpacking with their furry companions. Upon using it recently, I appreciated the built-in foot pump that allowed for fast inflation without needing extra equipment. This feature not only made setting up camp easier, but it also saved space in my backpack for other essentials.
The double size and extra thickness of the pad provided a comfortable sleeping surface for both me and my dog. With its 76″ X 52″ dimensions and 4 inches of thickness, there was plenty of room to share without feeling cramped. The ergonomic wave design further enhanced the comfort by distributing our weight evenly across the pad.
However, there were a few drawbacks to the product. While it was a breeze to inflate, rolling it tightly enough to fit back into its storage bag proved to be a challenge. Additionally, the plugs could be difficult to open and close, but this also could be seen as a positive as it ensures that they seal well to prevent air leakage.
Overall, the MAMBAKOTR Double Camping Sleeping Pad offers excellent features and comfort for backpacking with your dog. Despite some minor inconveniences, its ease of use and ergonomic design make it a worthwhile investment for those looking to enhance their outdoor sleeping experience with their canine companions.
Buying Guide
When choosing the best backpacking tent for dogs, it's crucial to consider several factors to ensure you and your furry friend have a comfortable and safe outdoor experience. Here's a buying guide with key aspects to contemplate while making your decision.
Size and Space
Firstly, take into account the size and space of the tent. It should have enough room for you, your dog, and your gear. Measure your dog's height and length, and check the tent's dimensions, specifically the floor area and peak height, to make sure it fits comfortably.
Weight
Backpacking usually involves carrying all your equipment on your back, so weight is a major factor. Opt for a lightweight tent without compromising on durability and strength. Consider the packed weight and packed size to make it easier to carry on your adventure.
Ventilation
Proper ventilation is critical to maintain pleasant temperatures inside the tent and minimize condensation. Look for a tent with mesh windows and vents to provide adequate airflow. The option to close these vents or windows during inclement weather is also essential.
Materials and Durability
The materials used in constructing the tent should be both durable and weather-resistant. Check for:
Fabric: Nylon or polyester fabric with a high denier (D) value will be more durable and resistant to tears.
Poles: Aluminum or carbon fiber poles are strong, lightweight, and long-lasting.
Zippers: Heavy-duty, corrosion-resistant zippers are less likely to jam or break.
Weather Resistance
Ensure your tent can withstand various weather conditions, such as heavy rain, strong winds, or snow. Examine the tent's waterproof ratings – a higher number (e.g., 3000mm) indicates better water resistance. Additionally, look for features like a rainfly, seam sealing, and a robust pole structure to handle wind and snow.
Ease of Setup and Breakdown
A tent that's quick and easy to set up and break down can make your backpacking experience more enjoyable. Freestanding tents or those with color-coded poles and clips can be particularly user-friendly.
Dog-Friendly Features
Lastly, focus on dog-specific features, such as:
Floor Durability: A tent with a robust floor material can better withstand your dog's claws.
Tent Doors: Multiple doors can offer convenience, particularly if your dog needs to go outside for a break during the night.
Storage: Pockets, vestibules, or gear lofts for storing dog-related essentials like food, toys, and water bowls in an organized manner.
By keeping these factors in mind and prioritizing your needs, you are well on your way to finding the perfect backpacking tent for you and your dog.
Frequently Asked Questions
What are the top lightweight tents for backpacking with pets?
There are several lightweight tents suitable for backpacking with pets. Some popular choices include the MSR Hubba Hubba NX2, the Big Agnes Copper Spur HV UL2, and the Nemo Dagger 2P. These tents offer a good balance in weight, space, and durability, making them ideal for outdoor adventures with your furry friend.
How can I ensure my dog's safety while tent camping?
To ensure your dog's safety while tent camping, consider following some precautions:
Keep your dog on a leash when outside the tent to prevent them from wandering off or getting into trouble.
Provide a comfortable sleeping pad and blanket for insulation and cushion.
Make sure your dog is hydrated and well-fed.
Keep them away from campfire and cooking gear.
Which spacious tents can accommodate two people and a dog?
For two people and a dog, consider tents with extra floor space and headroom, such as the REI Co-op Half Dome 2 Plus, Marmot Limestone 4P, or the North Face Kaiju 6. These tents offer ample space for you, your camping partner, and your dog, ensuring comfort and a pleasant camping experience.
What are the best pet-friendly tents in 2023?
Trends change, but some top-performing pet-friendly tents in 2023 include the MSR Hubba Hubba NX2, REI Co-op Half Dome 2 Plus, and the Coleman Sundome 3 Person. These tents cater to various needs and budgets while offering durability and comfort for furry companions.
What features should be considered for dog tents?
When choosing a tent to accommodate your dog, consider these factors:
Floor space and headroom to ensure comfort.
Durable materials to withstand potential paw punctures.
Vestibules for storing gear and providing space for your dog's bed.
Easy-to-clean fabric in case of muddy paws or accidents involving your pet.
How should dogs sleep in a tent while camping?
Make sure your dog has a designated sleeping area in the tent. Provide a sleeping pad or folded blanket to give them insulation and added comfort, especially in colder weather. You can also keep your dog in a doggy sleeping bag for added warmth. Don't forget to bring their favorite toy or something familiar from home to help them feel more comfortable and secure.