Gazelle T3X vs T4: Top Gazelle Tents Compared!
Last updated on September 21st, 2023 at 03:05 am
The Gazelle Tent Range is designed to provide unparalleled comfort and reliability. They have a product line of different models such as Gazelle T3X vs T4 that you can choose from depending on need and use. 
The Gazelle T3X and T4 have been in the debate for the best tents for the longest time. These are well-designed with top-of-the-line waterproofing features and a lot of functionality.
Gazelle Tents
The main difference comes in the size where the T3X is spacious enough for three people while the T4 is made for 4 people. They are designed to last a long time with the high-quality materials used in the design. 
This article provides a comparative review between the Gazelle T3X and T4 to give you a better understanding. Read on. 
Gazelle T3X vs T4 – A Comparison Chart for Choosing the Right Tent
| | | |
| --- | --- | --- |
| Features | Gazelle T3X  | Gazelle T4 |
| Sport type  | Car camping and hiking  | Camping and picnicking  |
| Special features | Waterproof, UV protection  | Rainfly, removable floor, ground stakes |
| Occupancy  | 3 persons | 4 people  |
| Material  | Polyester  | Polyester  |
| Seasons  | 3 | 3 |
| Item weight  | 28 pounds | 30 pounds  |
| Floor space  | 43 square feet  | 61 square feet  |
| Set-up size | 76" by 82"  | 94" by 94"  |
| Stakes  | 12 | 12 |
| Price | Check Price | Check Price |
What to Know Before You Buy: A Guide to Choosing the Right Tent
There are several factors that you need to consider anytime you are in the market for tents as outlined below. 
The Size of the Tent
The size of the tent is directly proportional to the number of people that the tent can accommodate. The size specifications should guide you accordingly without compromising comfort. Always consider some extra space for gear and baggage. 
Conditions of Use
Different tents are best suited for different environments. If you are thinking of using the tent in different seasons, it is important to choose an appropriate tent. Summer tent is often made of lightweight materials with a lot of ventilation. A 3-season tent can withstand several conditions including heavier rains and winds. 
Ease of Use
The tent should be easy to use with a convenient setup. It is important that you take the least amount of time to assemble and take down when at the campsite. 
The Material Used
The tent's material is a major determinant when purchasing a tent. The tents made of canvas are waterproof but get heavy when water is absorbed. Nylon and polyester tents are waterproof but sunlight is likely to cause deterioration. 
Gazelle T3X Review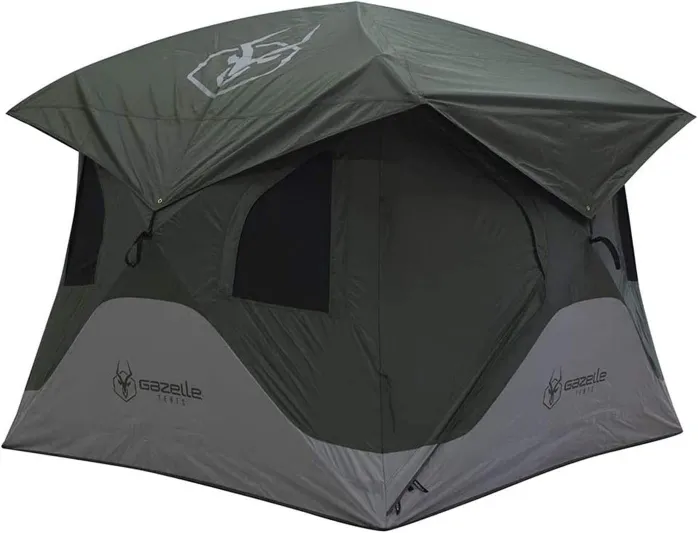 If you are looking for a sizeable tent for four with top quality and reliability, Gazelle T3X got you covered. Among its outstanding features, the greatest is its ability to set up quickly.
Campers oftentimes get to the sites after sunset, and the last thing they need is to spend yet another hour trying to set up a tent. This popup tent is the way to go. It boasts great waterproofing features and offers protection against the elements. 
Features 
The Gazelle T3X tent is made with the finest materials. Both the rainfly and shell are made of 210 Denier Oxford polyester which gives it a rugged, yet lightweight material that can withstand harsh conditions.
Moreover, this material was carefully selected for its breathable capability as well as the 50+ UV rating while you are inside the tent. The floor is a notch higher with the 300D Oxford polyester that provides increased longevity even with heavy foot traffic. 
On top of that, the doors and windows are durable YKK zippers that are designed such that there is no snagging or jamming with their smooth operation. Furthermore, you are guaranteed a strong and flexible frame with metal hubs and fiberglass poles. 
Pros 
The tight weave mesh keeps the bugs out
It is made of high-quality fabric with UV50+ protection 
The floor is removable to facilitate easy cleaning 
There are multiple venting points for increased airflow
The pop-up design allows quick setup  
Gazelle T4 Review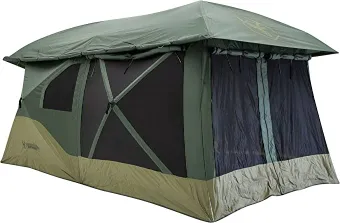 The Gazelle T4 is an ideal portable tent for outdoor enthusiasts. It is recommended for multi-person camping with plenty of room for 4 people. The shell and floor are made of 210 Denier Oxford and 300 Denier Oxford polyester respectively. It packs into a compact size for easy transportation. 
Features 
This tent features a robust popup hub design that offers convenience on a whole new level. It comes fully assembled with an innovative framework that consists of metal bubs and fiberglass poles. These work together to create a solid structure that can be assembled in seconds and offer resistance to strong winds.
Moreover, it is fitted with reliable and long-lasting YKK zippers that can withstand the abuse that comes with outdoor use. These zippers are rugged and dependable so you won't have to worry about broken zippers. 
Furthermore, the floor is designed to be removable so you can easily shake off the dirt and sand. It is made of polyester with a rugged design for durability and is held securely in place by a hook and loop tape. The package includes a waterproof rainfly with taped seams. This rainfly has integrated poles that insert into each corner before popping the roof. 
Pros 
It sets up in a quick 90 seconds
It is a sturdy tent for 4 people 
This tent includes a rainfly, gear loft, ground stakes, and tie-down ropes to ensure it stands up against the elements
It is made of durable materials
This tent features two doors, six windows, and a unique removable floor
FAQs 
Final Thoughts
Quick-pitch tents for camping are now very popular and the go-to for the outdoor community. The Gazelle brand has mastered the art of making quality pop-up tents for use outdoors.
The T4 and T3X are no exception when it comes to the quality and comfort standards that this brand is known for.  Also, for their price point, these tents are highly recommended.
You Can Also Read: