Gazelle T3 vs T3X: Which One Comes Out on Top?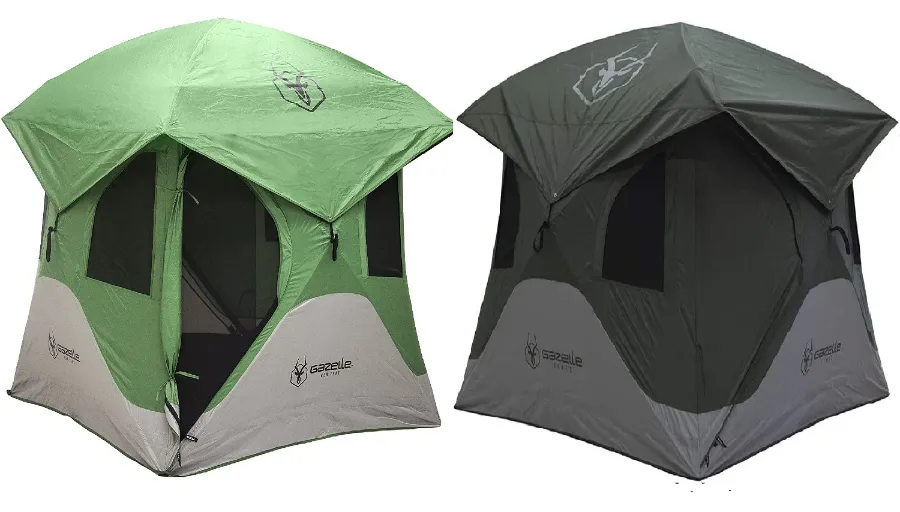 Last updated on September 21st, 2023 at 03:05 am
Among the best-selling Gazelle tents in the market are the Gazelle T3 and T3X. These two are constantly fighting for the top spot in the ranks of great tents. The T3X offers slightly more space compared to its counterpart. Overall, they are both spacious enough for three people and additional gear. They are made of durable high-quality materials so they can serve you longer.
Start your adventure with Gazelle tents. They have made setting up easier than ever before. These tents feature a unique pre-assembled hub design that gives you the quickest setups. You need not worry about complicated instructions and having to get some loose parts together. 
This article aims to shed some light on the outstanding features of these tents and hopefully help you decide.
Gazelle TX vs T3X – Comparison Chart 
| | | |
| --- | --- | --- |
| | Gazelle T3  | Gazelle T3X |
| Special features | Portable, waterproof, popup | Waterproof, UV protection  |
| Occupancy  | 3 person  | 3 person  |
| Material  | Polyester  | Polyester  |
| Seasons  | 3 | 3 |
| Item weight  | 27.5 pounds | 28 pounds |
| Floor space  | 40ft2 | 43ft2 |
| Set-up size | 76" by 76" | 76" by 82"  |
| Stakes  | 12 | 12 |
| Sport type  | Camping and hiking  | Car camping and hiking |
Gazelle T3 Review 
The Gazelle T3 tent is a worthy investment set to serve you for the long term. This tent can accommodate up to three people with its spacious interior.
The tent takes up over 40 square feet of usable space when set up. The included guy lines and stakes provide stability for harsh weather. 
Features
It comes with a sturdy pop-up hub design that is convenient and saves time during assembly and take-down. This is owing to the innovative framework that comes with consisting of all metal hubs and solid fiberglass poles.
Moreover, these materials are selected as they provide a solid structure that can resist the strongest of winds.
Furthermore, it comes with durable YKK zippers. Any camper can attest to the kind of abuse zippers go through outdoors.
Still, the last thing you want is to get in and out of your tent with broken zippers. Hence, Gazelle T3 adopts rugged and dependable YKK zippers on their doors. 
On top of that, it comes with a waterproof rainfly with taped seams. There are integrated poles that insert into each corner before you can pop up the roof. You can also choose to leave them off on some nights to get a great view of the stars.
The rugged polyester floor is easily removable for easy cleaning. It is held securely in place by a thick hook strip and loop tape surrounding the tent's interior. 
Pros
The fully assembled rainfly is a breeze to install 
This tent has a sturdy popup design 
It comes installed with durable Beefy YKK zippers 
The floor is removable for easy cleaning 
Gazelle T3X Review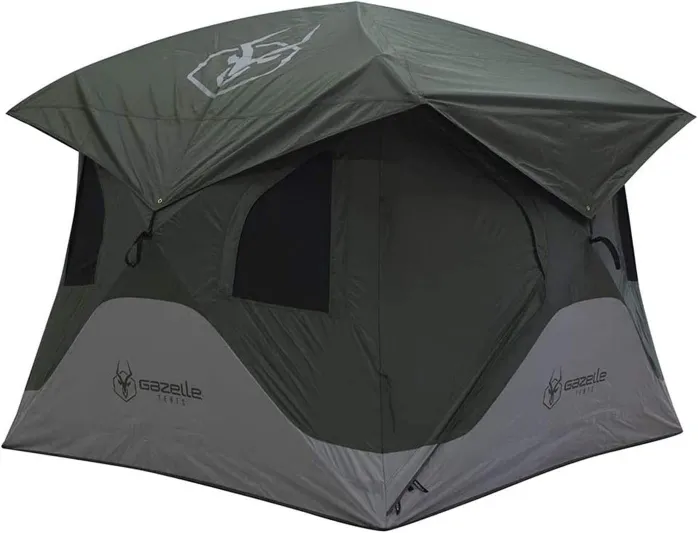 You can never go wrong with the Gazelle T3X tent. This tent has a spacious 76" x 82" interior enough to accommodate up to three people.
In terms of convenience, this tent comes fully assembled so you can set it up and take it down in a matter of seconds.
Moreover, it has a compact size, being only 57" long, it can be collapsed to fit in the trunk or backseat of most cars. This makes transporting it a breeze. 
Features 
This tent is feature-packed especially to ensure you have the best outdoor experience. Starting off are the six, tight weave mesh windows that are fit to allow for air circulation without letting in annoying bugs.
These windows also work in conjunction with the two D-shaped doors with tight weave mesh screens. On top of that, it has a durable build as it is built with high-quality materials.
It is fitted with durable Beefy YKK zippers and the shell material is 210 denier Oxford weave polyester selected particularly for its durability. This material is also waterproof up to a 2000mm HH rating and has a UV50+ rating.
Besides that, it comes with a rainfly designed to protect you from the harsh elements outdoors. Moreover, there is plenty of storage space and easy organization that is availed by the removable gear loft and six gear pockets.
The floor material is made of 300 denier Oxford with 5000mm waterproof protection. The package is complete with an oversized duffle bag for easy storage. 
Pros 
The hub design makes assembly fast and easy
It is spacious enough to fit three people and additional gear 
It comes with a compact collapsed size
The floor is removable for an easy cleanup
FAQs 
Final Thoughts
Gazelle tents provide a great deal of functionality in an easy-to-pitch package. The Gazelle T3X is an ideal car camping tent because of its compact size and quick assembly. It makes a perfect choice for your next camping adventure.
Gazelle T3 is also not left behind. It is made with durable materials that can withstand frequent outdoor use. 
You Can Also Read: