9 Best Queen Size Camping Cot with Mattress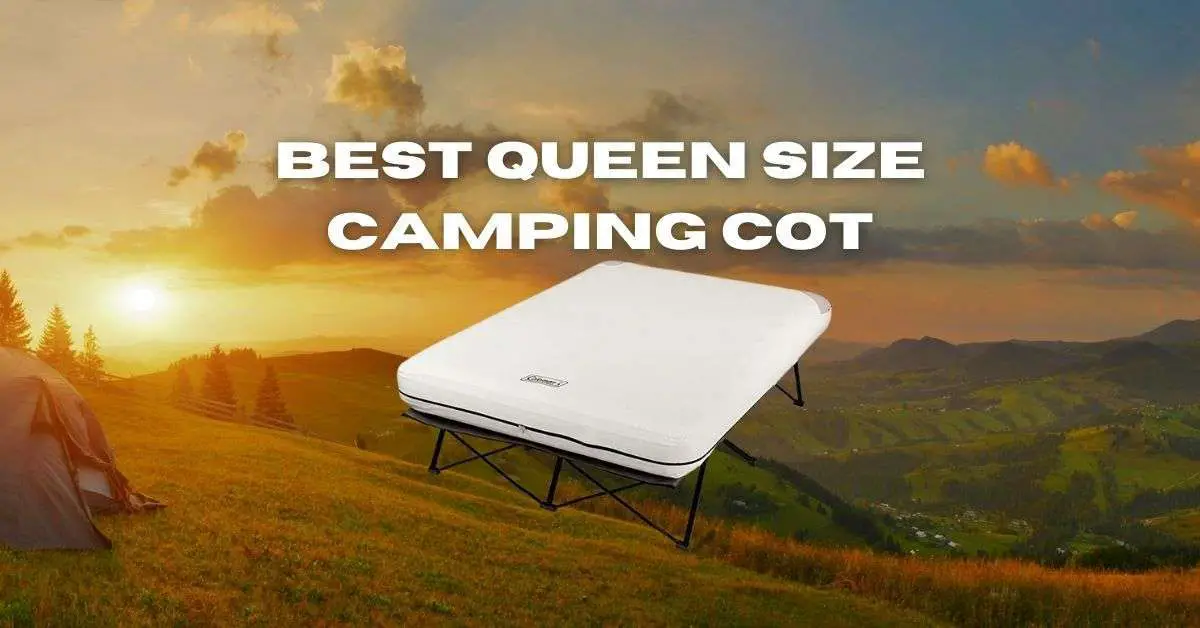 Last updated on November 13th, 2023 at 02:46 am
For passionate campers, a restful night's sleep is crucial for a delightful and triumphant trip. This is precisely where an exquisite Queen Size Camping Cot equipped with a comfortable mattress plays an instrumental role.
But not just any cot will do, especially if you're looking for something spacious enough for two people.
That's why we've researched and compiled a list of the best queen-size camping cots in our camping Pad and bag blogs that are on the market. Whether you're a solo traveler who values extra space or you're camping with a partner, these costs will provide you with the comfort and convenience you need in the great outdoors.
Our Top Queen Cot Camping Picks
Best Overall – Coleman Deluxe Queen Camping Cot & Mattress – Get Best Price
Good Reviews – KAMPKEEPER 2 Person Camping Cot & Air Mattress – Best Price Here
Why Choose a Queen Size Camping Cot with Mattress?
Before we dive into our top picks, let's discuss why a queen-size camping cot might be the right choice for you. Here are a few reasons to consider:
Spaciousness
A queen size cot offers ample space for one or two people to stretch out comfortably. You won't have to worry about feeling cramped or confined as you sleep.
Support
A good camping cot should provide sturdy support, and a queen size cot is no exception. With a larger frame and more support beams, a queen size cot can handle more weight and provide better overall support.
Convenience
Queen size camping cots are typically designed to be easy to set up and take down. They often come with carrying cases or bags, making them simple to transport and store when not in use.
Now that you know why a queen size camping cot is a great choice, let's take a look at our top picks.
Top Picks for Best Queen Size Camping Cot
1. Coleman ComfortSmart Deluxe Camping Cot Queen
Coleman is a well-known name in the camping world, and their ComfortSmart Deluxe camping cot lives up to the brand's reputation for quality. This cot features a coil suspension system that provides excellent support, and the included foam mattress pad adds an extra layer of comfort. The cot is also designed to be easy to set up and take down, with a convenient foldable frame and carrying case.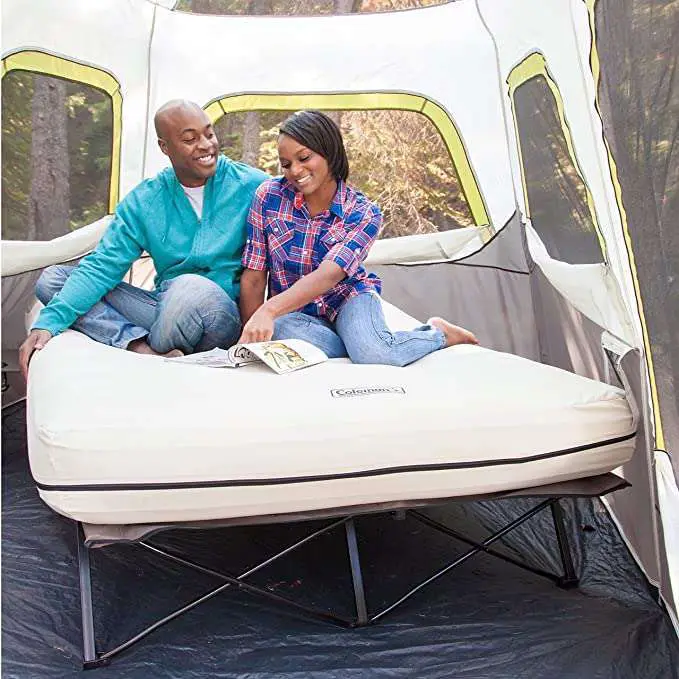 | | |
| --- | --- |
| Size | Queen Cot Camping |
| Special Feature | Built-In Frame |
| Brand | Coleman |
| Color | Beige |
| Product Dimensions | 59″L x 22″W x 78″Th |
| Material | steel |
| Specific Uses For Product | Bed |
| Included Components | Cot, Mattress, Pump |
| Target Audience | Adult |
| Item Weight | 22.5 Pounds |
Key Features
Country Of Origin : China
The Package Height Of The Product Is 7.1 Inches
The Package Length Of The Product Is 37 Inches
The Package Width Of The Product Is 10.23 Inches
KAMPKEEPER 2 Person Camping Cot Queen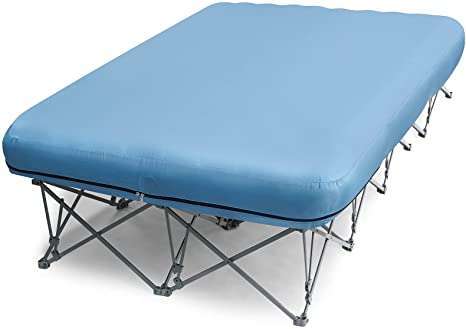 | | |
| --- | --- |
| Color | Blue |
| Brand | KAMPKEEPER |
| Size | Queen |
| Item Weight | 30.93 Pounds |
| Assembly Required | No |
| Shape | x-shape |
Key Features
This Queen Size Camping Cot is designed for easy portability, inflating quickly with your own pump and able to be folded and put into a carry bag. It's perfect for outdoor rest and can be used with tents when camping or indoors. The cot and air mattress can be used separately or together.
Made with anti-rust steel tubing and durable PVC coated oxford fabric, the camping cot features a unique air bed design that reduces noise when moving or getting in and out of bed. It offers excellent edge support and can safely and stably support up to 500 pounds.
The dimensions of the 2 person cot frame are 58 by 80 inches, while the air bed is 60 by 80 inches when fully inflated with the mattress. The outer box dimensions are 27.95 by 12.99 by 11.02 inches and it weighs 30.93 lbs.
Some Noteworthy Suggestions
KingCamp Strong Stable Folding Camping Cot
The KingCamp Strong Stable Folding camping cot is another great option for those looking for a queen size Camping cot. It features a sturdy aluminum frame and a weight capacity of 440 pounds, making it a good choice for both solo travelers and couples. The cot also includes a comfortable cotton pad and a convenient storage bag.
Osage River Folding Camp Cot
The Osage River Folding King Camp Cot is a budget-friendly option that still delivers on comfort and convenience. With a weight capacity of 300 pounds and a spacious sleeping area, this cot can comfortably accommodate one person. It also features a steel frame and a comfortable foam mattress pad, and it's easy to set up and take down.
Kamp-Rite Oversize Kwik Cot
The Kamp-Rite Oversize Kwik Cot is a bit pricier than some of the other options on our list, but it's worth it for the convenience it provides. This cot includes a convenient carrying case with wheels, making it easy to transport and store. It also features a sturdy steel frame and a comfortable foam mattress pad, and it can support up to 350 pounds.
Final Thoughts
Let me tell you, dear reader, about the wonders of the queen size camping cot. Now, I know what you might be thinking. "A cot? For camping? That sounds uncomfortable." But trust me, this investment is worth it.
Picture this: you're out in the great outdoors, surrounded by stunning vistas and fresh air. The only thing that could ruin this serene setting is a lumpy, unstable sleeping situation. But fear not, because with a queen cot camping sizes, you'll be sleeping like royalty.
No more rocks under your back, no more worrying about critters scurrying underneath you. Plus, think of it as a mini vacation in itself a place to unwind and enjoy some me-time while still being in nature. So go ahead and treat yourself to this camping luxury. You deserve it.