Carhartt Backpack Cooler Review: (Read This First)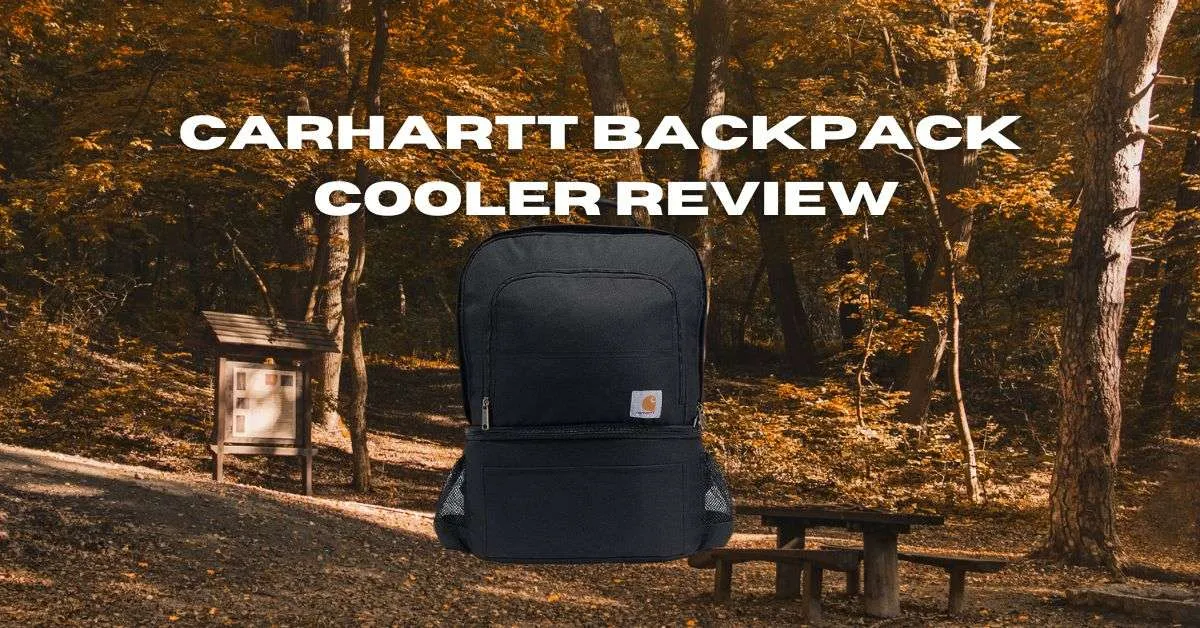 Last updated on September 21st, 2023 at 12:55 am
In this comprehensive Carhartt backpack cooler review, we'll dive deep into this must-have gear's features, performance, and overall value. Carhartt is a brand known for its durability and quality, and their backpack cooler is no exception.
If you're in search of a durable and dependable backpack cooler that can keep your beverages chilled and your snacks fresh throughout your outdoor escapades, your quest ends here!
A Cooler Built to Last: Carhartt's Commitment to Quality
Carhartt has established itself as a brand synonymous with quality craftsmanship, and their backpack cooler is a prime example of this commitment. Constructed with heavy-duty materials, this cooler is designed to withstand the toughest conditions. Whether hiking through rugged terrain, heading out for a camping trip, or enjoying a picnic in the park, this cooler is up for the challenge.
Key Features That Set It Apart
Insulated Cooling Technology: The Carhartt backpack cooler is equipped with advanced insulation that keeps your beverages and food chilled for extended periods. Say goodbye to melted ice and warm drinks – this cooler maintains its temperature, ensuring you stay refreshed throughout your outing.
Spacious Interior: Don't let its sleek design fool you – this backpack cooler boasts a surprisingly spacious interior. With ample room to store drinks, snacks, and even some perishables, you'll have everything you need at your fingertips.
Multiple Compartments: Organization is key when you're on the go. Carhartt understands this, and that's why their cooler features multiple compartments. Keep your drinks separate from your snacks, and utilize additional pockets for utensils, napkins, and other essentials.
Comfortable to Carry: Carrying a heavy cooler doesn't have to be a hassle. The backpack straps on this cooler are designed for comfort, distributing the weight evenly and allowing you to hike, walk, or navigate crowds without strain.
Putting It to the Test: Performance in the Wild
But how does the Carhartt backpack cooler perform when put to the test? To find out, we took it on a series of outdoor adventures, from hiking trails to beach days. Here's what we discovered:
Unrivaled Temperature Retention
During a hot summer hike, the Carhartt backpack cooler proved its mettle. Packed with icy cold beverages and snacks, it maintained a refreshingly low temperature throughout the day. The insulation is no joke – even after hours in direct sunlight, the contents were as cool as when we first packed them.
Durability That Endures
We subjected the backpack cooler to rough handling, and it held up exceptionally well. The rugged exterior and reinforced stitching meant that it emerged unscathed even after being tossed around. Carhartt's reputation for durability is truly warranted.
User-Friendly Design
The thoughtful design of the cooler's compartments made accessing our items a breeze. No more digging through a sea of ice and food to find what you need – everything was neatly organized and easy to reach.
Value That Speaks for Itself
When it comes to the price point, the Carhartt backpack cooler offers exceptional value for its quality and features. While there are cheaper options on the market, none match the durability and performance that Carhartt delivers.
Final Verdict: Elevate Your Adventures with Carhartt
In conclusion, if you're in the market for a backpack cooler that can keep up with your active lifestyle, the Carhartt backpack cooler should be at the top of your list. Its combination of durability, insulation, and user-friendly design sets it apart from the competition.
Whether you're a dedicated hiker, a beach enthusiast, or someone who loves picnics in the park, this cooler will enhance your outdoor experiences.
So, why settle for subpar cooling solutions? Choose Carhartt and elevate your adventures to a whole new level. Don't compromise on quality – choose the cooler that's designed to keep up with your dynamic lifestyle.