Zakeep cooler backpack Review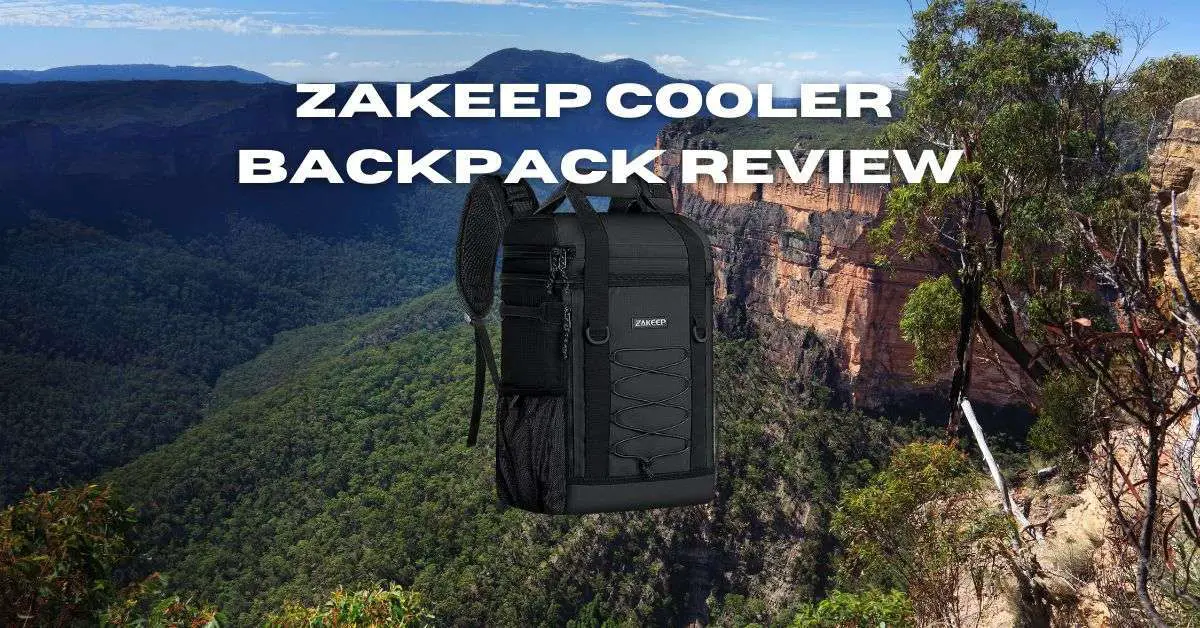 Last updated on September 21st, 2023 at 12:55 am
As someone who loves the great outdoors, I'm always on the lookout for high-quality gear that lets me enjoy my adventures to the fullest. And when it comes to keeping food and drinks cold no matter where I am, I've found a new favorite: the Zakeep cooler backpack.
I recently got my hands on one of these bags, and I've been using it non-stop on hikes, beach days, and even picnics in the park. So, what makes this cooler backpack so special? Keep reading to find out.
Keepin' It Cool: My Review of the Zakeep Cooler Backpack
Design and Construction
Right off the bat, the Zakeep cooler backpack caught my attention with its sleek, modern design. It comes in a range of colors—mine is a vivid shade of blue—that look great whether you're hiking in the mountains or hanging out at a barbecue. But it's not just a pretty face; this backpack is constructed to withstand some serious wear and tear. The outer layer is made of tough, water-resistant ripstop nylon, while the interior is lined with a high-density insulation material that keeps everything inside at the perfect temperature. Plus, the zippers are heavy-duty and easy to use, even when you're wearing gloves.
Capacity and Compartments
One of the things I love about this cooler backpack is that it's deceptively roomy. It has an impressive 23-liter capacity, which means it can hold up to 30 cans of soda or beer—plus ice, of course. But what's even better is that it doesn't just have one giant compartment; it has several smaller ones that make it easy to keep your food and drinks organized. There's a zippered main compartment for larger items like sandwiches or containers of fruit salad, as well as a front pocket for essentials like keys, phone, and wallet. There are also two side mesh pockets that are perfect for water bottles or extra snacks.
Comfort and Convenience
Let's face it: carrying a cooler can be a pain, especially if you're lugging it around for hours on a hot day. But the Zakeep cooler backpack makes things a lot easier. It has padded, adjustable straps that distribute the weight evenly across your shoulders, so you don't end up with a sore back or neck. Plus, the back panel is also padded for extra comfort. And unlike traditional coolers that you have to drag or carry by a handle, this backpack leaves your hands free for other things. Whether you're hiking, biking, or just strolling along the beach, you'll appreciate the hands-free convenience of this backpack.
Performance and Durability
Of course, all the design features in the world wouldn't matter if the Zakeep cooler backpack didn't actually keep food and drinks cold. But I'm happy to report that it does a fantastic job in that department. I've used it on hot days when the temperature outside was well into the 90s, and my drinks were still ice-cold at the end of the day. The insulation works incredibly well, and I love that the backpack is leak-proof, so I don't have to worry about any spills or messes. And when it's time to clean up, it's easy to wipe down the interior and exterior with a damp cloth.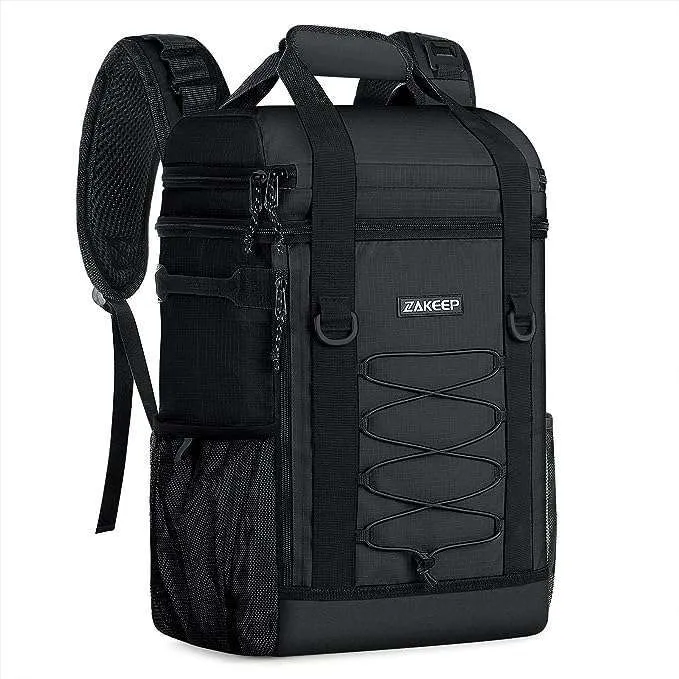 | | |
| --- | --- |
| Brand | ZAKEEP |
| Color | Black |
| Material | Polyethylene Vinyl Acetate (PEVA) |
| Package Information | Bag |
| Capacity | 330 Milliliters |
| Item Dimensions LxWxH | 13.7 x 7.1 x 19.3 inches |
| Item Weight | 1.7 Pounds |
| Special Feature | Leak Proof |
| Included Components | cooler backpack |
| Recommended Uses For Product | Picnic |
Benefits
【𝙇𝙖𝙧𝙜𝙚 𝘾𝙖𝙥𝙖𝙘𝙞𝙩𝙮】Product size: 19.3"x13.7"x7.1″( H x L x W) . ZAKEEP cooler backpack holds up to 36 Cans and 5 pounds of ice in roomy storage compartment, side pockets can hold 4 bottles of wine. 1 extra insulated pocket to keep your fruit fresh.
【𝙀𝙭𝙘𝙚𝙡𝙡𝙚𝙣𝙩 𝙄𝙣𝙨𝙪𝙡𝙖𝙩𝙞𝙤𝙣】Designed with thickened PEVA material and a thick layer of waterproof insulated foam to keep it cold/hot/fresh for up to 16 hours. You can drink cold beer and eat fresh snacks or fruits anywhere anytime, with your friends or family.
【𝙉𝙤 𝙇𝙚𝙖𝙠𝙞𝙣𝙜 𝙋𝙧𝙤𝙗𝙡𝙚𝙢】Our cooler backpack is made of upgraded leak-proof materials, which works effectively at keeping your liquid contents at their ideal temperature without worry of leaking.
【𝙈𝙚𝙚𝙩 𝘼𝙡𝙡 𝙔𝙤𝙪 𝙉𝙚𝙚𝙙𝙨】1 large insulated compartments and 1 small insulated pocket , 2 side mesh pockets, 1 padded carrying handle and 1 small pocket on the top, 1 large front pocket with zipper, , 1 beer opener on the strap and 2 side handles for carrying.
【𝙍𝙚𝙡𝙞𝙚𝙫𝙚 𝙎𝙝𝙤𝙪𝙡𝙙𝙚𝙧 𝙋𝙧𝙚𝙨𝙨𝙪𝙧𝙚】Our cooler backpack is lighter than others. In addition, Ergonomic and padded shoulder straps greatly relieve shoulder pressure, making the journey more comfortable.