Best Collapsible water jug for camping
Last updated on April 14th, 2023 at 04:11 pm
A collapsible water jug is one of the best items you can ever bring to a camping trip. When folded, it doesn't take up as much space as a conventional water jug and when unfolded, you get all the benefits of having a large supply of fresh water. Not only am I talking about convenience, but also the comfort of having plenty of clean, fresh drinking water available at any time during your camping expedition.
Whether I'm in need of some refreshing H2O during a harvest or want it to wash off after a day spent in nature, I know my Collapsible Water Jug will be ready to provide me with what I require. With its foldability feature allowing for easy transport and minimal storage, why wouldn't I use it? Furthermore, this innovative product also features an anti-leak design and portable carrying handle for even greater ease of use!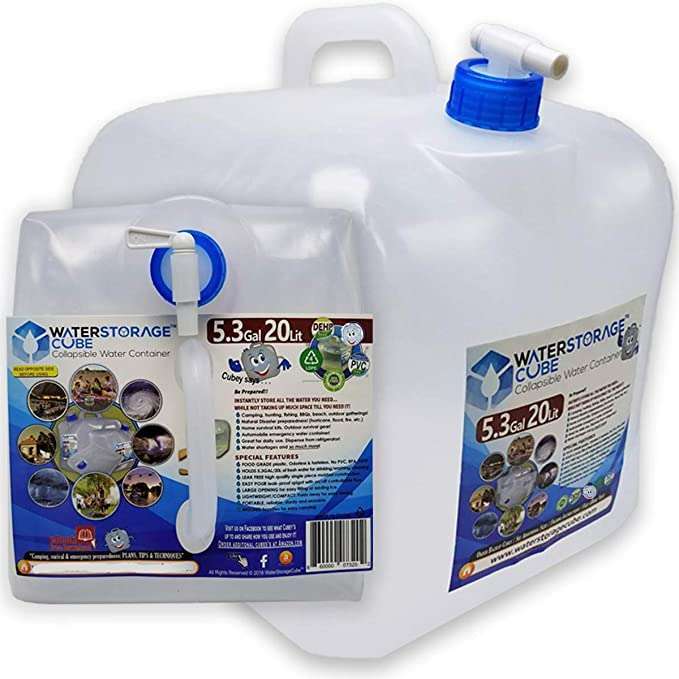 | | |
| --- | --- |
| Brand | WaterStorageCube |
| Material | Low Density Polyethylene |
| Color | 2-Pack 1.3 Gallon / 5L |
| Capacity | 1.3 Gallons |
| Special Feature | Easily Collapses for Easy Transport & Storage! |
Experience life to the fullest with the Collapsible water jug by WaterStorageCube! their premium collapsible water/beverage storage containers are designed for outdoor pursuits, camping trips, and emergency preparedness.
Don't let anything stand in your way be ready no matter what you face with our foldable, portable & lightweight solution that ensures you're always well-equipped and adventure-ready.
Sizes and Dimensions
They come in 3 sizes (1.3/2.6/5.3 gallon) and enable you to quickly & conveniently be ready to store, transport & dispense all the water you need, without taking up much space before you need it.