Best Camping Air Conditioner: Cool Tent Under The Stars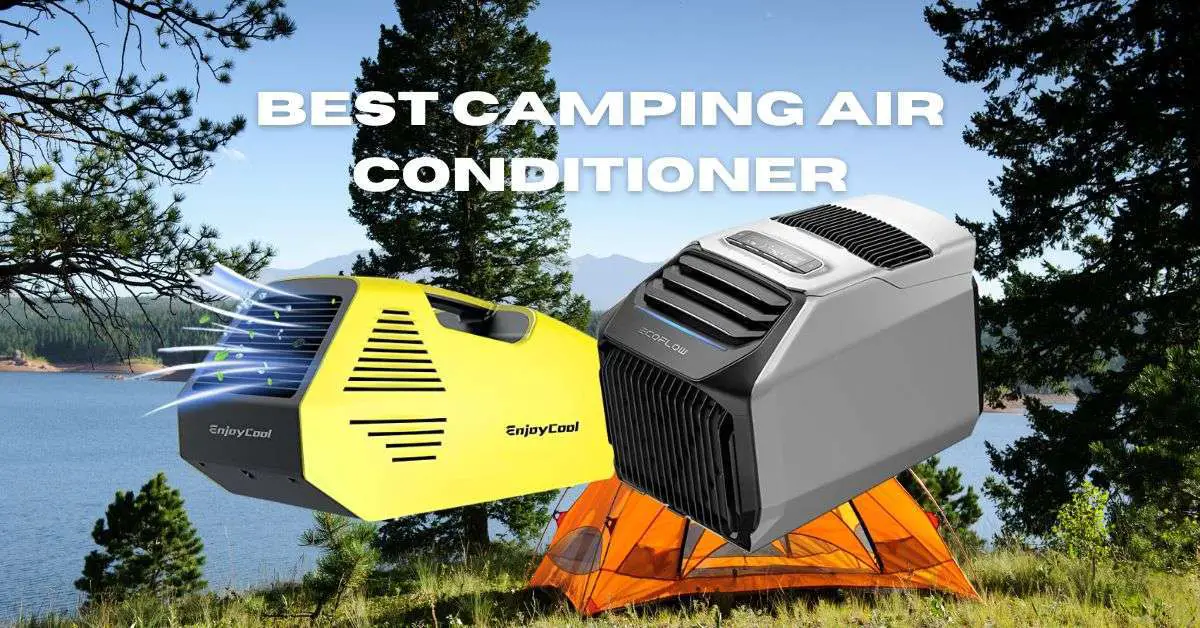 Last updated on August 29th, 2023 at 02:38 am
Are you going camping this summer and looking for a way to stay cool in the heat? Look no further than the best camping air conditioners! These portable AC units are designed to keep your tent or camper cool even on the hottest days.
From battery powered AC models to solar-powered, there are plenty of options to make sure you get a comfortable night's sleep while camping. In this blog, we'll explore the different types of camping air conditioners available and provide reviews that will help you choose the right one for your needs.
Editors Top Picks
My Portable AC for Camping Need
I love my portable air conditioner for camping because it is so convenient and easy to use. It's lightweight, compact, and easily transported from place to place. Plus, it provides great cooling relief from the hot summer temperatures while I'm outdoors on a camping trip. The air conditioning also helps keep me more comfortable and relaxed throughout my outdoor adventures.
Best Camping Air Conditioner For Tents is Bouger
I'm excited to share that I've found the Best camping air conditioner for tents and the perfect solution to cool down any room at home or work! The 2899BTU Portable Tent Air Conditioner is easy to use with its digital display, programmable timer, and adjustable airflow. It's convenient and powerful, exactly what I was looking for!
#1 Tent air conditioner – Best Portable AC For Camping
And thanks to its compact design and caster wheels, you can easily move it from your tent room to room as needed.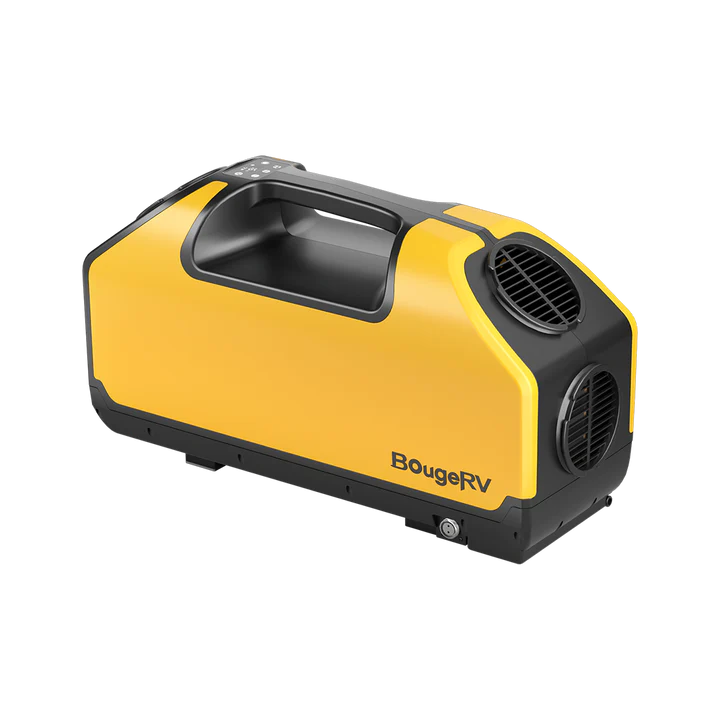 Key Benefits: 
Uses a high-quality Panasonic compressor
No installation work required
Convenient Carrying with compact size
With a simple control on the panel
Its a great camping portable air conditioner because I can connect it to an AC 100~220V power supply at home with the included 360W AC adapter. If I'm outside, I just connect it to my portable power station or generator. I'll be sure not to use a car battery or power inverter to power the air conditioner, as it may drain the battery or blow a fuse.
EF ECOFLOW Wave 2 Portable ac for camping, Air Conditioning Unit with Heat, Air Portable AC for Outdoor Tent Camping/RVs or Home Use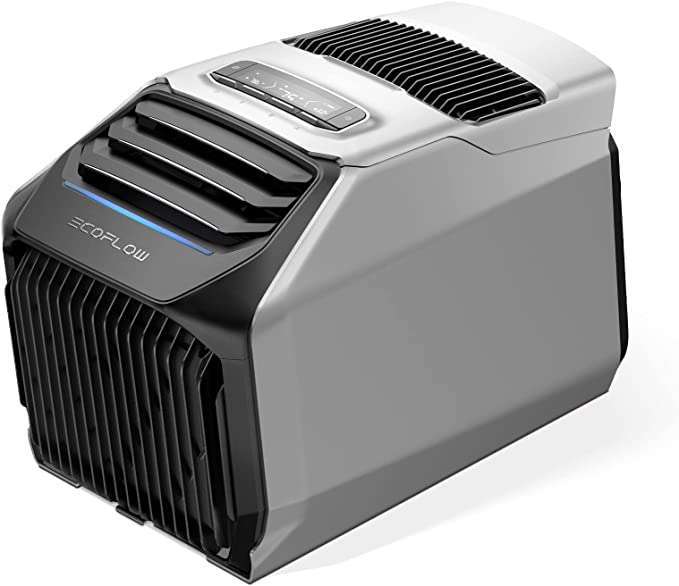 | | |
| --- | --- |
| Brand | EF ECOFLOW |
| Capacity | 32 Pounds |
| Cooling Power | 5100 British Thermal Units |
| Special Feature | Fastest Cooling and Heating, 4 Ways to Charge, 8 Long Hours of Comfort, Installation-free! Fits Anywhere, 44dB: Perfect For Quiet SleepFastest Cooling and Heating, 4 Ways to Charge, 8 Long Hours of Comfort, Installation-free! Fits Anywhere, 44dB: Perfect For Quiet Sleep |
| Product Dimensions | 20″D x 12″W x 13″H |
| Energy Star | >2.7 |
| Color | Black&Grey |
| Voltage | 120 Volts |
| Noise Level | 44 dB |
| Refrigerant | R 410A |
Key Benefits
Powerful Cooling & Heating. With EcoFlow's tailor-made compressor, Wave 2 can drop the temperature by 18℉ (10℃) in 5 mins in cooling mode (5100BTU) and raise the temperature by 18℉ (10℃) in 5 mins in heating mode (6100BTU).
Four Ways to Charge. Charge EcoFlow Wave2, the ultimate air cooler and heater, quickly with AC, solar, car, and power stations. Its swappable battery allows for cool or warm air anytime, anywhere, with the flexibility of multiple charging options, making it the perfect tent, RV or camping air conditioner.
Peaceful and Long-lasting Comfort. Enjoy a peaceful snooze with Wave 2's quiet operation (44 dB) in Sleep Mode, and up to 8 hours of use in Eco Mode. With multiple modes and app control, it offers longer-lasting comfort in your tent, RV, or home. Its powerful and portable AC design ensures you can take it anywhere you need it.
No Water Left Behind. Enjoy the convenience of cooling and heating right out of the box! EcoFlow Wave2 is the perfect air conditioner for any compact space. It's extremely simple to use, requiring no installation or drainage*.
*No drainage is needed in cooling mode when humidity is below 70%, but it is still needed in heating mode.
Extended Run Time. With a 1159Wh add-on battery, EcoFlow AC unit is truly portable. Add on a DELTA 2/DELTA Max and extend run times to a record-breaking 7-14hrs – that's 28% more efficient than other power stations. And of course, you can also top up at home via a wall outlet.
Consumer Review
The Wave 2 has proven itself to be the top-of-the-line portable AC unit. Having tested it out myself, I can say with confidence that it far exceeded my expectations. Unlike swamp or evaporative coolers, this AC unit does not disappoint. I opted for the additional battery pack, but I've considered using my Delta Pro or even setting up a dedicated battery array. It's an extremely convenient appliance to have on hand, especially during power outages caused by hurricanes.

Jack
Portable Air Conditioner – Personal Mini AC Quiet Air Cooler with Handle,90° Oscillating Desktop Cooling Fan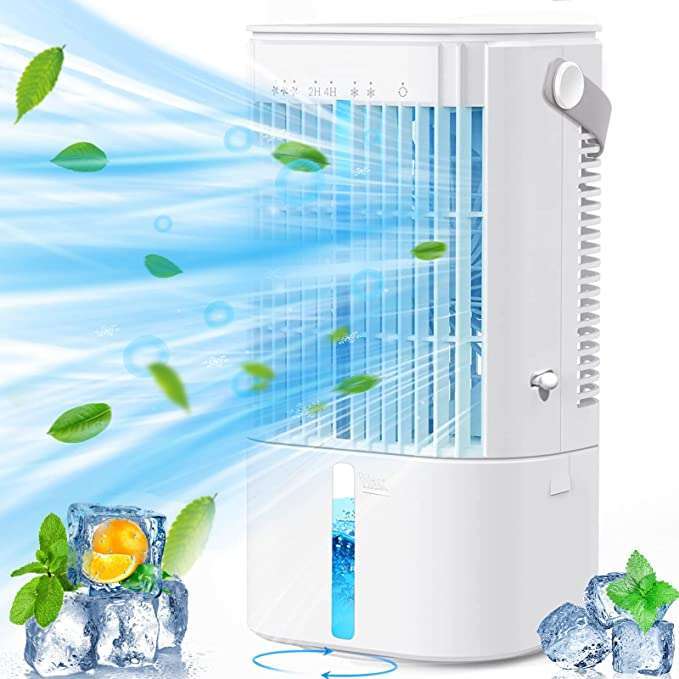 | | |
| --- | --- |
| Brand | SEPTRID |
| Capacity | 900 Milliliters |
| Special Feature | Adjustable Speed |
| Product Dimensions | 5.1″D x 5.1″W x 10.2″H |
| Energy Star | 5 Star |
| Color | White |
| Voltage | 5 |
| Noise Level | 40 dB |
| Number of Speeds | 3 |
| Power Source | Corded Electric |
Key Benefits
This multifunctional desktop small air conditioner for camping packs four cooling features into one: a cooling fan, air conditioner, humidifier, and a LED atmosphere light with seven colors. Thanks to the upgraded silent motor, the air conditioner generates strong wind power and fast cooling, quickly turning hot air into a refreshing breeze. In the scorching hot summer, this 4-in-1 air conditioner is the ultimate solution, delivering cool mist while keeping your skin moisturized.
This Portable AC for Camping packs a punch with its 90° wide-angle oscillation and adjustable 3-speeds! The oscillation technology circulates cold air further for larger coverage, and its 3 adjustable wind speeds (natural, normal, and strong) cater to different scenarios like work, study or sleep. It's easy to power too. The USB-powered 5V 2A driving supply allows flexible charging via laptops, chargers or power banks. Just plug and play, although please note: our portable air conditioner is not rechargeable.
【Timing Function and Large Water Tank】This portable air cooler is ideal for relaxing, sleeping, or working hours, with two automatic timing options of 2 and 4 hours. Adjust the lever on the left up or down 30° to accommodate your preference. With a 900ml water tank, this air cooler can be easily filled with water or ice, letting you enjoy continuous cooling for up to 6-8 hours without having to add water multiple times. You can feel safe using this cooler with its leak-proof design.
Our upgraded mini air cooler boasts a unique technology that allows for quiet and effective operation, with a low noise level of 40dB (max 55dB). It also features a built-in LED mood light that can help create a romantic atmosphere or provide you with better sleep. With options to choose from seven different colours and wind speeds, you can control it to suit your mood, or use it as a night light. It's simple; just touch the Light button for 3 seconds to turn it on or off.
【Portable Everywhere & Compact Design】The size of our personal mini air conditioner is 5.1 x 5.5 x 10.2 inches and weighs only 2.1 pounds, you can put it on the desk or bedroom for your personal use. The portable handle on the top of air cooler makes it easy to move everywhere you want. Perfect for your bedroom, office, dorms, desk, living room and kitchen.
【Note】1.Before cleaning the unit, please power off the unplug the appliance. 2.Do not touch the power supply or power cord with wet hands. 3.This fan is for personal use and cannot cool the entire room, please do not place it too far from you.We provide 24-hour customer service to ensure you have a satisfied shopping.
Consumer Review
My son adores this small portable cooling machine. He carries it wherever he goes by hooking it up to a USB portable battery. Adding ice cubes turns it into AC. The colour-changing feature is the highlight, providing a dreamy ambiance as he slips into slumber. Highly recommended.

Eric Lee
Small Portable Air Conditioner For Camping, 2380BTU Tent Air Conditioner
220W Low Power Consumption and 3 Wind Speeds, Suitable for Van Life, Camping Tent, Outdoor and Indoor use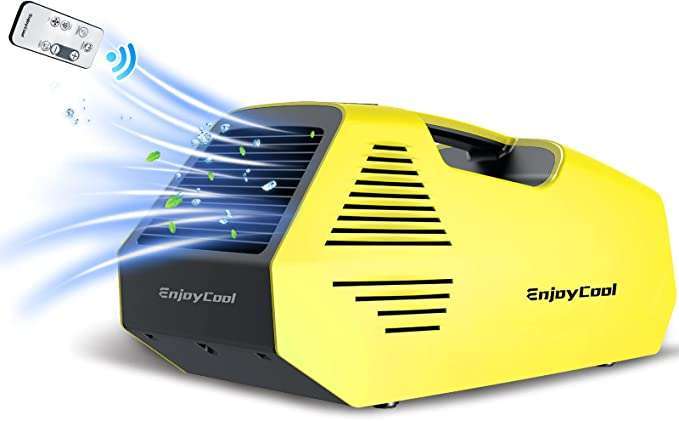 | | |
| --- | --- |
| Brand | VAVNVE |
| Capacity | 14.3 Pounds |
| Cooling Power | 2380 British Thermal Units |
| Special Feature | Remote Controlled, Fast Cooling |
| Product Dimensions | 20.8″D x 9.8″W x 9.8″H |
| Energy Star | 5 Star |
| Seasonal Energy Efficiency Ratio (SEER) | 2.6 |
| Color | Yellow |
| Voltage | 24 Volts |
| Noise Level | 45 dB |
Key Benefits
【10-Minute Fast Cooling】 The small portable air conditioner features a powerful P-a-n-a-s-o-n-i-c mini-rotary compressor, providing 2380 BTUs and 700W of cooling efficiency. It can effectively cool a room of up to 40 sq. ft. in less than 10 minutes, with temperatures dropping to 30-40°F between the air inlet and outlet.
【Portable and Versatile】 This tent air conditioner is perfect for a variety of outdoor activities, such as camping, traveling, boat fishing, cabins, garage work, and pet houses. It's lightweight (only 14 lbs) and comes with a handle, making it easy to carry around. It's also ideal for RV trips, BBQs, and family gatherings on hot summer days.
【Multiple Modes】 With 4 modes – Strong, Sleep, Cooling, and Fan – and 3 fan speeds, you can easily customize your comfort at the touch of a button. The sleep mode stops the cooling mode, allowing only the fan to work, ensuring that you stay cool and undisturbed in your sleep (≤46db).
【Lightweight and Compact】 This portable air conditioners for tents is lightweight only 14lbs, incorporating a dual-pipe outdoor unit and the highest cooling capacity for its size. It's at least 15% smaller than comparable products, making it easy to store and transport.
【Multiple Power Options】 You can power the air conditioner using a Power Station/Base Battery (not included), 100-240V AC(included), Truck Charging (24V), or Sustainable Charging with a solar generator (24V). We are confident in the quality of product. In the process of daily use, if you have any query or suggestions, please feel free to contact us, we provide 24×7 after-sales support service to solve any of your worries and support one-year warranty.
Final Thoughts
The COFLOW Wave 2 Portable Air Conditioner for Camping is hands down my top choice for camping. Its exceptional portability, efficiency, and quality make it a standout among other camping air conditioning units. And the Best camping air conditioner for tents is the Bouger as its small and portable which is what me and my friends are usually after.
The compact size and lightweight make it easy to transport, while its advanced cooling system provides unparalleled comfort in the great outdoors. Whether camping in the mountains or by the beach, the COFLOW Wave 2 Portable Air Conditioner is a game-changer for staying cool and comfortable on your next adventure.