Best Water Purifier for Camping Reviews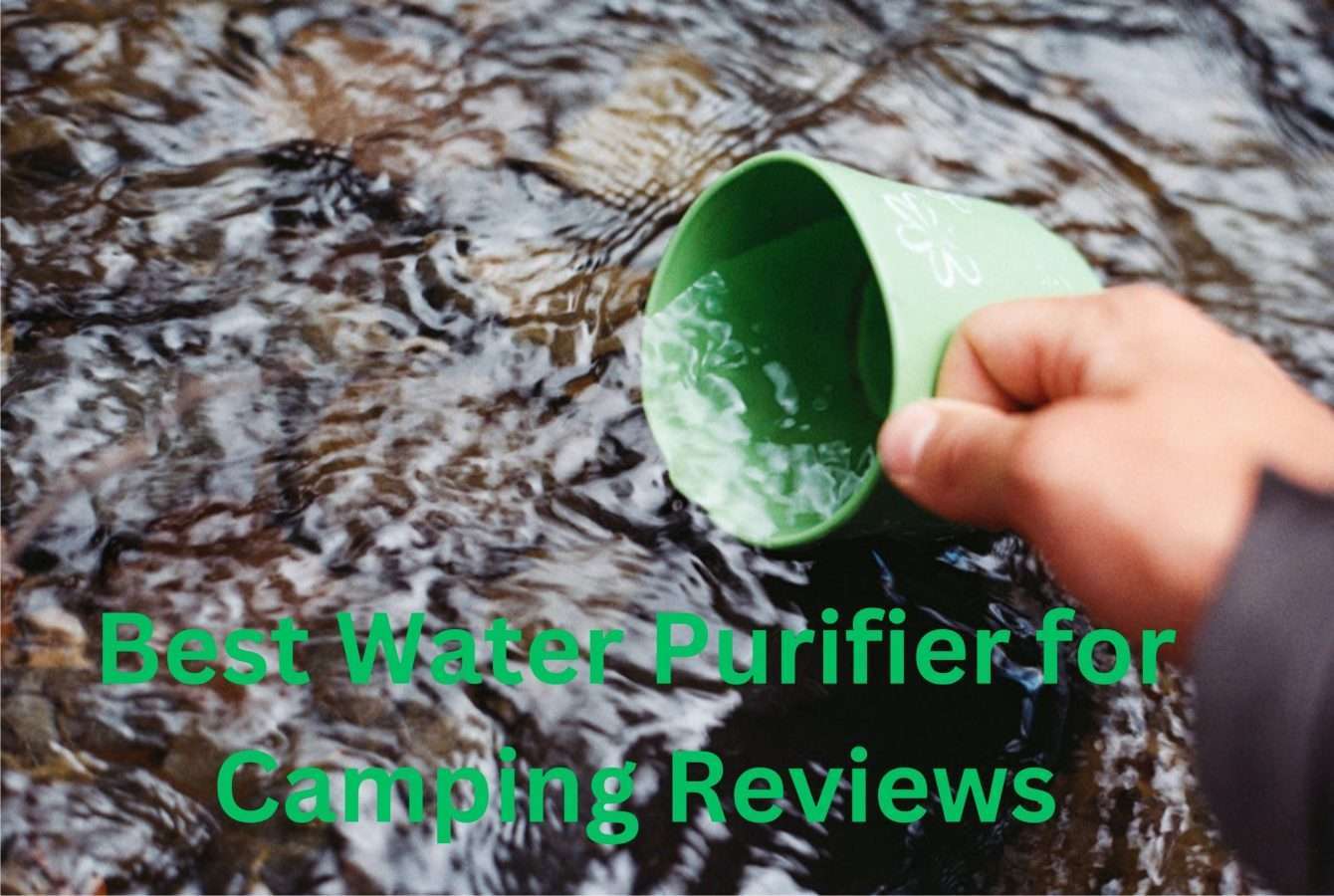 Last updated on September 21st, 2023 at 12:43 am
Boiling water over a campfire or camping stove is the best way of killing disease-causing protozoa, bacteria, and viruses. But boiling does not remove some contaminants, including pharmaceuticals, heavy metals, insecticides, and pesticides. That's why the best water purifier for camping, hiking, and survival is recommended as an added layer of protection. 
Editor's Picks 
Like other camping gear accessories, backpacking water filters are a hit or miss. There are some cool ones that work and some clunky ones that are best avoided. We put up this buying guide to help you choose the best water purifier for camping. Our team also compared ten models before narrowing down to four water purifiers that we believe are the best for 2023. 
Best Water Purifier for Camping Reviews
SimPure Gravity Water Filter
The Simpure grabbed our attention with its simplicity and overall ease of use. This is a gravity-based water purifier that treats you in three stages. The first is a coarse pre-filter that removes floaties like leaves, dirt, and stones.
Next is a PP cotton filter that intercepts as tiny as 0.2 microns. The third stage consists of activated carbon and works by removing chemicals to improve the taste of water. Lastly, the water passes through a hollow fiber membrane that effectively removes microbiological contaminants. 
We like its 2-in-1 design that allows you to suck water through the filtration system directly into your mouth. You can also connect it to the gravity bag with the 29.5-inch tube if you want to treat more water. 
Survivor Filter Pro Water Purification System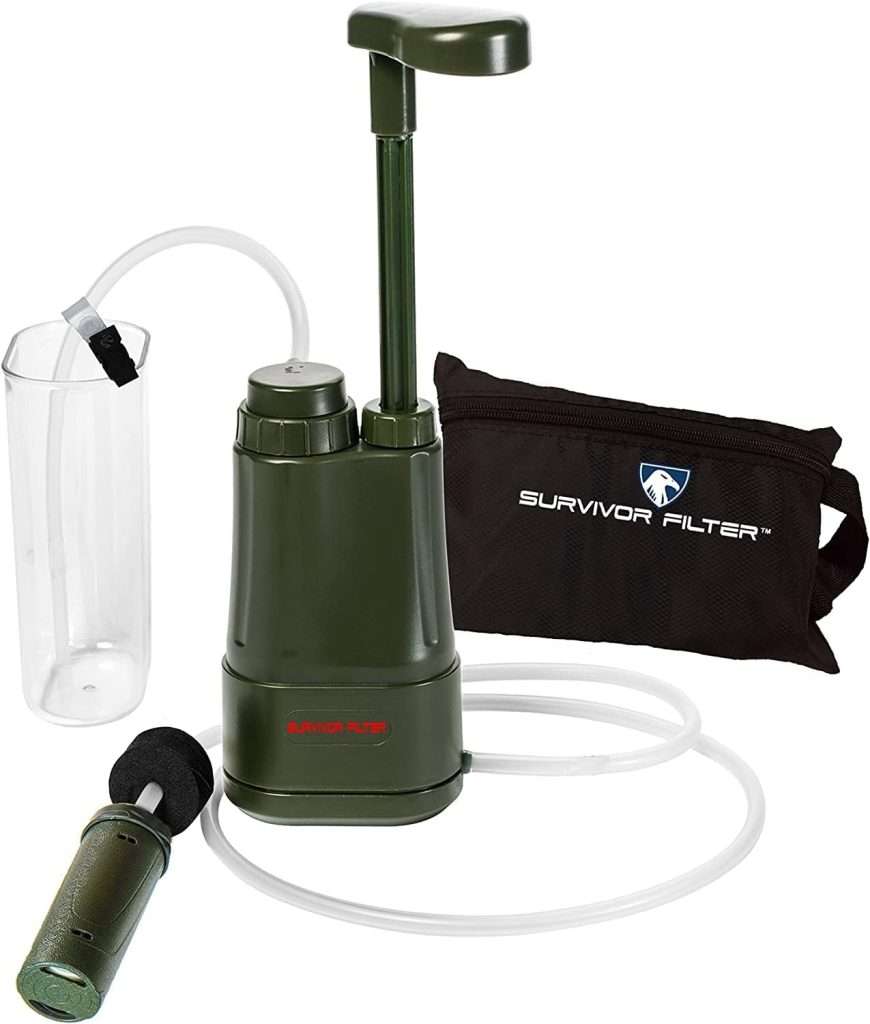 The Survivor Filter Pro is another high-performance water purifier that removes water contaminants without the need for electricity. With this hand-pumped water filter, you dip one hose end in the water source and the other in your bottle or storage container and pump. 
Water is pushed through a three-stage filtration system; a 0.1-micron pre-filter, a carbon filter, and a 0.01-micron ultra-filter. You get 500 ml (or 17 ounces) of water per minute without much effort, making it the best water purifier for camping as a small group or family. 
Tested for viruses, bacteria, and protozoa, the Survivor Filter Pro is also good at removing water odors. It measures 3.5 "L x 4.06" W x 7.28 "H and weighs only 12.8 ounces, making it an incredible pick for all types of outdoor adventures, including hiking and backpacking. 
Membrane Solutions Straw Water Filter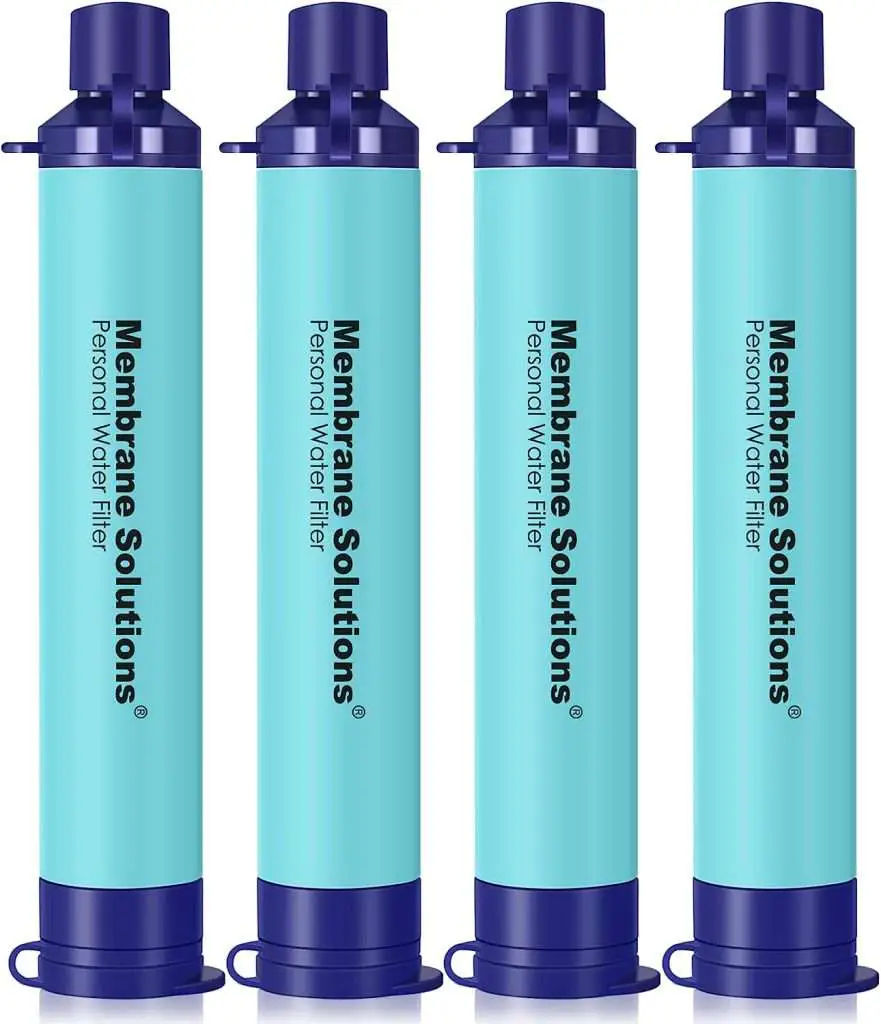 Measuring 7.1″ long and 1″ in diameter, this straw water filter from Membrane Solutions is one of the most compact on this list. And weighing just two ounces, this will be your pick of the best water purifier for camping if you don't want to account for extra weight or storage space in your backpack. 
Despite its compact design, the Membrane Solutions brings five filtration stages to the table. It features a coarse filter that traps large debris, a double layer pp cotton fiber, coconut shell activated carbon, and hollow fiber ultrafiltration membranes. 
What makes it unique is its versatility. Besides using it as a personal straw water filter, you can connect it to a disposable water bottle as a squeeze water filter or a gravity bag. 
The Membrane Solutions straw water filter has a 0.1-micron pore size and a flow rate of 500 ml per minute. 
BKLES BK-2000 Water Purifier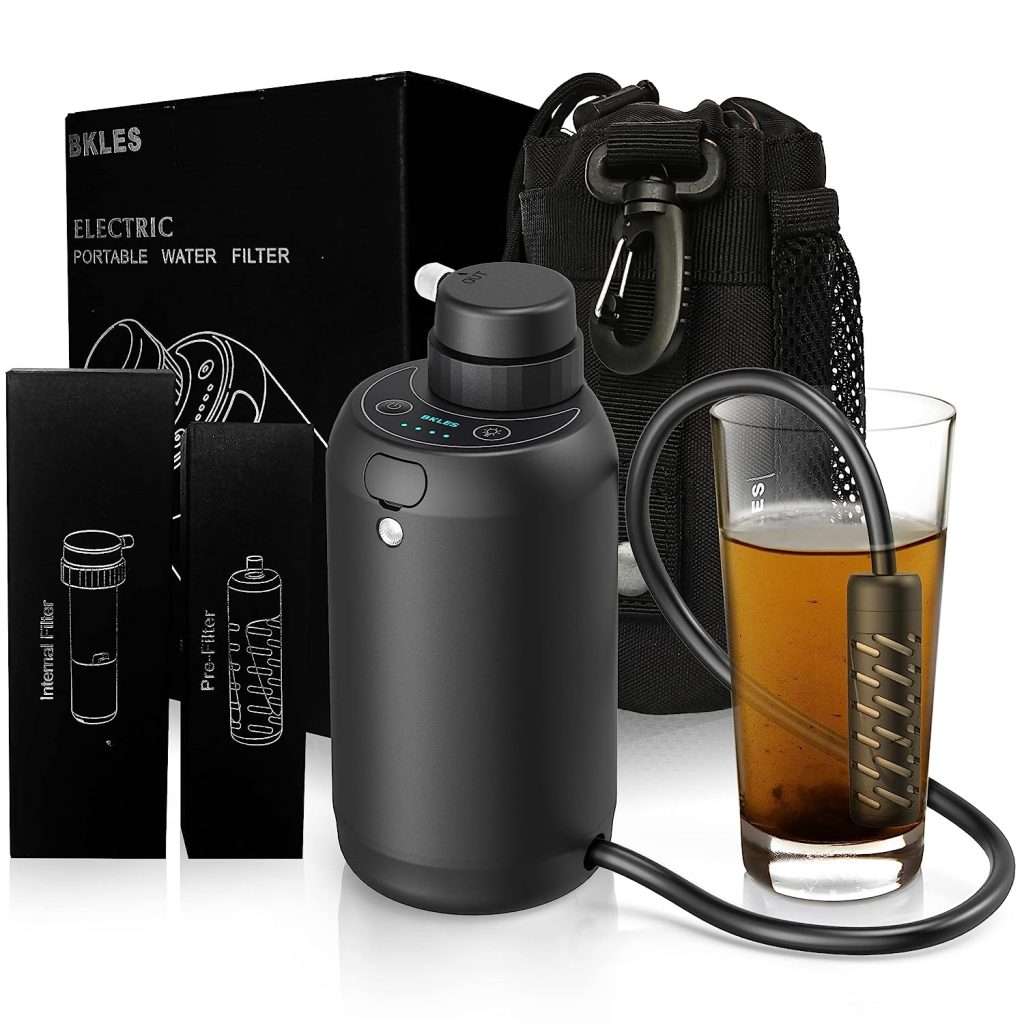 Each of the models that made it into our list will make a great purchase for one reason or another. But we bet none of the purifiers above will be the BKLES BK-2000 water purifier regarding style. And it's not just about the looks. 
The first thing that pulled us in was its electric design. If you're tired of pumping or looking for an ideal location to hang your gravity-based water purifiers, then this model is what you need. It's electric and has a super-fast filtration rate of 700 ml per minute. All you do is set it up, hit the start button, and wait. 
The BK-2000 boasts a five-stage filtration system, including Kinetic Degradation Fluxion (KDF). The latter reduces or removes bacteria, algae, fungi, lead, mercury, and chlorine, among other contaminants. 
The built-in rechargeable battery can purify up to 168000ml(5681 oz.) of water per charge. So, it's not like you'll be charging it daily. Plus, you can charge it via your camper's power supply, a solar panel kit, or portable battery bank.
How to Choose the Best Water Purifier for Camping
Water Purifiers vs Filters- What's the Difference?
You can use a water filter or purifier to treat drinking water while traversing the wild outdoors. Broadly speaking, water filters can only remove parasitic protozoa (such as Toxoplasma gondii) and bacteria but cannot trap viruses as they are too small. Protozoa and bacteria are the main threats in the US, so a water filter will be sufficient for most outdoor lovers. On the other hand, water purifiers can remove protozoa, bacteria, and viruses. Water purifiers are recommended if you're in an area with a lot of human or animal activity or are just concerned about viruses and would prefer a higher level of defense.
Types of Portable Water Purifiers 
The best water purifier for camping, traveling, and emergency preparedness comes in different styles. And that's to say that there's a model suited for every backcountry-goer and type of camping. 
i) Pump filters and purifiers– these units use a hose to draw water from a source before forcing it through a purification system for treatment. The purified water then collects in a water bottle and is ready for consumption. We are big fans of pump filters and purifiers because they are easy to use and can be maintained easily in the woods. On the downside, their size and weight are a major concern, especially when backpacking. Also, pump purifiers are not the most ideal for large groups. 
ii) Gravity water purifiers– with these water purifiers, dirty water is put in one bag where it travels through a tube, into a filter and eventually into a clean water bag. The cool thing about gravity water purifiers is that gravity does everything for you. There's no hand pumping or squeezing involved. This technology offers the best water purifier for camping as a group because it can treat large quantities of water. 
iii) Straw water purifiers– these are also known as drink-through filters because you only need to stick one end to the source and the other in your mouth- and you're hydrated. Straw filters are fast, efficient, and impeccably portable. On the downside, they are not the best for filtering large amounts of water for cooking or storage. 
iv) Chemical and UV water purifiers– iodine-based and chlorine-based are the most common types of chemical treatment. The major advantage of chemical-based water purifiers is that they are lightweight and generally inexpensive. They are also very easy to use, since all you do is add a table or a few drops of the liquid in dirty water and wait. Ultraviolet purifiers subject protozoa, bacteria, and viruses to a germicidal wavelength to achieve similar results. But chemical and UV purifiers don't have physical filters, so they won't remove the floaties in murky water. 
Wrap Up
Access to clean drinking water is incredibly important for all backcountry goers. Water from streams, ponds, lakes, and even glaciers may appear pure, clean and safe to drink, all while harboring a myriad of bacteria, protozoa, and viruses that may cause dire, sometimes fatal consequences. We hope our guide and recommendations will lead you to the best water purifier for camping this year.