Best Twin Size Air Mattress for Camping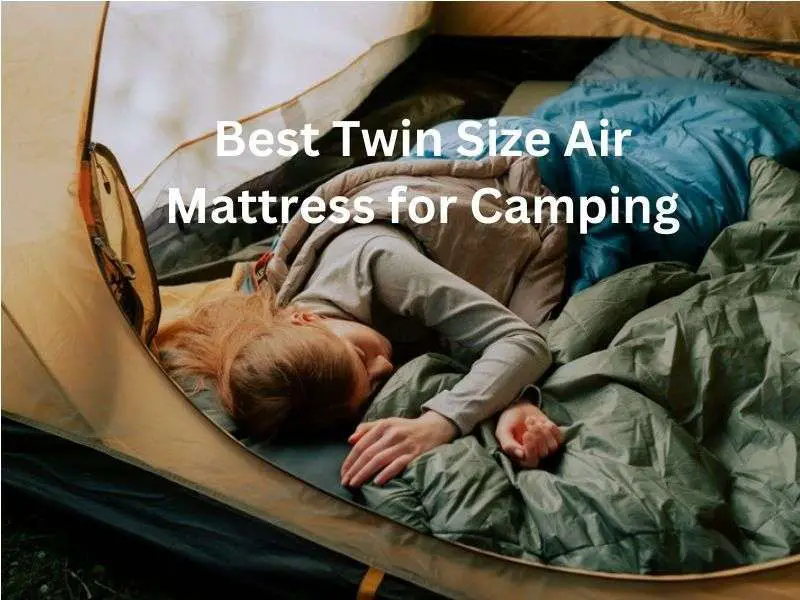 Last updated on April 11th, 2023 at 03:31 pm
Science has it that camping can reset your sleep cycle. But getting a good night's sleep outdoors doesn't just happen. It's something you prepare for by identifying a comfortable spot to pitch your tent away from distractions and noises. And if you're not used to sleeping right on the ground, the best twin size air mattress for camping will do you a world of good. 
Editor's Picks
The camping mattress market is a mixed bag of everything. From inexpensive self-inflating sleeping pads for backpackers to luxurious inflatable air beds for glampers, here are our picks of the best twin size air mattresses for camping 2023. 
Best Twin Size Air Mattress for Camping Reviews
Wellax Foam Camping Mat
The Wellax offers a sweet spot between the cushioning of foam and the insulation of air beds. The net result is an affordable camping mat you can use across all seasons. This self-inflating foam mat inside a high-quality 20D ripstop nylon is meant to power through the harshest camping terrains and seasons. 
The Wellax air camping mattress measures 77" by 27" and has a thickness of 3". Setting it up only requires opening the air valve to let air in. And because it's self-inflating, you can customize its firmness level to match your sleeping position and body shape. The Wellax measures only 27" by 8" when deflated and rolled, making it perfect for backpacking.
Pros
Designed for durability
Balances affordability, comfort, and ease of use
Powers through all seasons 
Thick enough for comfort
Adjustable firmness
Lightweight 
Cons
Packing is easy, but it takes some effort
OlarHike Air Mattress
Standing 18" tall when fully inflated, the Olarhike is the best twin size air mattress for camping if you prefer sleeping in style even when outdoors. This blow-up mattress is made of polyvinyl chloride with leak-resistant stitching and has a velvety-like flocked top for comfort. 
For less than $100, you get a super strong and durable air bed measuring 78" by 40". The Olarhike is wider than other models in our reviews, meaning there's more room if you tend to roll a lot when sleeping. And its 600-pound weight capacity and raised edges make it a great mattress for all sleeping positions and body types. 
Inflation is via a built-in pump that gets the job done in 3-5 minutes. But there's also an option to inflate it manually, which is key for off-grid camping.
After use, the Olarhike folds into a compact size to fit inside the included carry bag. It's heavy at around 17.8 pounds, but not a big issue if you're car camping. 
Pros 
The tall design makes standing easy
High weight capacity (600 lbs)
Sturdy and seemingly durable construction 
Automatic and manual inflation 
Automatic inflation is fast
Cons
Heavy for backpacking
Manual inflation can be taxing
Losthorizon Airsoft Sleeping Pad 
The biggest downside of blow up air mattresses is the lack of support. If you're planning a long camping trip and want a mattress with more support, look no further than the Losthorizon Airsoft sleeping pad. 
This versatile air mattress comes in handy whether you're into van life, car camping, truck bed camping, or backpacking. It's 75" by 38" in size and has a thickness of 4".
It's made of high-quality foam material that's impossible to bottom out so long as you're not over the 265-pound weight limit. What makes it unique is its carry bag that also acts as a manual pump. You can use it to inflate the mattress faster or increase mattress firmness for your sleeping position.
The Losthorizon has a packing size of 27" by 18" and a weight of 10.8 lbs. It's not the lightest on this list. But the extra pounds are a small gripe when you factor in the added support. 
Pros
Balances comfort and support 
Easy to fill 
Great for bad back 
Compact for easy storage
Cons
Weight goes up with the added support
Pricier than competitors
Tobtos Self Inflating Camping Pad
Don't let the low price fool you: the Tobtos still packs all the bells and whistles that smart outdoor enthusiasts seek. This is the best twin size air mattress for camping if you want a high-quality portable bed on a budget. 
The twin size model is 75" long and 28" wide and has a thickness of 6" when fully inflated. Despite its relatively low price tag, the Tobtos is made of 40D nylon, which is 1.5 times stronger and more durable than the 20D fabric used for the Wellax. Thanks to this ultra-tough build, the Tobtos can accommodate individuals weighing up to 800 pounds despite weighing only 2.36 pounds itself. 
This self-inflating camping pad has a built-in pillow and raised edges, so you stay on the mat throughout the night. Inflation is via a built-in foot pump and only takes a couple of minutes. The deflation valve allows you to adjust the firmness besides getting your mattress ready for packing. 
Pros
Ultra-tough construction 
Inflates and deflates within a few minutes
Has a high weight limit
Great value for money
Easy to transport
Cons
May sleep a bit warm
Makes some noise 
Considerations When Choosing the Best Twin Size Mattress for Camping- Buying Guide
Mattress Type
The most popular camping mattress types are self-inflatable pads and air beds that require manual or automatic inflation. Self-inflatable mats are the most convenient in terms of use. All you do is unroll them, turn the cap to inflate, and wait 5-15 minutes for your bed to get ready. Sleeping pads win in terms of insulation and portability but lose a few marks on cushioning.
Consider an air mattress for more comfort and cushioning. Air mattresses come in single and double height, depending on how far off the ground you want to sleep. Note that air mattresses with built-in electric pumps tend to be heavy and bulky. These are best for car camping. If you are hauling everything on your back, you'll find an air mattress with an external manual pump, notably lighter. 
Mattress Size 
Twin camping mattresses have widths starting at 28" and lengths ranging between 75" and 80". When deciding on the ideal twin size air mattress, start by determining the available space in your sleeping area. You want a mattress that maximize comforts without grabbing all the space in your tent. 
Weight and Packing Size 
Any camping gear guide must include weight and packing size. And that's because these two can make or break your camping experience, especially if storage space is premium. But it's even more crucial if you're backpacking. If you carry all your camping gear on your back, ensure it folds neatly into a compact size and doesn't add too much weight to your backpack. 
Final Thoughts
Gone are the days of walking hunched over due to back pain after every camping trip. Thanks to technology, the market now has the best twin size air mattress for camping and sleeping comfortably under the stars. Consider your type of camping and get a twin mattress that meets all your comfort, support, ease of use, and convenience needs. If you're camping with back pain, check out our other recommendations for the best sleeping pad for camping with a bad back.