Best Solar Powered Camping Fan Reviews: Lets Get Cool
Last updated on September 21st, 2023 at 12:43 am
Unless you're prepared with the best solar powered camping fan, the unbearable heat can definitely dampen your outdoor adventure. 
Summer is arguably the best time to be out in nature. But if you know something about summer nights, they aren't always the coolest for sleeping, particularly in a tent or an RV with a dead AC. Thats why we created this blog on our Best Solar Fan For Camping.
Editor's Picks 
For this list of the best solar powered fans for camping, we've picked varying models based on design and function. We considered their solar charging capability, air circulation, and versatility. 
Best Solar Powered Fan Reviews 2023
Busypiggy Solar Fan For Camping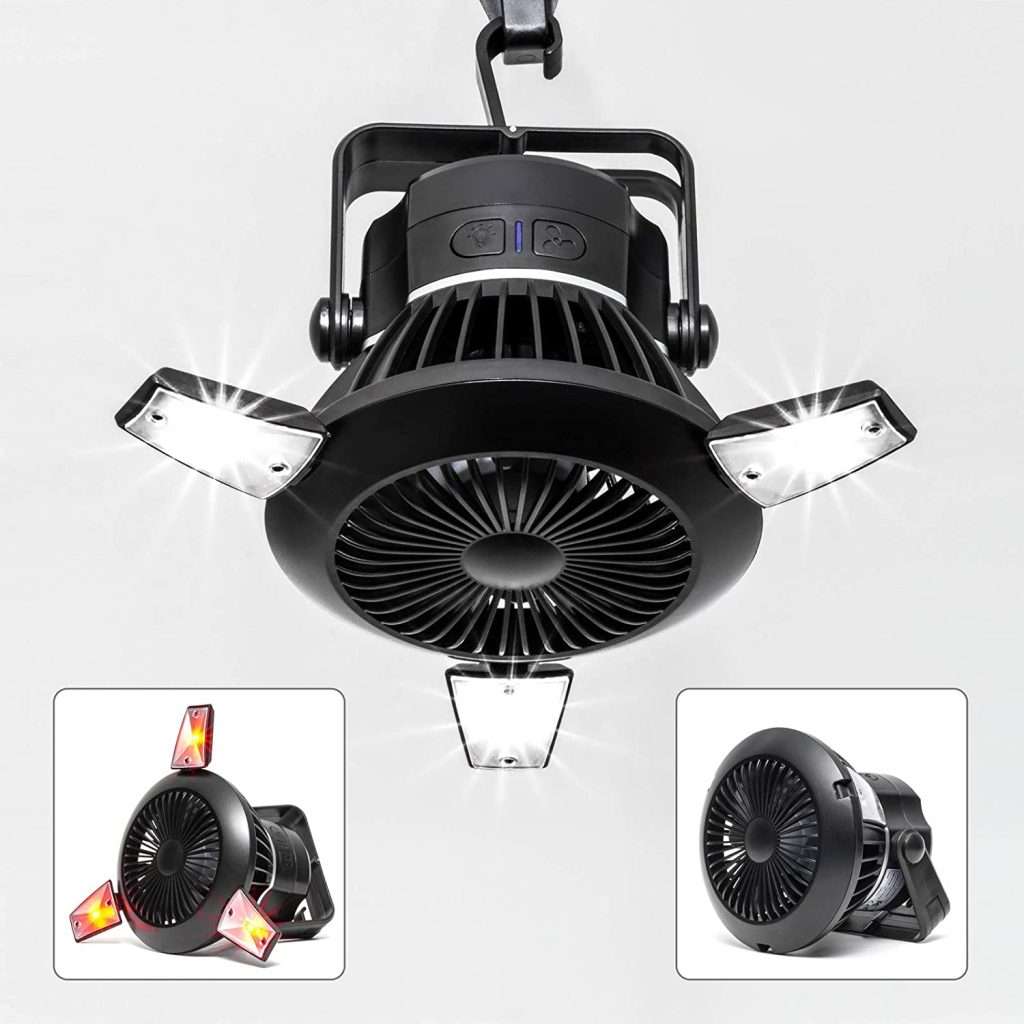 For the best solar powered camping fan on budget, our experts recommend the Busypiggy. This multi-function camping fan also functions as a camping light and emergency charging treasure for your portable devices. It's 8.5 x 5.5 x 4.3 inches in size (with the lights folded) and weighs 0.85 lbs. 
The Busypiggy does an incredible job circulating air. We like that it has four wind speeds so you can adjust its motor strength to meet your needs. While its high setting won't blow your socks off, it works okay in most 4-person tents and fishing shacks. It's also recommendable if you're looking for a small desktop fan. 
As a lantern, the Busypiggy has four modes to meet most of your camping lighting needs. Perhaps the most impressive is the SOS blink light.
The Busypiggy solar fans for camping use a 4000 mAh battery with a rating of 7-20 hours, depending on use. It charges easily in the sun, but you can also recharge it via USB in 4-6 hours. And when disaster strikes, you can rely on it to charge other USB-powered devices. 
Pros 
Multifunction (fan, light, SOS, and phone charger)
Compact and lightweight
Folding LED panels
Cons
SupBri Solar Camp Fan LED Camping Lantern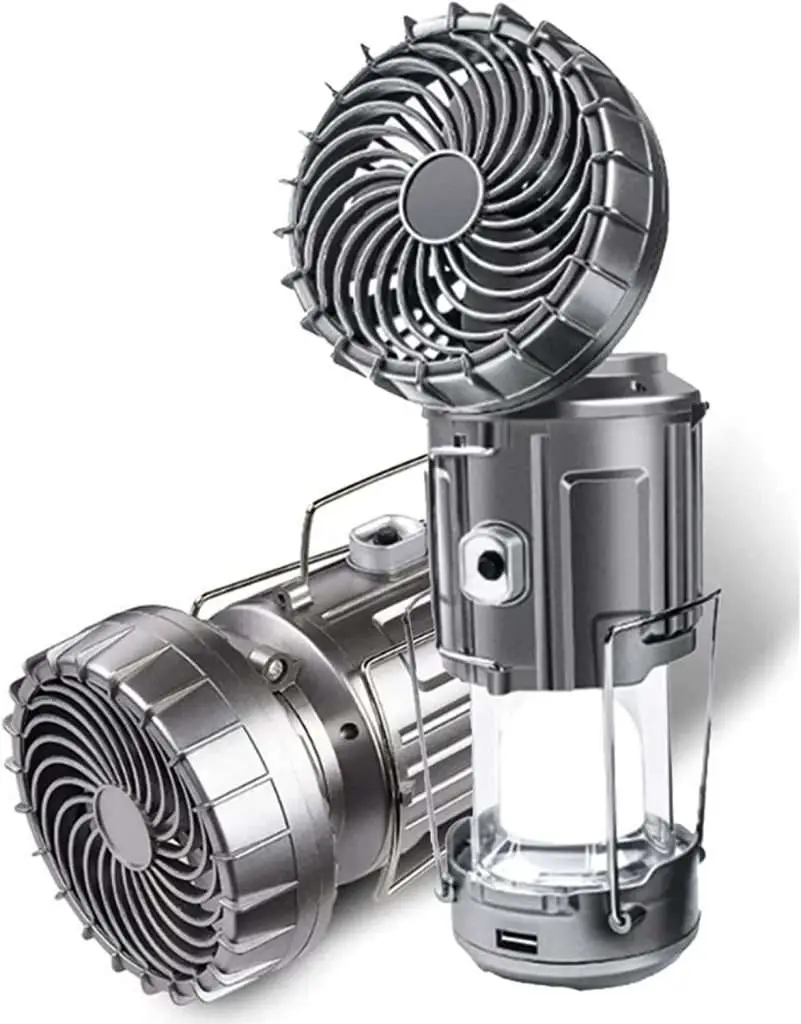 The Supbri is a fan favorite among campers, hikers, and boaters- nearly 70% of its current users on Amazon gave it a clean 5-star rating. One reason for its popularity is its dual-function design. The Supbri packs a camping lantern and fan in a compact unit measuring 7″ by 4″ and weighing roughly 0.7 lbs. 
Like other solar camping fans, the Supbri can be charged via solar or USB outlet. This camping fan can also take AAA batteries. That's really cool, considering you'll be using this unit miles away from civilization. The Supbri has a USB charging port for your mobile phones, drones, and cameras. 
In terms of placement, the Supbri has a foldable hook and handle. You can use the hook to hang the fan-cum-lantern on tents, trees, or walls. On the other hand, the handle functions as a stand when you need to place the fan on the ground or tabletop. 
Pros 
Combines fan and lantern
Multiple charging options (solar, USB, and AAA batteries)
Easy to handle and use
Adjustable fan
Cons
Can be too bright 
Solar charging takes long
Ansee Solar Fan Camping Fan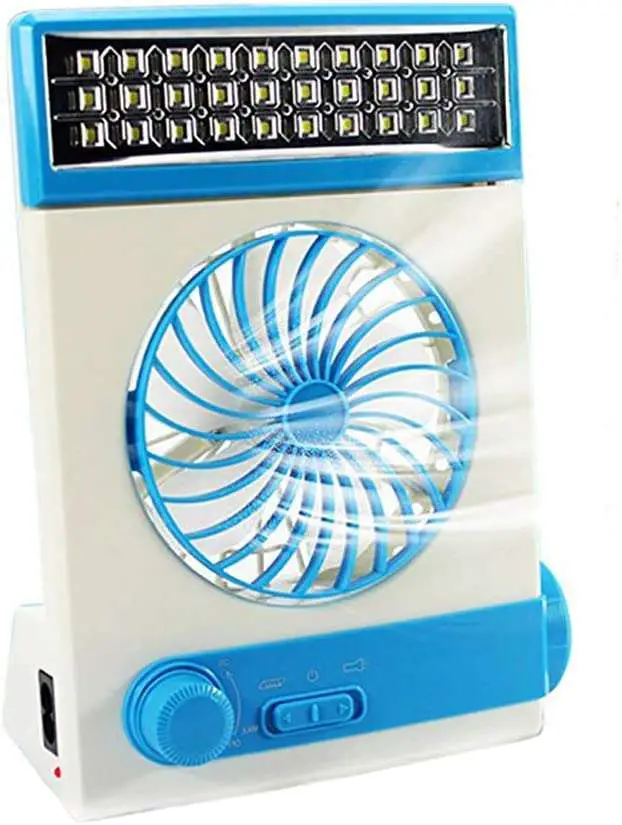 Our experts crowned this model the best solar powered camping fan in terms of versatility. Everything about it has been well thought out to give you memorable outdoor experiences and a good bang for your buck! 
The Ansee is a solar camp fan, a table lamp, and a spotlight torch/flashlight. We like that the angle of the safety net cover is adjustable for a more directional breeze. The sizable knob on the front allows you to play around with fan speed. And that's really good because the Ansee can move a good amount of air. The table lamp adjusts to 60 degrees, making it ideal for everyday evening tasks in the camp, like reading, lighting your laptop's keyboard, and doing simple repairs. 
Measuring 1.18 "D x 5.91" W x 8.46 "H, the Ansee is relatively compact, considering its versatility. Its 2000mAh takes 3 hours to charge (via USB) and promises 4-8 hours of working time, depending on the mode. The huge solar at the back helps top off the battery for use at night. 
Pros
Sturdy construction 
3-in-1 camping fan, table lamp, and flashlight
Adjustable fan and table lamp angles 
Adjustable fan speeds
Cons
You can't use the fan while charging
DHD Multifunction Solar Fans For Camping
The DHD solar fan impressed us with its compact design and multifunction design. It's pricier than other models in these reviews of the best solar powered fans for camping. But it pays for itself with its solid build and versatility. This 5-in-1 device packs a 5-blade DC fan, foldable desk lamp, LED spotlight, FM radio and MP3 player, and emergency phone charger. 
As you'd expect given its multiple functions and price, the DHD features two 2000 mAh rechargeable batteries. According to the manufacturer, this large-capacity battery can run the fan for 7 hours, the spotlight (12 hours), the desk lamp (for 9 hours), and FM/MP3 player (6-8 hours). Some of these figures may be slightly exaggerated, but the DHD beats most units here, especially in fan mode.
The DHD solar fan offers two charging options: AC-DC and solar charging. It's quite disappointing that it doesn't support USB charging, especially considering its price tag. But it's still worth checking out if you're interested in its multiple features. 
Pros 
Lots of features 
Quiet in fan mode
Can be used while charging
Adjustable table lamp and solar panel
Cons
No USB charging 
Pricier than competitors 
Best Solar Powered Camping Fan Buying Guide
CFM (Cubic Feet per Minute)
CFM is a measure of how much air the fan can move per minute. A fan with a higher CFM rating means it moves more air, meaning it's powerful. You won't see it openly advertised in packages, particularly when it comes to personal camping fans. But that's where consumer reviews from campers and hikers who have actually used the product come in. 
How Loud is It?
The essence of a fan is to make your nights bearable by cooling your sleeping spaces. It only makes sense that it does its thing without being overly noisy for comfortable sleep. All fans produce some noise. But the best models produce a hum similar to white noise that may actually help you relax and drift to sleep. 
Charging Capability
While these camping fans are solar powered, and not camping generator quiet, don't expect them to rely solely on the built-in solar panels. The solar panels are so tiny to charge the batteries to full capacity. Luckily, most of our picks can be plugged into a camping solar battery bank to keep their batteries juiced up. 
Size and Weight 
Size and weight are two major reasons you don't lug your bedroom tower fan to the campsite. Similarly, the best solar powered camping fan to buy should meet your air circulation needs while maintaining a compact and lightweight design. 
Lastly, versatility
Versatility is everything when it comes to choosing the best solar powered camping fan. If the fan can also function as your camping light, radio, or emergency charger for your phone, definitely go for it. Besides saving you money, that will be one less item in your camping checklist. 
Happy Camping For The Trip Ahead!