Best Sleeping Pad for Camping with Dogs: Camping Dog Bed Revealed!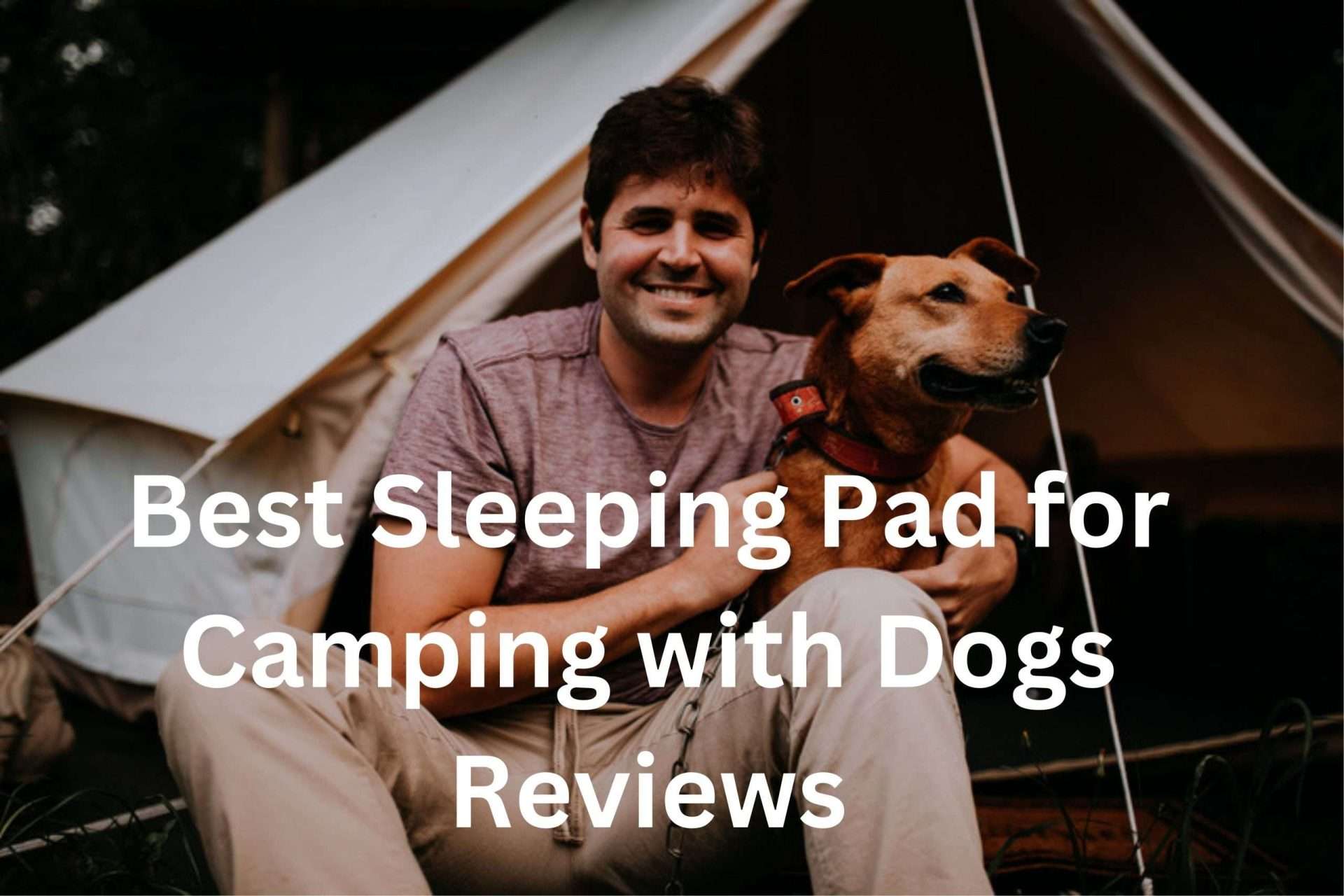 Last updated on July 28th, 2023 at 06:20 am
Camping with dogs can be super confusing when you consider all the gear you'll need. In addition to poop bags, a leash, and food, you also want to think about where your furry friend will sleep.
The market has specialized sleeping pads that help keep your dog comfortable when sleeping on a bed outdoors. The best sleeping pad for camping with dogs also gives your canine friend their space. This is crucial for protecting your blow-up air mattress and other camping gear from damage. 
Editor's Picks 
For this post, we analyzed different sleeping pads for dogs when camping and picked the best four. We based our selection on size, packability, warmth, and ease of cleaning. 
Top 4 Best Sleeping Pad for Camping with Dogs Reviews
BDEUS Outdoor Best Camping Dog Bed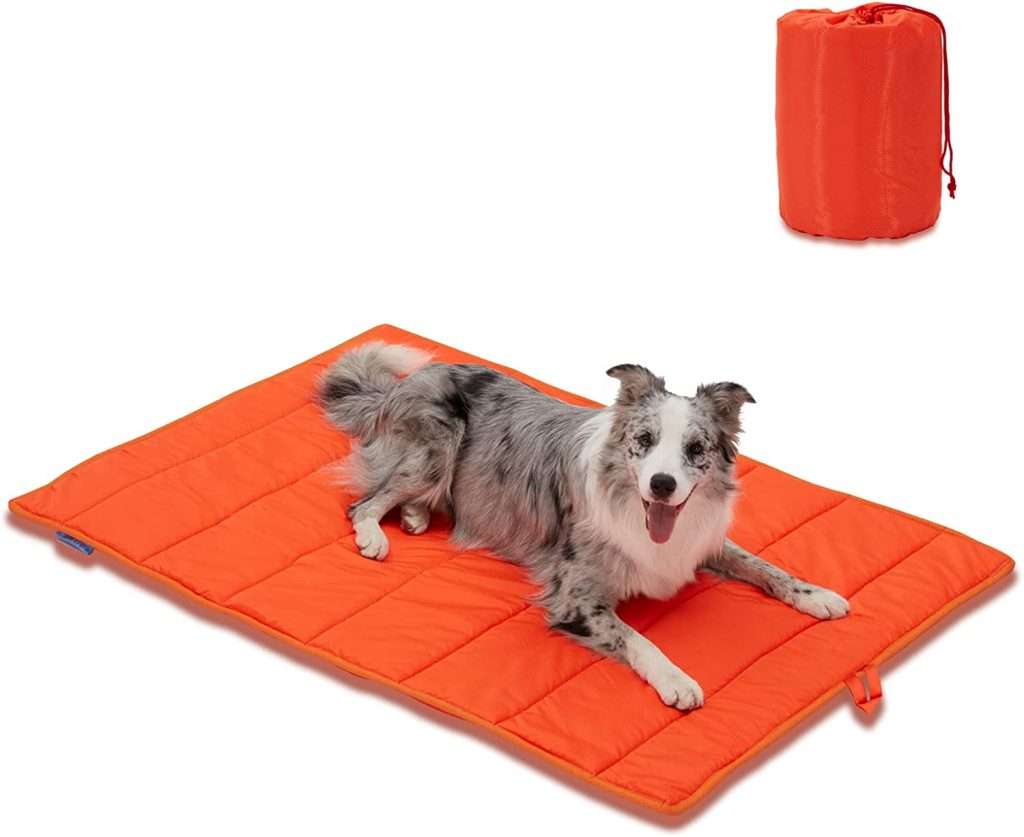 First up is a model you'll see a lot in lists of the best dog camping beds on Amazon. What caught our attention with the Bdeus is the thoughtful construction that makes it a multi-purpose sleep pad for indoor and outdoor use.
The Bdeus Camping Dog Bed weighs 2 pounds and comes in large and extra-large sizes. The large model measures 51″ x 35″ and is great for medium and large breeds.
Its three-layer construction comprises a water-resistant Oxford fabric and breathable cotton padding. The padding is not very thick, but most pet parents say it's enough to keep their canine sidekicks comfortable when camping. Its double-sided design means you can flip it if need be. We also like that its sleeping surface can be wiped off of messes and does not absorb odors. Plus, the sleeping pad rolls up quickly and is lightweight for easy transportation. 
Pros 
Padded
Flippable design 
Cleanable sleeping surface
Machine wash-safe
Cons
May be too thin for heavy pups
Zonli Outdoor Dog Bed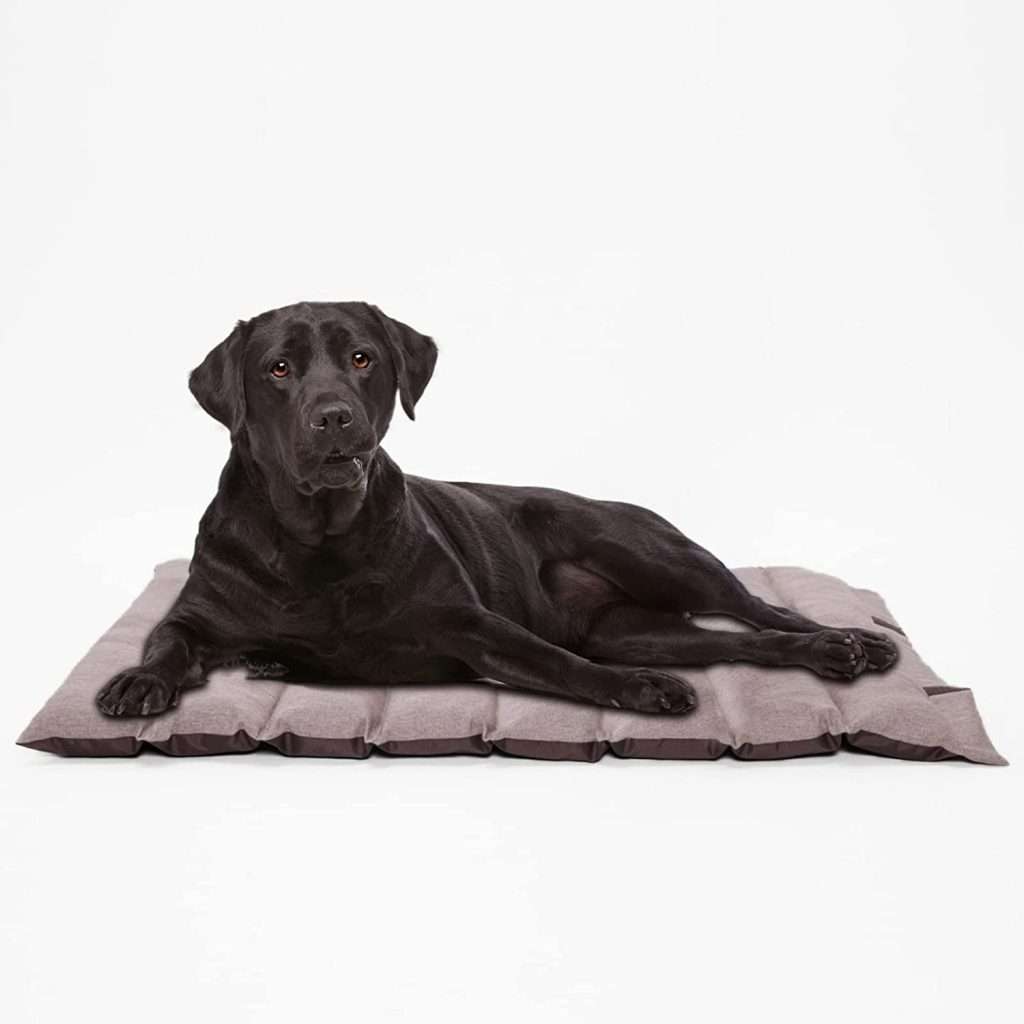 The Zonli is the best sleeping pad for camping with dogs if you want something thicker. With a thickness of 1.2″, this is an excellent option if the Bdeus above doesn't pack enough padding for your pup. 
One thing we love about the Zonli is all the options you get in size and color. This model has four size options: 40x26in, 44×28″, 47×35″, and 48×36″. You also get four color options to choose from, that is, blue, brown, orange, and dark brown. In short, the Zonli has a dog bed you'll love whether you want to use it in the car, kennel, crate, camping tent, or on the floor. 
The Zonli has two usable sleeping surfaces. One side has high-quality, breathable linen for use in warm seasons. The other side has TPU Oxford fabric that can help with heat retention during cold weather. 
It won't fit inside your small backpack. But it's lightweight and rolls easily. The Velcro and durable handle are nice additions. 
Pros
Heavy padded
Different sizes available
Lightweight
Quality construction
2 usable sides for all seasons
Cons
Maison and Sage Travel Dog Bed
Our next pick for the best sleeping pad for camping with dogs stands out in terms of durability, water resistance, and portability. Unlike Zonli, we've not come across complaints about hyper dogs shredding it to pieces when bored. And this convinces us that it's one of the best dog sleeping pads for chewers. 
The Maison and Sage is made of Oxford fabric and filled with polyester fibers. Its padding is around 0.7″ thick, just enough to offer protection from the surface without being too bulky when folding. The fact that you can wipe off messes also means keeping it clean is a breeze. Speaking of cleaning, the Maison and Sage will go into your washing machine and tumble dryer without any issue. 
This dog bed comes in only one large size measuring 39″ x30″. But there are three color options. Instead of Velcro, it has sturdy hooks and wooden buttons to secure it after rolling. Its sturdy and stylish handle is another excellent addition to its portability. 
Pros 
Stylish design 
Well-made
Easy to keep clean
Water-resistant 
Cons
Available in only one size
It may be too thin for some users
Highlands Dog Pad by Ruffwear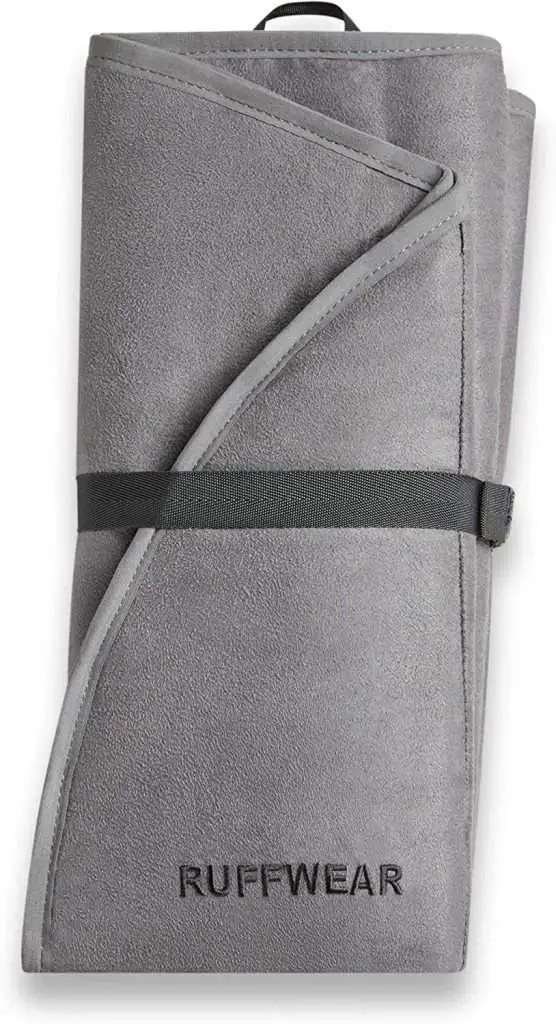 The Highlands by Ruffwear is what comes to mind when we're recommending the best dog sleeping pad for backpackers. Located in Bend, Oregon, Ruffwear products are made by a team of outdoor explorers. It's easy to see how this pad's innovative construction design is meant for sleeping outdoors with your furry companions. 
Let's start with size. A large model measuring 43.31 "W x 26.77" is meant for the Great Dane, Mastiff, and Newfoundland, among other big dog breeds. Or you can go for the medium size, which is significantly cheaper and suitable for small to medium-sized species. 
The Highlands is made of closed-cell foam. Besides offering padding from hard surfaces, this foam also acts as a powerful insulator from cold surfaces. And unique from other pads in these reviews, the Highlands has a grippy waterproof base that is ideal for outdoor and indoor use on hardwood and tiled floors. 
For transportation, this sleeping pad has accordion-fold design, a storage strap, and a durable handle. It folds and packs down nicely and only adds roughly one pound of weight to your camping gear. 
Pros 
Packs down well 
Appears durable
Non-slip bottom 
Waterproof for use outdoors
Cons
How to Choose the Best Sleeping Pad for Camping with Dogs- Buying Guide
Choosing your dog camping bed follows pretty much similar considerations as buying your camping sleeping mat. Broadly, your choice will largely depend on your furry friend's size and preferences, season, and type of outdoor adventure. 
Size 
Ensure the sleeping pad is just the right size to accommodate your dog's sleeping positions. A pad that's too large will make your faithful friend feel less secure, besides taking longer to warm up. Too small, and your dog may have trouble falling and remaining asleep. To determine the ideal camping sleep pad for your dog, measure the length of your dog from the nose to the tip of the tail. Add 5-10 inches to arrive at the ideal length of the sleeping pad. 
Season and Location 
Your dog wants a sleeping pad or bag suitable for cold temperatures when camping in winter or locations higher in elevation. This is even more important for dog breeds like Great Danes, Beagles, and Poodles that aren't great at tolerating cold weather due to their short hair. 
Weight and Packability 
Nothing beats the experience of bringing your canine friend to your outdoor adventures. But that also means additional camping gear. Packability is everything, whether you're backpacking, car camping, or boat camping. If you're backpacking, it makes more sense to get a lightweight dog sleeping pad that can fit inside your bag or dog backpack. 
Wrapping It Up! 
No two dogs are the same. Likewise, the single best sleeping pad for camping with dogs doesn't exist. Consider your furry friend's preferences, your camping needs, and your budget, and get a camping dog bed that balances everything.
Have a blast!