Best Portable Pellet Grill for Camping: Let's BBQ in Style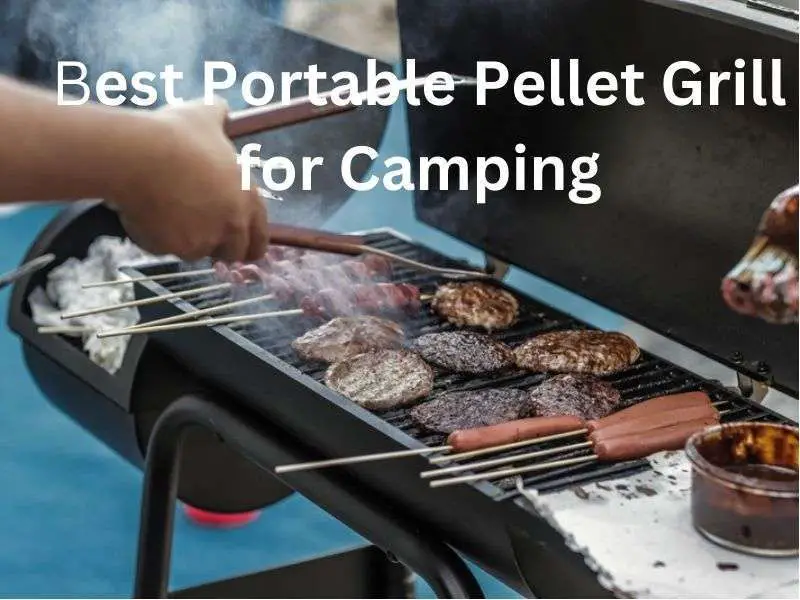 Last updated on July 28th, 2023 at 05:41 am
The Best portable pellet grill for camping boasts all the benefits of their full-sized home counterparts but in a lightweight and more compact design. And though they don't offer many features, they have what it takes to grill those pork butts and t-bone steaks on the go.
Our team checked out what's on the interwebs and identified four highly recommendable options for the best portable pellet grill for cooking up a storm. 
Editor's Picks 
We expect the best camping pellet grill to offer a wide range of cooking settings and be lightweight, space-saving, and easy to clean. 
What Is a Camping Pellet Grill
A portable pellet grill is a compact and lightweight take on the traditional wood pellet grill, engineered for easy transportation and ideal for outdoor use. It successfully combines the best virtues of both worlds – the convenience of a portable grill, with the distinctive flavor that only wood pellets can impart.
With its many uses, such as smoking, baking, roasting, barbecuing, and grilling, these grills also offer precision temperature control with versatile cooking methods. With different models boasting folding legs or collapsible frameworks, they can be conveniently stored and moved.
Best Portable Pellet Grill for Camping to Buy in 2023
An excellent choice for outdoor enthusiasts, providing a distinctive smoky flavor to your meals, whether camping, tailgating, or participating in any other outdoor pursuit.
Pellet grill types to choose from:
Charcoal Grill
Gas Grill
Portable Grill
Electric Grill
Wood Pellet Grill
Dutch Oven (for grilling and more)
Traeger Grills Tailgater 20
Key Highlights 
Size: 36 x 37 x 18 inches
Cooking area: 300 sq. in. 
Hopper capacity: 8 lbs
Weight: 62 lbs
Max temp: 450 degrees F. 
Buying the best portable pellet grill for camping often involves choosing between tabletop and wheeled models. But the Traeger Tailgater 20 offers both options in one unit. Its foldable EZ legs with wheels mean you can set it up anywhere, including on your truck bed or apartment balcony. 
The Tailgater 20 pellet grill measures 36 x 37 x 18 inches and weighs 62 lbs. It should be easy for two people to lift when offloading or storing in the truck. 
Power and energy efficiency are the hallmarks of Traeger grills- and the Tailgater 20 is no exception. With its built-in temperature probe and automatic auger, this portable grill can maintain cooking temperature ranges of 180 to 450 degrees F. There may be temperature fluctuations, but they rarely stray over 15 degrees of the preset cooking temperature. And while its 8-pound pellet hopper isn't the largest in the market, it holds enough fuel to last 4-5 hours of cooking. 
The Traeger Tailgater 20 offers a 300 sq inches grill capacity. To put it into perspective, this is enough space to cook 12 hamburger patties or two whole chickens in one go. 
Asmoke AS300 Portable Pellet Grill
Key Highlights 
Size: 24.8 x 17.52 x 14.45 inches
Cooking area: 256 sq. in. 
Hopper capacity: 4 lbs
Weight: 49 lbs
Max temp: 500 degrees F. 
The Asmoke AS300 is the perfect pick if you don't want to shell out four figures for the best portable pellet grill for camping. This is among the most affordable portable pellet grills out there and comes in four attractive color options- Apple Red, Cinder Black, Pine Green, and Tahoe Blue. 
At 256 sq. in., the Asmoke AS300 has a slightly smaller grilling area than the Traeger Tailgater 20. Nevertheless, this is enough cooking space for twelve hot dogs, eight burgers, two racks of baby backs, or a whole chicken. This alone qualifies the Asmoke AS300 as the finest portable pellet grill for camping with a small family of four. 
Its hopper has a capacity of 4 lbs- again, half that of the Tailgater 20. But the Asmoke wins with its 180-500 degree F cooking range. It is also more fuel efficient and remains within 10 degrees of the target cooking temperature. 
Our only complaint regarding the Asmoke AS300 is its relatively pricey wood pellets. Fortunately, there are tons of affordable third-party pellets you can go with and save money. 
Z Grills ZPG-200A Pro Pellet Grill and Smoker
Key Highlights 
Size: 25"x 20"x 13"
Cooking area: 202 sq. in. 
Hopper capacity: 8 lbs
Weight: 40 lbs
Max temp: 450 degrees F. 
Our next pick is a model that packs a big flavor in a small footprint. Measuring 25"x 20"x 13" and weighing under 40 pounds, the ZPG-200A Pro is pushing the envelope when it comes to the best portable pellet grill for camping.
At 202 sq. in., you won't be feeding the entire campsite with this model. But this is enough cooking space for eleven hotdogs, one rib rack, and up to six hamburgers. As if to make up for its relatively smaller cooking area, the ZPG-200A Pro features an 8-pound pellet hopper, enough to keep you going for hours. 
The Z Grills 200A Pro provides temperatures of between 180 and 450 degrees F for a wide range of cooking methods. Complementing its easy-to-use digital control board is a LED screen that keeps you posted on how hot it is inside. 
Green Mountain Trek
Key Highlights 
Size: 16″D x 32″W x 24″H
Cooking area: 219 sq. in. 
Hopper capacity: 9 lbs
Weight: 63 lbs
Max temp: 550 degrees F. 
The Green Mountain Trek is ubiquitous in most reviews of the best portable pellet grill. And it's a must-buy if you want an inexpensive, compact pellet grill that does exactly what it says on the tin. 
The first thing that pulled us in was its tank-like build. We like that the manufacturer did not skimp on the thickness of the stainless steel metal used for this unit. This construction does make it quite heavier than other tabletop grills at 63 pounds. But that's a small compromise for a high-quality piece of cooking equipment engineered to withstand the extra weather and knocks for years. Plus, it has very strong handles for a strong person to pick up and carry. 
The Green Mountain Trek boasts 219 square inches of cooking space, easily enough for 4-6 people. On top of that, the arched shape of the lid gives you 7.75" of headroom, allowing you enough space for medium-sized chunks of turkey or pork butts. 
Its nine-pound pellet hopper is the most spacious in these reviews. The Green Mountain Trek is also the only portable pellet grill with a digital Wi-Fi controller in this list, plus the highest max temperature at 550 degrees F. 
Final Verdict
It's difficult to crown any of these models as the single best portable pellet grill for camping. All of them are nicely built and offer impressive performance at different price tags. And we have to accept that none of them look or feel cheap or flimsy.
But we'd go with the Tailgater 20 by Traeger Grills when push comes to shove. In addition to having the biggest cooking area, we like that it straddles the line between a tabletop and a wheeled grill.