Best Mini Fridge for Camping: Discover the Versatile Bodega And More!
Last updated on August 17th, 2023 at 04:48 am
A reliable Mini Fridge for Camping is an essential piece of equipment that every camping enthusiast should consider. Not just any mini fridge, but the Bodega Mini Fridge, a true game changer in portable refrigeration.
When it comes to camping, having the right gear can make all the difference in creating an enjoyable and memorable experience.
Our Top Picks
Why the Bodega Mini Fridge?
Camping trips are all about embracing the great outdoors while still enjoying some modern comforts. The Bodega is the best Mini Fridge for camping as it lets you keep your food and beverages fresh and chilled, even in the most remote camping spots. This fantastic mini fridge is designed to meet the needs of campers, hikers, road trippers, and outdoor enthusiasts of all kinds.
Key Features of the Bodega Mini Fridge
Portability and Capacity: The Bodega Mini Fridge boasts a compact and lightweight design, making it easy to carry and fit into your camping setup. With a capacity of 16 quarts (15 liters), it provides ample space to store all your essentials without taking up too much room.
Dual Cooling Modes: This versatile mini fridge offers both cooling and heating capabilities. So, whether you need to keep your beverages chilled or warm up some food, the Bodega Mini Fridge has you covered.
Energy Efficiency: Worried about power consumption during your camping trip? Fear not! The Bodega Mini Fridge is energy-efficient and can run on both AC and DC power, making it compatible with standard power outlets as well as your vehicle's power supply.
Silent Operation: There's nothing worse than being disturbed by a noisy fridge while enjoying the tranquility of nature. The Bodega Mini Fridge operates silently, allowing you to embrace the peace and quiet of your surroundings.
Smart Battery Protection: Camping adventures often mean limited access to power sources. The Bodega Mini Fridge comes with a built-in smart battery protection system that prevents it from draining your vehicle's battery excessively, ensuring you have enough power to continue your journey.
Durable Build: The rugged construction of the Bodega Mini Fridge ensures it can withstand outdoor life's rigors. It can handle bumps, vibrations, and even accidental tumbles without compromising performance.
How the Bodega Mini Fridge Elevates Your Camping Experience
Imagine waking up to a refreshing cold drink or enjoying a hot meal after a long day of hiking. The Bodega Mini Fridge turns these dreams into reality, making your camping experience more enjoyable and convenient than ever before.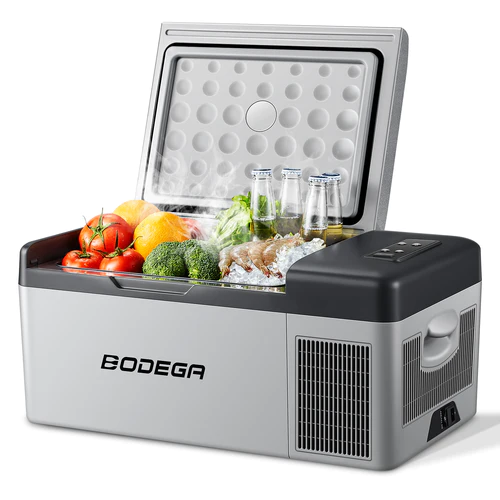 1. Keeping Your Beverages Chilled
Whether it's a hot summer day or a cool winter evening, having a stash of cold beverages is a camping essential. The Bodega Mini Fridge allows you to store your favorite drinks at the perfect temperature, so you can always quench your thirst with a refreshing sip.
2. Fresh and Healthy Food Storage
Eating well while camping is vital to keep your energy levels up. With the Bodega Mini Fridge, you can store fresh fruits, vegetables, and other perishable items, ensuring you have nutritious meals throughout your trip.
3. Convenient Snack Storage
No camping adventure is complete without snacks! Keep your favorite treats and snacks within arm's reach in the Bodega Mini Fridge. It eliminates the need for frequent trips to the campsite's communal fridge or cooler.
4. Medications and First-Aid Storage
If you have any medications or first-aid items that require refrigeration, the Bodega Mini Fridge provides a safe and reliable storage solution. It ensures your essential supplies stay in top condition, ready to be used whenever necessary.
5. Versatility for All Outdoor Activities
While the Bodega Mini Fridge is perfect for RV camping, its uses extend far beyond that. Take it along on road trips, picnics, fishing trips, or even to your backyard gatherings. Its versatility makes it a must-have companion for any outdoor adventure.
Testimonials – Why Campers Love the Bodega Mini Fridge
Don't just take our word for it. Here are some glowing reviews from campers who have experienced the convenience and joy of the Bodega Mini Fridge:
Cynthia M. from Colorado: "I can't imagine camping without my Bodega Mini Fridge anymore! It's like having a tiny yet powerful kitchen right there with me in the wilderness. My family loves it too!"
Mike R. from California: "I'm a road trip enthusiast, and the Bodega Mini Fridge has been a game-changer for me. I can store cold drinks and snacks without worrying about frequent stops. Highly recommended!"
Where to Get Your Bodega Mini Fridge
If you're ready to take your camping experience to the next level, you can purchase the Bodega Mini Fridge directly from their website.
ICECO VL75 ProD Portable Refrigerator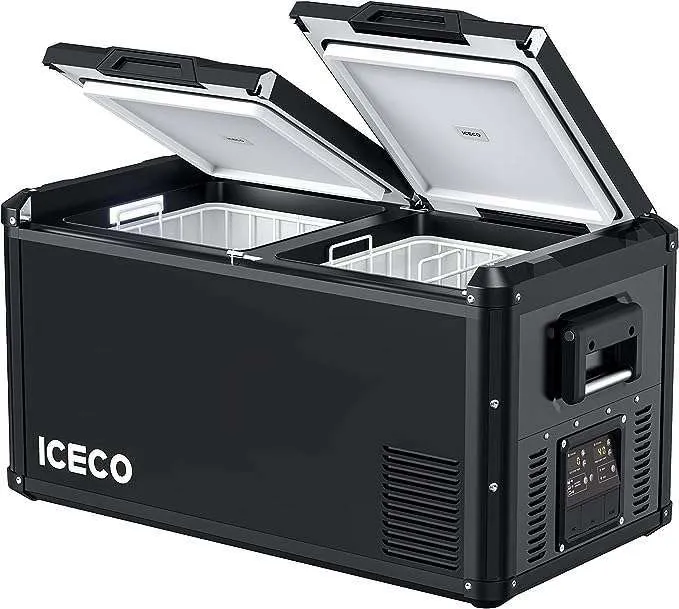 | | |
| --- | --- |
| Product Dimensions | 28.1″D x 15.9″W x 18.1″H |
| Brand | ICECO |
| Capacity | 79.2 Quarts |
| Configuration | Compact Internal Freezer |
| Color | Black |
| Special Feature | The 2 zones can be controlled independently, you can turn off one of them to save energy. |
| Installation Type | Portable |
| Number of Doors | 2 |
| Voltage | 240 Volts |
| Finish Type | Metallic |
Oh, let me tell you about this amazing Multi-Opening Portable Fridge that I've been using during my travels! It has seriously been a game-changer for me.
First off, the Multi-Opening Lid Design is a brilliant feature. I can easily change the direction of the lid without any assembly hassle. You know how it is inside a traveling vehicle, right? Tight spaces can be a real pain, but with this fridge, accessing my chilled goodies has become a breeze.
And talk about convenience! On both sides of the fridge, they've installed 12/24V DC ports. That means I can use it with my vehicle's power without any issues. Plus, the 2 USB outlets are a lifesaver for charging my mobile devices while on the go (when using DC power, of course). But wait, it gets better! I can even pre-cool the fridge using the built-in AC transformer when I'm at home, and it works with socket voltages ranging from 110V to 240V. So, whether I'm on the road or at home, this fridge has got me covered.
What really impressed me is the thoughtfulness put into the Humanized Design. They've included a drain hole and waterproof baffle, which means no more messy clean-ups. The LED lights inside the fridge are super handy when I need to grab something in the dark. And guess what? The handles are removable, making it a breeze to carry around. And for added organization, the fridge comes with a removable basket too. It's all about making life easier, and this fridge does it like a pro.
Now, let's talk about the cooling performance – it's top-notch! The SECOP Compressor is an absolute beast. It can handle temperatures from 0°F to 50°F (-18℃~10℃), which means I can freeze or refrigerate pretty much anything I want. When I'm in a hurry to cool things down, I switch to the MAX mode, and voilà – things get icy real quick! But when I'm conscious about energy usage, the ECO mode is there to save the day. And get this, even when I take the fridge on rough terrains, it stays stable and doesn't give me any worries, thanks to that impressive top-tier technology.
Oh, and did I mention the warranty and service? It's fantastic! They offer a 5-year warranty on the compressor and a solid 1-year warranty on all other parts. And their after-sales support is just top-notch. I love that they're responsive, even on weekends! Whenever I've had a question or needed assistance, they got back to me within 24 hours.
Honestly, I can't imagine traveling without this Multi-Opening Portable Fridge anymore. It's reliable, packed with features, and has made my trips so much smoother. If you're looking for the perfect travel companion to keep your stuff chilled and organized, this fridge is an absolute must-have. I've put it to the test, and it passed with flying colors! Trust me, you won't be disappointed. Grab one and take your travel game to a whole new level!
Alpicool C30 Portable Car Freezer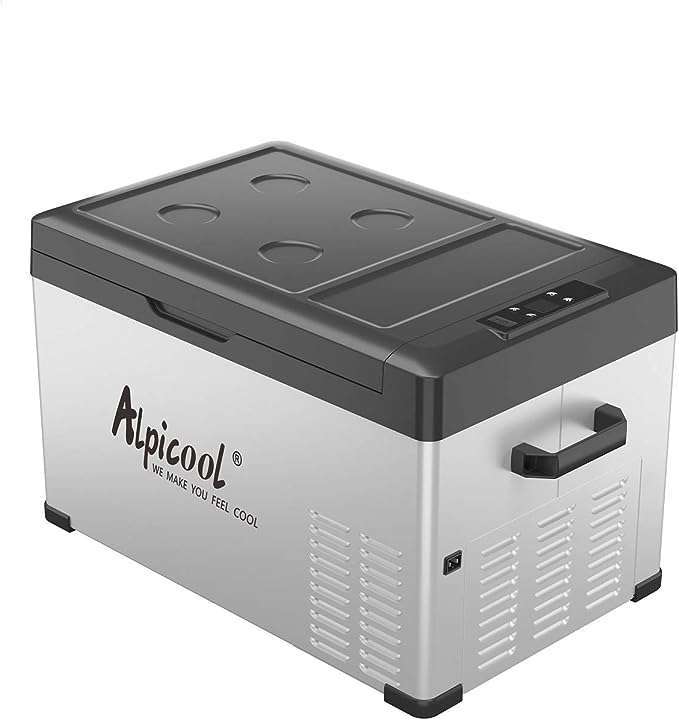 | | |
| --- | --- |
| Product Dimensions | 14.4″D x 22.6″W x 13.8″H |
| Brand | Alpicool |
| Capacity | 32 Quarts |
| Configuration | Compact Internal Freezer |
| Color | 30 Liter |
| Special Feature | Portable |
| Installation Type | Outdoor |
| Number of Doors | 1 |
| Voltage | 12 Volts |
| Finish Type | Glossy |
Key Benefits
Achieve sub-zero cooling performance without the need for ice with FREEZES WITHOUT ICE. With a chilling capacity of -4°F (-20°C), this versatile appliance can operate as both a fridge and a freezer. It seamlessly integrates with your small solar system, delivering outstanding functionality.
CAR BATTERY PROTECTION:With temperature memory function and 3 different levels for battery protection: Low, Med and High to protect your vehicle battery without running down.
STORAGE SPACE:Exterior Size 22.6″x14.4″x13.8″, 32 Quart(30 Liter) capacity ,fits 42 x 12ozs cans of Cola.Fruit, meat, ice-cream can be kept fresh in our C30 refrigerator.
PREMIUM QUALITY:Stainless steel case with corner protection and durable handle.
FASTER COOLING : Intelligent compressor cooling technology , from 77℉(25℃) to 32℉(0℃) only needs 30 minutes. Adjustable MAX and ECO cooling mode, MAX is fast cooling mode, ECO is energy saving mode.
Final Thoughts
When it comes to enhancing your camping adventures, the Bodega Mini Fridge emerges as the Best Mini Fridge for Camping. Its compact design, dual cooling modes, energy efficiency, and durability make it stand out among other mini fridges in the market.
With the Bodega Mini Fridge by your side, you'll be able to create lasting memories while enjoying fresh and chilled food and beverages throughout your camping journey.