Best Ice Chest for Camping: 3 Coolers Reviewed & Tested
Last updated on September 21st, 2023 at 12:43 am
Look no further if you're looking for the best ice chest for camping. We discovered a few reliable coolers to take on your camping trips. Our team put the top contenders through their paces, from rigorous lab testing of insulation performance all the way through extensive real-world use, and found one clear winner!
If you're unsure about the type of cooler you need or the available options, you've come to the right place. We've extensively tested and summarized our preferred choices for both soft coolers and hard-sided coolers, highlighting the best models for camping and other adventures.
And if you're looking to upgrade other items in your camping gear setup, we're here to assist. Our team of outdoor experts has spent countless nights under the stars, and we've curated a list of our favorite camping essentials along the way.
Our 3 Quick Picks
Our search for the best icebox took us all over, from seaside grilling to shady picnics and every place in between! We faced rigorous tests, stocked up on tons of ice, and guzzled our way through countless cans. We even made a comprehensive article about the Orca Vs Yeti Coolers. Let us help you find your perfect cooler companion no matter where the adventure takes you!
YETI Tundra 65 Cooler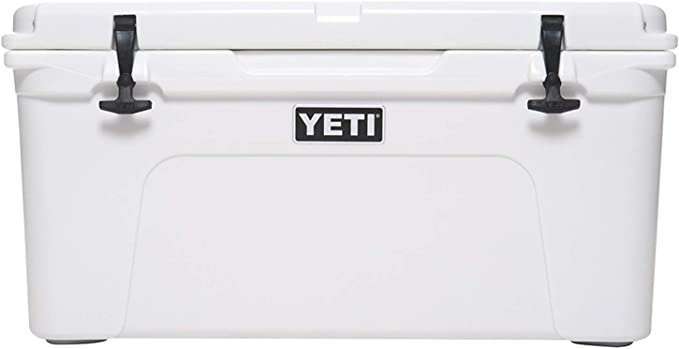 The YETI Tundra 65 is a portable powerhouse! It boasts an impressive capacity that can hold up to your limit of redfish or enough food and drinks for even the biggest backyard barbecue.
With 3 inches of PermaFrost Insulation and its extra thick FatWall design, plus Rotomolded Construction certified Bear-Resistant, you know this cooler will keep ice colder longer in any condition, making it ideal for taking on adventures near and far.
With patented keeper technology providing reliable security from busted latches. Thanks to heavy-duty rubber construction, every trip worth having just got easier!
Measuring 30 1/2″ long x 17 1/2″ wide x 16" high; the YETI Tundra 65 has what it takes wherever life might take you next!
| | |
| --- | --- |
| Brand | YETI |
| Color | White |
| Material | Polyester |
| Capacity | 150 Gallons |
| Item Dimensions LxWxH | 30.5 x 17.5 x 16 inches |
| Item Weight | 29 Pounds |
| Included Components | water-coolers |
| Model Name | YT65W |
| Insulation Material | Polyurethane Foam |
| Chamber Depth | 10.5 Inches |
ORCA Cooler White 58-Quart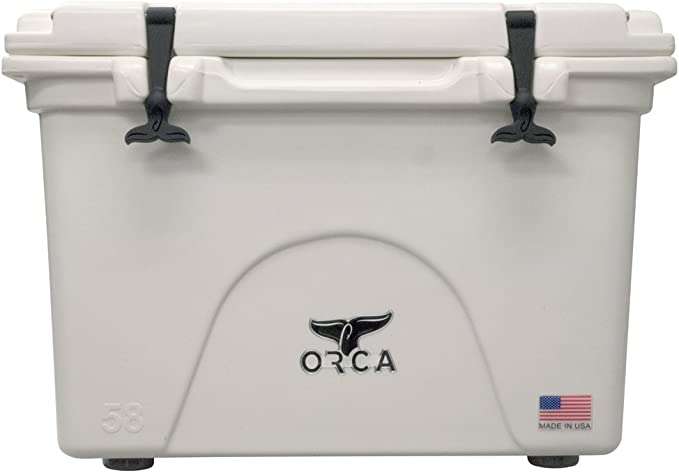 After purchasing a Yeti 65 and experiencing disappointing results, I decided to try an Orca 58q and what a difference! This cooler has exceeded my expectations; not only does it hold ice for up to 5 days in direct sunlight on the porch, but after 7 days, there was still some cold water remaining.
Not only that, but this made-in-USA essential comes with a lifetime warranty far superior to the Yeti five-year guarantee and is cheaper overall when you add accessories like its optional basket. Ultimately I found success while others have failed: by switching to Orca!
| | |
| --- | --- |
| Brand | ORCA |
| Color | White |
| Material | Blend |
| Capacity | 58 Quarts |
| Item Dimensions LxWxH | 36 x 21 x 20 inches |
| Item Weight | 34 Pounds |
| Included Components | tactical and duty equipment |
| Model Name | ORCW058 |
| Chamber Depth | 36 Inches |
| Chamber Height | 49 Centimeters |
RollR Wheeled Ice Chest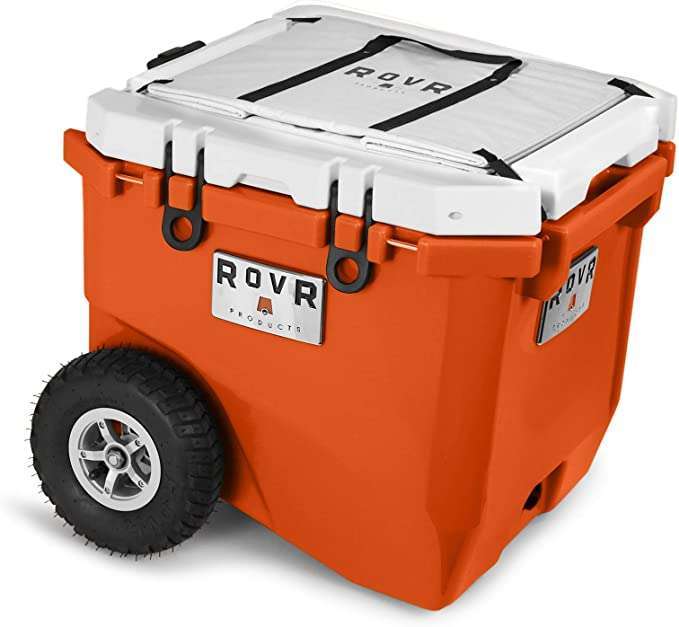 From experience, I can say that the tires provide high performance and puncture resistance, with 9-inch all-terrain wheels mounted on aluminum hubs for maximum speed and agility in the sand. With the deep insulated compartments, I can keep my drinks cool for up to 10 days without skimping on the capacity it can hold up to 60 cans of beverages and extra food items! And with the included Dry Storage Bin, I'm always prepared no matter the journey. It's no wonder why Men's Journal awarded this cooler their 2018 Gear Of The Year award – because it's loaded with features sure to make any adventure more enjoyable!