Best Hammock For Camping: 3 Dangling Delights
Last updated on April 14th, 2023 at 04:08 pm
Its a tough one! Trying to decide on the Best Hammock For Camping, as I absolutely love chilling out in my hovering bed! It's one of my favorite things to do. On a sunny day, I'll set up the hammock, grab a good book and some snacks, then get ready for an afternoon of relaxation.
With each gentle sway, I'm rocked into a more peaceful state of mind. Plus, the material is so comfortable and breathable – it's like floating on air. When it's time to take a nap, I can drift off without feeling pressured to stay awake. If you ask me, there truly isn't anything better than snuggling up in my hammock for some well-deserved R&R.
Editors Top Hammock Beds
ENO, Eagles Nest Outfitters OneLink Shelter System with Hammock
Straps, Bug Net and Rain Tarp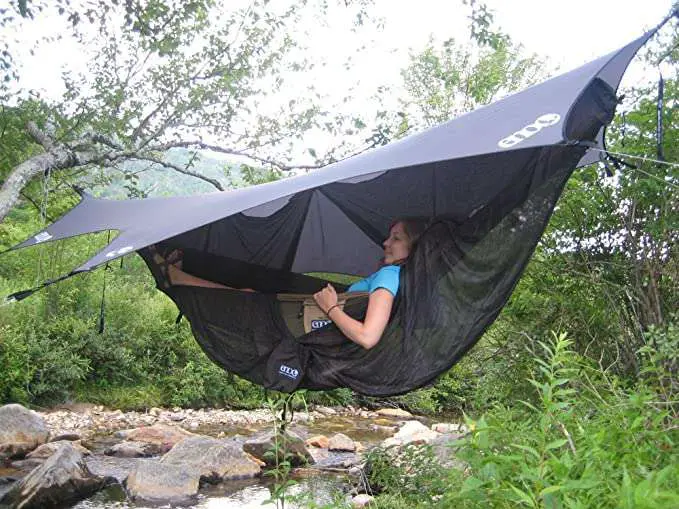 Let me tell you, I am head over heels for the ENO, Eagles Nest Outfitters OneLink Shelter System with Hammock. IMO it is hands down the Best Hammock For Camping. This thing is an absolute game changer for any outdoor enthusiast who wants a comfortable and convenient way to take a snooze in the great outdoors. The hammock is incredibly cozy, and the OneLink Shelter System comes complete with a rainfly and bug netting, making it the ultimate all-in-one package. What could be better than lounging comfortably in a hammock while being completely protected from creepy crawlies and unpredictable weather? It's like a fanny pack for camping practical, comfortable and stylish. Love it!
Key Features
All in one: A complete hammocking system in one stuff sack; Includes DoubleNest Hammock, Atlas Suspension System, Guardian Bug Net, ProFly Rain Tarp and DAC stakes
DoubleNest hammock: Versatile hammock perfect for camping and hiking; Made with durable, quick-dry 70D high tenacity nylon taffeta that supports up to 400lbs; Includes carabiners
Atlas straps: Set of 2 compact hammock straps; Each 9′ strap features 15 adjustment points and is made with durable Poly filament webbing; Supports up to 400lbs
Guardian Bug Net: 360-degree bug protection with a spacious interior; Made with superfine SkyWeave Mesh netting for no-see-um insect protection; Includes 3mm ridgeline
ProFly rain tarp: Weather protection with waterproof 70D ripstop nylon; Features 6 connection points and includes DAC tarp stakes for a secure shelter
G4Free Large Camping Hammock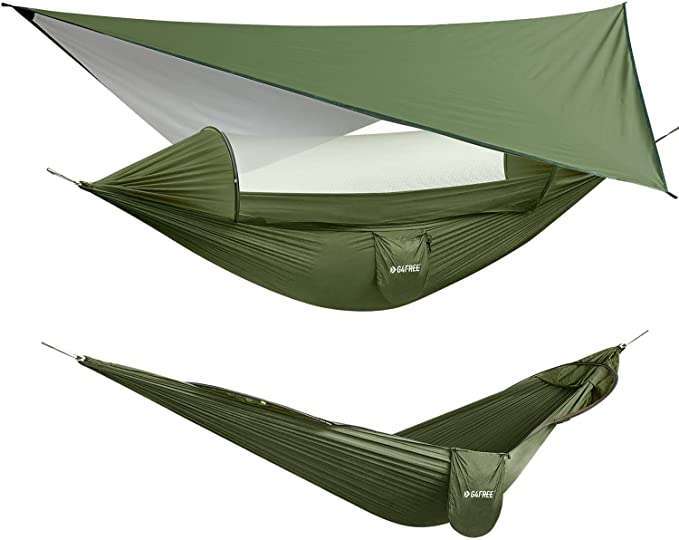 Key Features
Durable Parachute Hammock – The camping hammock is made of high-quality thickened 210T taffeta nylon fabric, which is more comfortable, breathable, and quick-drying. With triple stitch edge seams, tear-resistant and strong load-bearing, max capacity 440 lbs, stronger enough to enjoy the natural beauty with friends or family.
Multifunctional Hammock Upgraded Tent Tarp – We are committed to providing 360-degree protection. The outdoor hammock is designed with a mosquito net to protect you from bugs. Besides, the Rainfly Tarp has a hammock to avoid inclement weather. With this multifunctional tent tarp, your backpacking hammock can be used on sunny and rainy days. As camping gear, it can be folded into a storage bag or used separately as a tent or picnic mat.
Easy to Set Up – Save your TIME and MONEY! You don't need to buy any other accessories. We include a hammock with mosquito net, 2 Tree friendly straps(10ft with 5+1 loops), 2 Carabiners, 1 rainfly, 2 Stakes, and 4 Guy Lines. Only one minute to set up! The Pop-up designed hammock helps you to install it easily.
Best Gifts – The best gift for different groups, including camping, hiking, backpacking, travel, emergency survival, and any adventures! It's the perfect gift for your family this coming holiday! Give your husband, wife, or kids this quality hammock as a unique gift they will love!
Trusted Choice – Please enjoy your hammock leisure time! We value every single customer. Please feel free to contact us if you are not satisfied with our Camping Hammocks. We will offer you the best solution.
GRAND TRUNK Print Hammock
Key Features
COMFY LIGHTWEIGHT HAMMOCK – Getting away is good for the soul. Whether you're hiking on the other side of the world or taking a break in your backyard, our packable two-person parachute nylon hammock is ready to help you take a load off while you plot your next adventure.
TWO PERSON – This true two-person (or extra roomy single-person) hammock is 20% bigger than a normal-sized hammock measuring 10'6" x 6'6" with a 400 lb weight capacity. You can stretch out on your own or get cozy with another person and relax.
NYLON – The hammock is made from 100% parachute nylon (70D nylon), making it soft, breathable, and fast drying. It also only weighs 21.6 oz so you truly can take it anywhere!
PACKABLE – Our hammock comes with a stress-free stuff sack making it easily packable and portable for use anywhere you want! When it comes to assembly, we've included upgraded and high-quality nautical-grade carabiners and a ready-to-hang starter rope kit.
LIFETIME GUARANTEE – We passionately believe in the quality of our products and in our customer's satisfaction. With that in mind, this product is 100% guaranteed. If it breaks, we replace it. We hope you enjoy yours as much as we do!
Final Thoughts
I just can't go past the ENO, Eagles Nest Outfitters, as my pick for the best camping hammock. I love that it has everything that you could ever ask for, and I have yet to fall out, haha. Good Luck with your decision, and let the balance be with you on your camping journey.