The 10 Best Camping Coolers to Keep Your Food Fresh in the Wild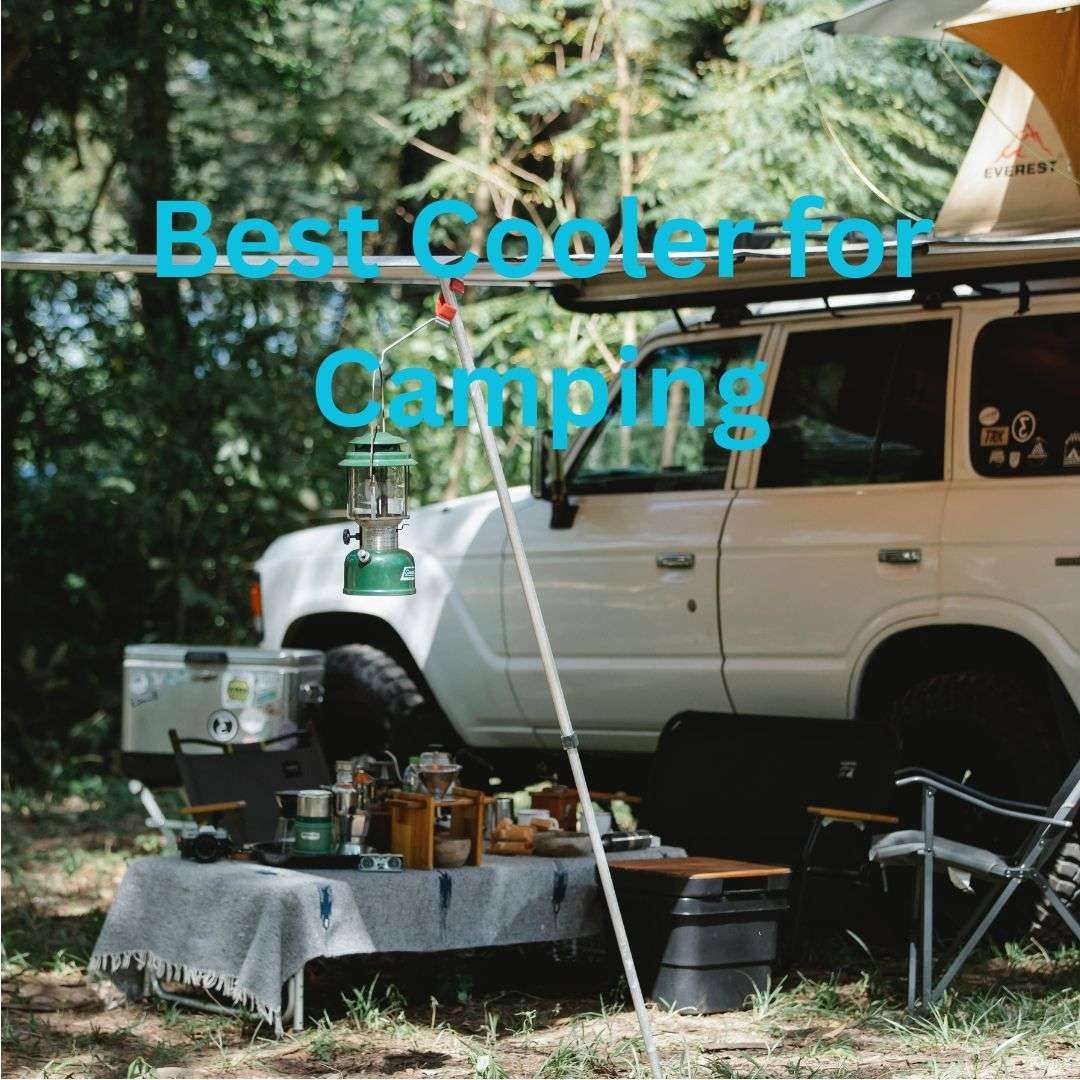 Last updated on September 15th, 2023 at 11:52 pm
When I'm out in the great outdoors, having a reliable camping cooler is essential to keep my food and beverages fresh and safe. Whether I'm planning a weekend camping trip or a longer wilderness adventure, choosing the right cooler can make all the difference.
In this article, we'll introduce you to the top 10 camping coolers on the market, providing you with essential information to help you make an informed decision.
Top 10 Camping Coolers
To help you choose the perfect camping cooler for your needs, we've compiled a list of the top 10 options available. Check out this handy table for a quick overview:
| Cooler Model | Capacity (Quarts) | Ice Retention (Hours) | Weight (lbs) | Price ($) |
| --- | --- | --- | --- | --- |
| Yeti Tundra 65 | 65 | Up to 120 | 29 | 349.99 |
| Coleman Xtreme | 70 | Up to 120 | 18 | 69.99 |
| ORCA 40 Quart | 40 | Up to 192 | 23 | 239.99 |
| Igloo Marine | 48 | Up to 120 | 19.7 | 39.99 |
| Pelican Elite 50 | 50 | Up to 168 | 36.8 | 299.95 |
| RovR RollR 60 | 60 | Up to 240 | 44.9 | 429.00 |
| YETI Hopper M30 | 30 | Up to 72 | 7 | 299.99 |
| RTIC 45 | 45 | Up to 120 | 25 | 189.99 |
| Ozark Trail 52-Quart | 52 | Up to 96 | 27 | 119.99 |
| Grizzly 60 | 60 | Up to 192 | 29.5 | 299.99 |
Key Takeaways:
Ice Retention Matters: Consider the length of your trips and choose a cooler with ice retention that meets your needs. Longer ice retention is ideal for extended adventures.
Size and Weight: Match the cooler's capacity to your group size, but also consider the weight, especially if you'll need to carry it over longer distances.
Budget Considerations: There are coolers available for various budgets, so find one that fits your price range while still meeting your requirements.
Brand Reputation: Established brands like Yeti and Pelican are known for their quality, but newer options like RovR can offer unique features.
Extra Features: Some coolers come with additional features like built-in wheels (RovR RollR) or soft-sided portability (YETI Hopper M30), so think about your specific needs.
Nothing adds to the thrill of a day out camping or fishing than a cooler, especially a wheeled one. You can drag it through rugged terrains, be it sand or gravel. Some coolers come with accessories like a bottle opener or a dry box attached where you can place your valuables.
Even if it's a simple, cheap cooler for camping, you get to relish your outdoor experience knowing that your favorite drink or meal is within reach. They say a dog is a man's best friend, but we can also add that a cooler qualifies on the list of things you should treasure. That said, let's break down the best cheap coolers for camping. 
Editor's picks
Best wheeled cooler 2023
YETI Tundra Haul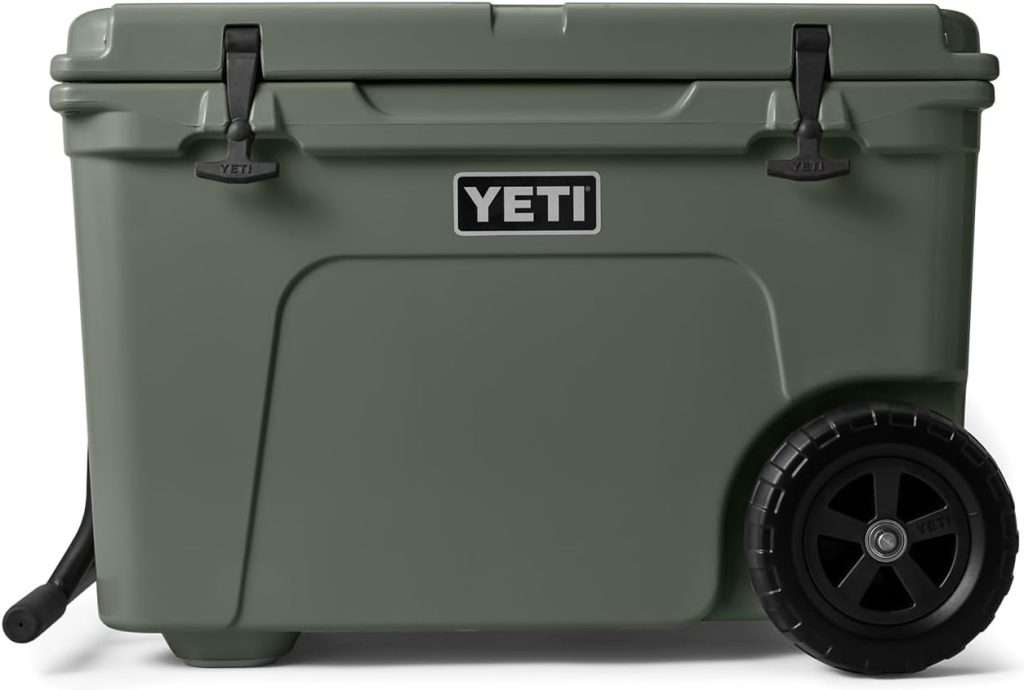 Highlights:
Product dimensions: 28.25 x 19.5 x 18.6 in.
Weight: 37 lbs.
Color options: White, Navy, Desert sand, Coral 
Warranty: 5-year warranty 
The Tundra Haul is one of the best Yeti coolers, particularly if you want something with wheels. It lives up to its reputation as a super-durable product that can traverse any terrain. 
The Yeti Tundra Haul is designed using roto molding. This construction is described as a plastic-molding process that creates double-walled containers. Rotomolded coolers are great for retaining ice and are long-lasting. Yeti's Tundra haul also has a 'never fail hinge' system comprising two hinge systems and an interlocking design for excellent durability. 
What we love about the Yeti Tundra Haul is that it is tough and durable. It has an unmatched insulation power that lets your ice stay as ice for longer. This cooler with wheels also has a durable, welded aluminum arm that makes it easy to tow. 
What's more, it's certified bear-resistant and approved for use in grizzly-prone areas. The only downside to this product is its slightly higher price tag, compared to others.
Igloo ECOCOOL Trailmate 70 QT Cooler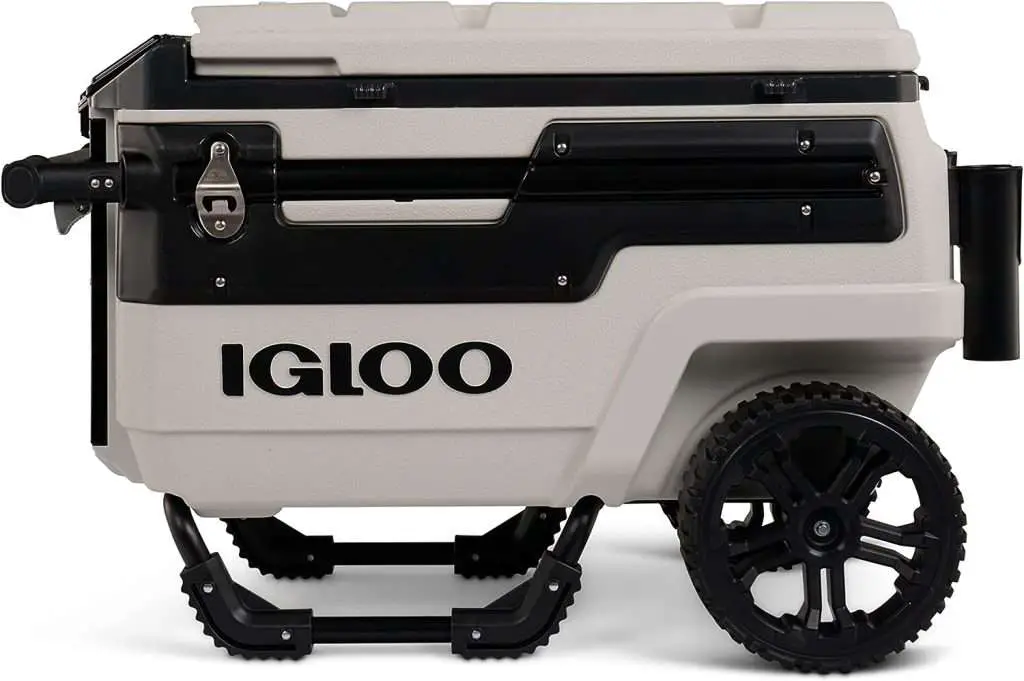 Highlights:
Product dimensions: 34.59 x 19.7 x 23.61 inches
Weight: 34.7 Pounds
Color options: Bone, gray/black, green
Warranty: Limited 
The Igloo Ecocool cooler is a fun, earth-friendly product with many handy features. This big cooler can hold up to 112 cans. It has eco-friendly insulation that can keep ice ice for up to four days. You can easily move it along any terrain using its aluminum telescoping handle and 10-inch, never flat, smooth-ride wheels. 
The Igloo cooler has handy features such as a bottle opener, butler tray, cup holders, food basket, a mobile device stand, and a dry box attachment at the front where you can put all your valuables. You also get a little stash pocket on the front. 
This is a great cooler for camping because of its high durability and ability to traverse any terrain. It has tons of storage, and its telescopic handle makes moving this cooler easily across any terrain. You can easily fit in your fishing rod or umbrella. In addition to this, the company offers excellent customer service. 
The only issue we could find with this product is that it can take up a lot of space, especially if you own a small vehicle or live in a small apartment. 
Rtic 52 Quart Ultra Light Wheeled Cooler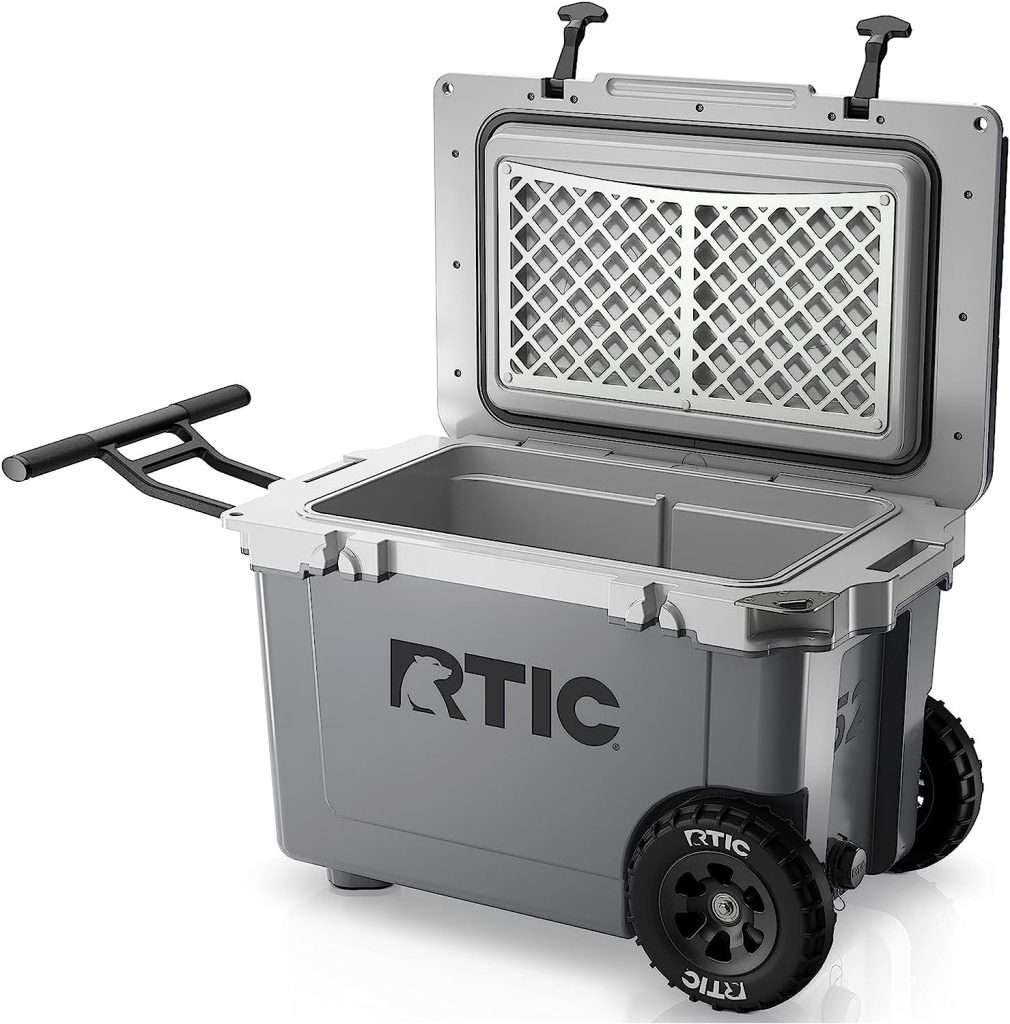 Highlights:
Product dimensions: 29 x 18.25 x 18.75 inches
Weight: 30 Pounds
Color options: Dark Grey and cool Gray
Warranty: One-year warranty 
The next cooler on our list is the Rtic 52 Quart Ultra Light Wheeled cooler. What we have here is the best-wheeled cooler as the wheels are mounted on the outside, and no axle runs through, connecting the wheels. This is one of the best coolers with wheels, considering that the wheels are non-skid and puncture-resistant. 
Rtic comes with an ergonomic handle, making it easy to tow. You can use this cooler on any terrain. Also, it comes with great add-ons like a silicon net and a bottle opener. You can buy a basket and a divider for your cooler, but they are sold separately. 
The ice retention in Rtic is great. If you're going for a seven-day holiday, this cooler will keep your drinks chilled for that long. Unlike other coolers already mentioned, the Rtic is lightweight. Moreover, it comes with rope handles to carry it well without struggling. 
In terms of drain leaks, there are concerns from some buyers. If you notice your Rtic cooler leaks, check the drain plug (from the inside and outside) to see if it's properly screwed. 
The only downside for this cooler is that it is not bear-resistant. So, if you're looking for a cooler that will serve you when you go outdoors in grizzly-bear territory, we suggest you go for the Yeti. 
Coleman 316 Series 62-Quart Wheeled Cooler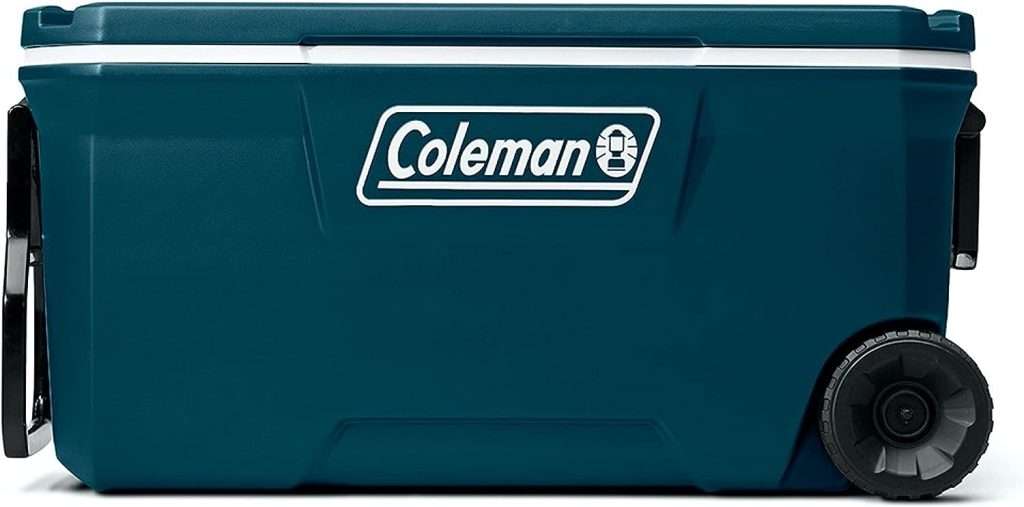 Highlights:
Product dimensions: 15.00 x 28.20 x 18.00 Inches
Weight: 16.77 pounds 
Color options: Blue, white, rock gray 
Warranty: Limited 
If you want a cheap camping cooler with wheels, this product is for you. This cooler can keep your drinks cold for up to three days. The ice retention is good; moving it around is easy, and you can easily carry it. 
Some of the wins with this cooler include very sturdy wheels and handles. It has a UV coating to protect it from the sun. It can hold up to 101 cans, which is great when you factor in its price. Also, it comes with a have-a-seat lid that supports up to 250 lbs. 
What to consider when shopping for the best cooler for camping this 2023 
Consider these factors when shopping for the best cooler for camping this year:
Durability
Consider how well the product handles regular use and, at times, extreme use. Think about your outdoor adventure. If it's a day at the beach, an Igloo Ecocool cooler will serve you well. If you plan a fishing expedition or a few days in a rough environment, go for the Yeti or Rtic. 
Ice retention
Go for a product with respectable ice retention. 
Build quality
Rotomolded coolers like the Yeti tend to have a hefty price tag. Still, you can find a durable, affordable cooler like the Coleman 316, which has a good build quality. 
Features
You should factor in the features that you want for your cooler. Some coolers have unique features like durable construction, great wheels, and ergonomic handles. You may want to factor in products with additional features, such as a latching mechanism, bear-resistance, and a bottle opener. 
Customer service & the warranty
Going for a product with an extended warranty is advisable. However, products with such a warranty tend to be expensive. Great customer service is an added advantage because if you have any concerns, you definitely want a responsive manufacturer.