Best Campfire Cooking Kit: The Ultimate Guide to Outdoor Cooking
Last updated on April 14th, 2023 at 05:17 pm
Have you ever dreamed of cooking delicious meals under the stars on your next outdoor adventure? Campfire cooking kits make it easy to create tasty dishes in any setting, so you can enjoy all of nature's delights without missing out on great food.
In this guide, we'll take a deep dive into everything campfire cooking kit-related from what they are and the different types available to choose the perfect one for your needs! Take advantage of the camping season and tantalize those taste buds with freshly cooked marshmallows while surrounded by Mother Nature's beauty.
Editors Quick Picks
Campfire cooking kits are the perfect companion for outdoor enthusiasts! These convenient and efficient sets of utensils provide everything needed to cook delicious meals while in nature. The kit consists of a portable grill, Dutch oven, skewers, spatula ladle all designed specifically to be used over an open fire.
Perfectly suited for campers or hikers looking for easy clean up after their meal prep is done camping adventurers no longer need to worry about having enough fuel as they take on their next amazing adventure!
Types of campfire cooking kits
There are several types of campfire cooking kits available on the market, including:
Basic Kits – These are the most affordable and include only the essential tools for cooking over a campfire, such as a grill, tongs, and a spatula.
Deluxe Kits – These kits offer more options and include additional tools such as a Dutch oven, skewers, and a grill basket.
Portable Grills – These are standalone grills that can be used over an open fire or charcoal. They are lightweight and compact, making them ideal for backpackers.
Cooking Tripods – These kits include a tripod stand, a grill grate, and a chain. They are perfect for cooking larger meals or for group camping.
How to choose the right campfire cooking kit
To get the most out of your campfire cooking adventures, it's important to pick a kit that meets all of your criteria. Consider size, weight, and durability when picking out the perfect campfire cooking ensemble. These tips are sure to help you cook up some delicious outdoor treats!
Consider the number of people you will be cooking for.
Think about the type of food you will be cooking.
Look for a kit that is lightweight and compact if you are backpacking.
Choose a kit made from durable stainless steel or cast iron materials.
Best Premium – Bruntmor Pre-Seasoned Set
| | |
| --- | --- |
| Brand | Bruntmor |
| Material | Cast Iron |
| Product Care Instructions | Oven Safe |
| Is Oven Safe | Yes |
| Has Nonstick Coating | No |
Key Features
SUITABLE AND PROPER – The Bruntmor Pre-Seasoned Cast Iron is a ready-to-use and versatile 16″ Large Skillet with Dual Handles; a perfect sized cast iron skillet is a 16″ pizza or 6 hamburger patties. Perfect for serving to table presentation.
SUITABLE AND PROPER – The Bruntmor Pre-Seasoned Cast Iron is a ready-to-use and versatile 16″ Large Skillet with Dual Handles; a perfect sized cast iron skillet is a 16″ pizza or 6 hamburger patties. Perfect for serving to table presentation.
BEST FRYING PAN FOR YOUR COOKING STYLE – This large skillet is suitable for frying bacon, cooking eggs, chicken, and steak with no synthetic chemicals. Thanks to its large cooking surface, it is ideal for the campfire, the oven, and the tabletop.
FLEXIBLE – Works perfectly on all cooktops, including gas range, induction, and electricity. A long-lasting exterior that has been pre-seasoned to avoid chipping and cracking. Double-loop handles can help for easy handling.
AN OVEN-SAFE PAN AND EASY TO CLEAN – The Bruntmor Skillet is very durable that can withstand years of cooking. It is oven-safe up to 500 degrees and is fire pit-friendly. They should be manually washed with warm water and restored with natural oils.
CAN BE USED INSTANTLY – A good pre-seasoned deep-pan makes all the difference. This cast-iron skillet is ready to use straight away and very simple to maintain. It has good heat retention that makes an excellent performance for long cooking.
Best Overall – Stanley Adventure Camp Cookset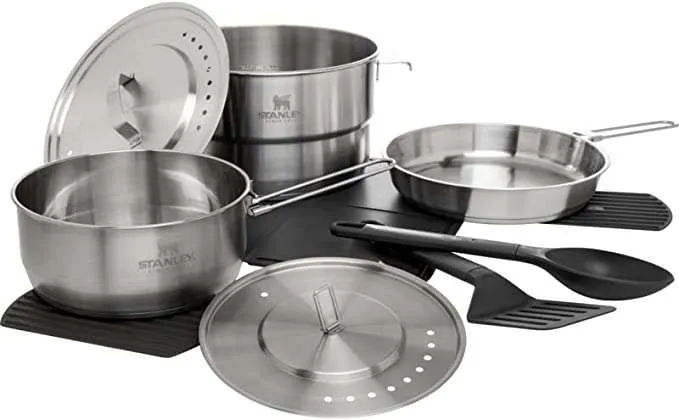 Our family of four is perfectly equipped for any emergency or everyday adventure with our new go-to cookware. The high quality stainless steel pot ensures durability and the heavy bottom skillet heats evenly, yet still packs easily into our gear – complete with an impressive selection of accompanying plastic plates and bowls that are both sturdy and long lasting. Thanks to Stanley's superb craftsmanship in its products, these pieces will be around for generations!

Enjoy perfectly-sized covers for your leftovers with our fitting plates, ideal to fit in the pot and perfect if you like sporks. Get insulating protection from hot pots on the tabletop using our drying rack; its big spoon and spatula guarantee a secure connection but can still be loosened up over time without coming apart during use. Complement your set with a little cutting board that is really handy for camping picnicking!

For the family on-the-go, this incredibly lightweight and compact cookware set has it all! Perfectly sized for four people, it's an easy way to stay organized in day-to-day use or while camping. Plus its budget friendly price makes it ideal for any lifestyle — store everything conveniently inside the pot when you're done cooking up a storm with your loved ones!

Editor
| | |
| --- | --- |
| Color | Stainless Steel |
| Material | Stainless Steel |
| Brand | Stanley |
| Item Weight | 5.7 Pounds |
| Number of Pieces | 19, 21 |
Key Features
21 NESTED COMPONENTS: (1) 3 5L pot, vented lid, (1) 7″ 3-ply frying pan, (1) cutting board, (1) spatula, (1) serving spoon, (4) 6″ plates, (4) 22oz bowls, (4) sporks, (1) dish drying rack, (1) heat resistant trivet, (1) locking bungee
TOUGH AND DURABLE: Manufactured using 18/8 stainless steel this cooking set is strong, scratch proof and rustproof No maintenance other than washing is required, making this cookware easy-to-use and reliable for every trip
SPACE SAVING: This comes fully loaded with 21 different pieces that can cook meals for small or large groups without taking up too much space The kit all nests together (instructions are engraved in the lid), making this compact and easy to transport
EASY TO CLEAN: You should spend your time adventuring, not cleaning – that's why we've made our cookware easy to clean A basic clean needs just soap and warm water or a paper towel while steel wool can be used for deeper cleans
Best Budget – KingCamp Camping Cookware Kit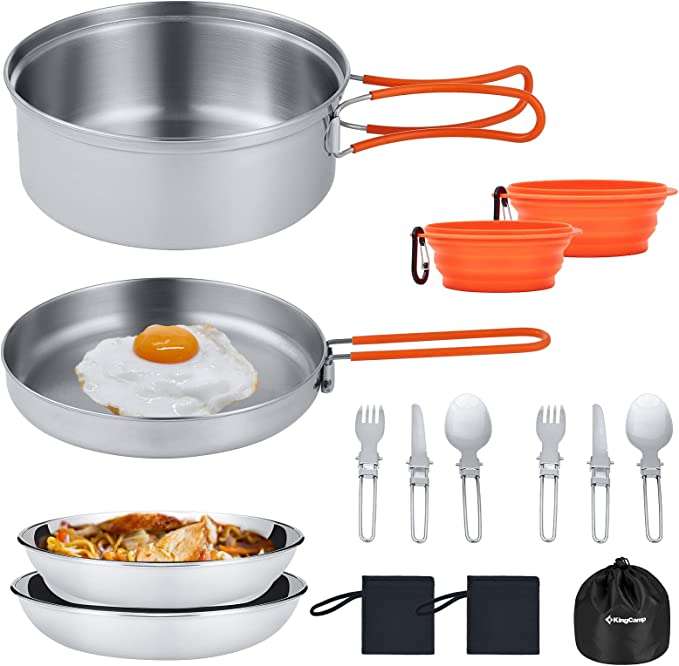 | | |
| --- | --- |
| Color | 17pcs |
| Material | Stainless Steel |
| Brand | KingCamp |
| Number of Pieces | 15 |
Key Features
Premium and Safe Material Camping Cookware】The KingCamp camping cookware pots and pans are made of stainless steel, resistant to wear, corrosion, quick heat transfer.This material makes camping cookware set easy to clean. Collapsible silicone bowl is BPA Free, safe and save space.
17 PCS Camping Cookware Set – The stainless camping cookware set include 1 stainless steel pot approx. 1.5L; 1 stainless steel pan approx. 0.5L; 2 stainless steel Plates; 2 BPA free bowls 250ml, 500ml each one; 2 Carabiners hooks; 2 stainless steel folding knife; 2 folding fork; 2 folding spoon; 2 tableware bag; 1 carry bag.
All-in-1 Small Package – The camping cookware mess kit 7.6×7.6×3.54 inches are stackled into carry bag.It weighs 1.9lbs only.Two BPA Free silicone bowls have carabiners that make you able to hang them on your backpack directly.Just go to enjoy the great outdoors.
Camping Cookware Set for 2 People – It is perfect for lovers to camping, hiking, backpacking, picnics, outdoor adventures, and other outdoor activities, The handles made of PVC, which will not burn or melt.
Quality Assurance – If you have any issues with our stainless camping cookware, Pls feel free to contact us. The after-sales service team will answer and solve the problems within 24 hours.
Campfire cooking techniques and recipes
Cooking over a campfire can be a fun and rewarding experience. Here are some tips and techniques for cooking over a campfire using a cooking kit:
Use a tripod stand for cooking larger meals or for cooking over a higher flame.
Use a Dutch oven to cook stews, soups, and casseroles.
Use skewers to grill kebabs, vegetables, and fruits.
Use a grill basket to cook fish, burgers, and vegetables.
Here are some easy and delicious campfire cooking recipes to try:
Campfire Chili
Grilled Chicken Skewers
Dutch Oven Peach Cobbler
Final Thoughts
A campfire cooking kit is an essential tool for any outdoor adventure. It provides a convenient and efficient way to cook meals in the wilderness. Our Best Campfire Cooking Kit goes to the Stanley Adventure Camp Cookset based on price and quality.
By following the tips and techniques outlined in this guide, you can enjoy delicious meals while enjoying the great outdoors. Don't forget to invest in a campfire cooking kit for your next camping trip and experiment with new recipes to enhance your outdoor experience.