9 Best Blow Up Air Mattress for Camping (2023 Update)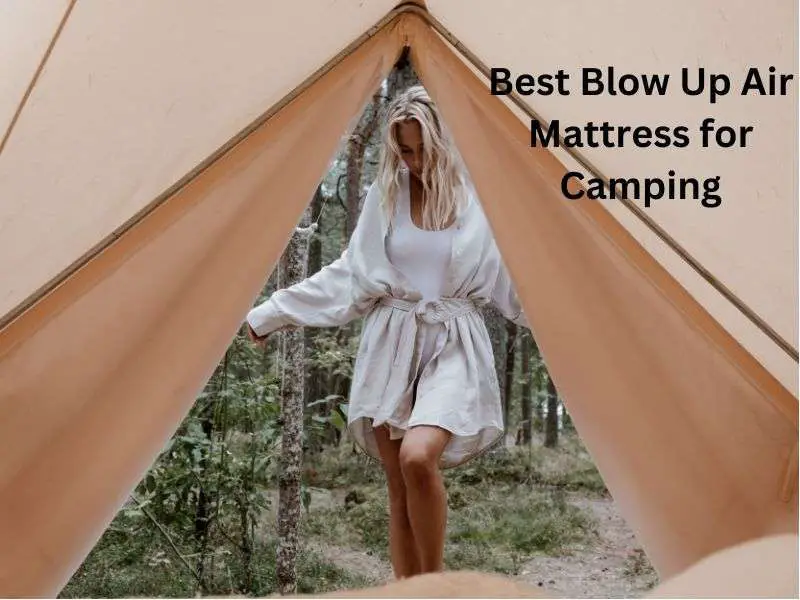 Last updated on August 29th, 2023 at 01:12 am
After a day of fun activities, We like to make our nights more enjoyable and relaxing with one of the best blow up air mattress for camping. After all, camping trips are a great way to enjoy the fresh air outdoors, reduce stress, and strengthen relationships.
But just because you're roughing, it doesn't mean giving up on quality sleep.
Editor's Picks 
Check Amazon Best Selling Air Mattresses for Camping – Check Reviews Here
Air-filled mattresses for camping and backpacking have improved a lot recently. They have become more comfortable and easier to use without losing their portability. To help you choose from all the available options online, we've identified the top-rated inflatable mattresses for camping and backpacking 2023.      
Top 4 Best Blow Up Air Mattress for Camping Reviews 2023
Best For Couples Camping – EnerPlex Air Mattress with Built-in Pump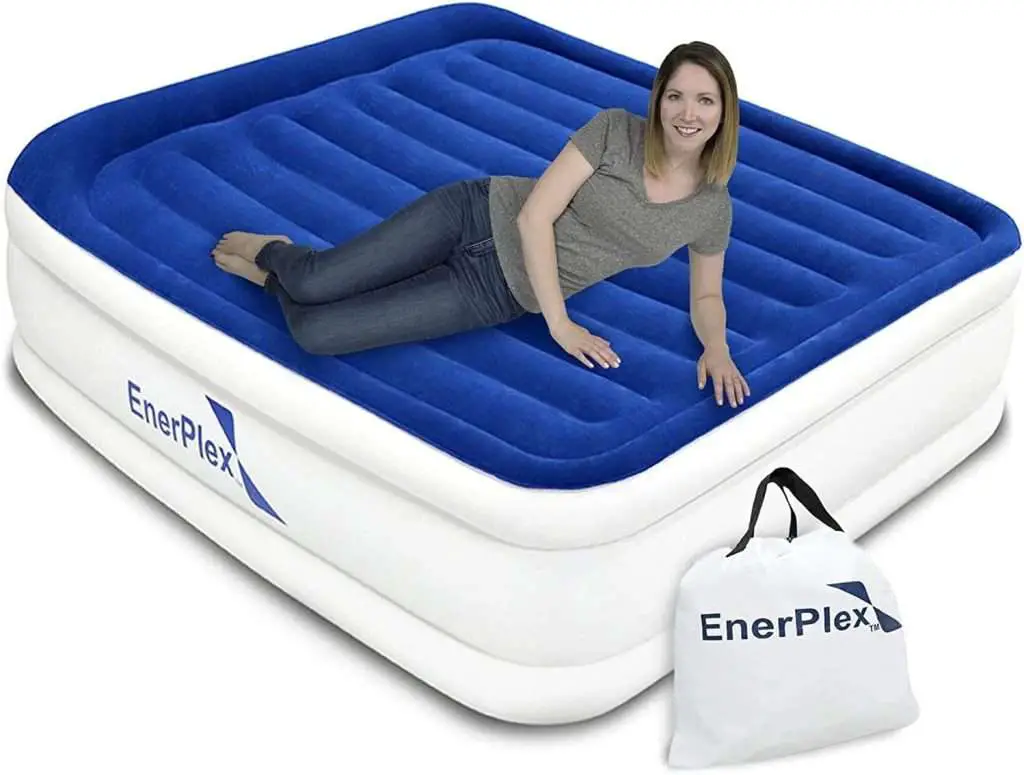 Highlights 
Sizes- twin and queen 
Built-in electric pump
Built-in pillow design
600-pound weight limit
Carry bag included
This could be it if you want an air mattress that closely mimics your bed's comfort. The Enerplex is designed to fit all instances where an airbed may be necessary: think of camping, a guest room, and a spare bed before buying a real mattress. 
The Enerplex is made of a thick polyvinyl chloride fabric. Its welded seams give you an incredibly high weight limit of 600 lbs, besides reducing the chances of leaks.
Its major selling point is the built-in electric pump that reduces blow up time to 2 minutes. No foot or hand pumping is required. And because the pump has a storage compartment inside the mattress, you never have to worry about forgetting it at home. 
When fully inflated, the Enerplex air mattress measures 78″L x 60″W x 15″H. When deflated, it rolls up easily to fit in the oversize carry bag included in the package.
Coleman Camping Cot and Air Mattress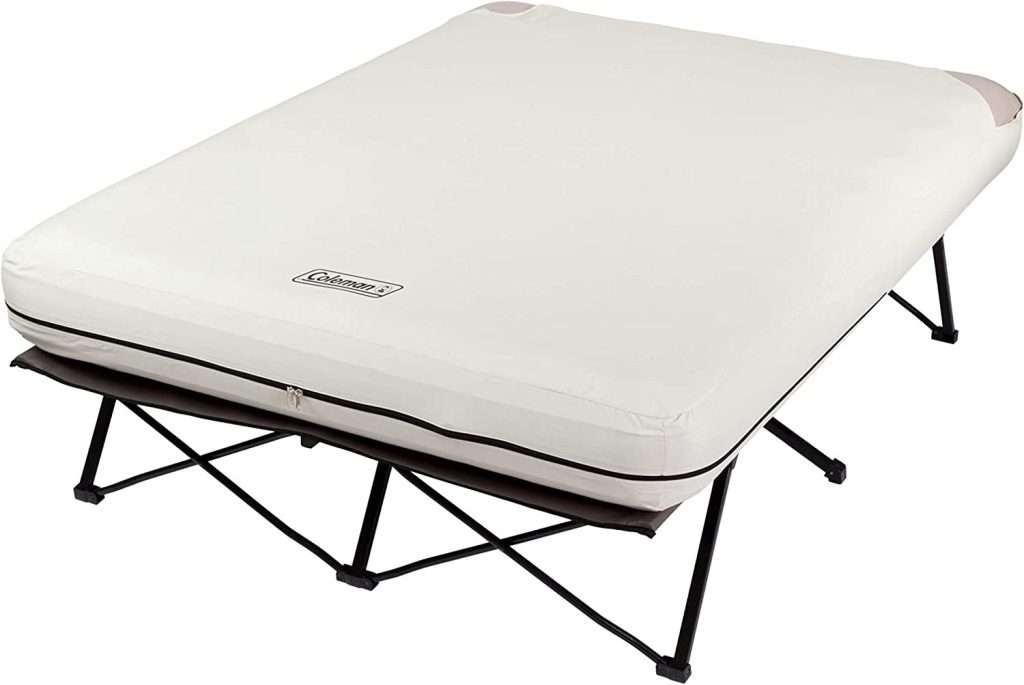 Highlights 
Sizes- twin and queen
Foldable cot and air mattress
600-pound weight limit
Battery-operated pump 
Has a side table 
The Coleman is the best blow up air mattress for campers who prefer sleeping off the ground. This cot and air mattress combo is available in twin and queen sizes.
A common complaint concerning air mattresses is that they aren't supportive enough. That's why Coleman's foldable steel frame with an extra bar in the middle is a relief for most campers and outdoor lovers. Another plus of this design is that you can place your bags under the bed when fully assembled. And it has a side table attached to it! 
The inflatable mattress has a zippered fabric that offers a soft sleeping surface. The package also includes a battery-powered pump. It's not the strongest pump available, but it does the job. 
Lastly, the whole bed (frame and mattress) folds nicely to fit into a carrying bag (included). The entire package is heavy at around 40 lbs. Thus, we recommend it if you won't move between campsites often. 
Coleman EasyStay Air Mattress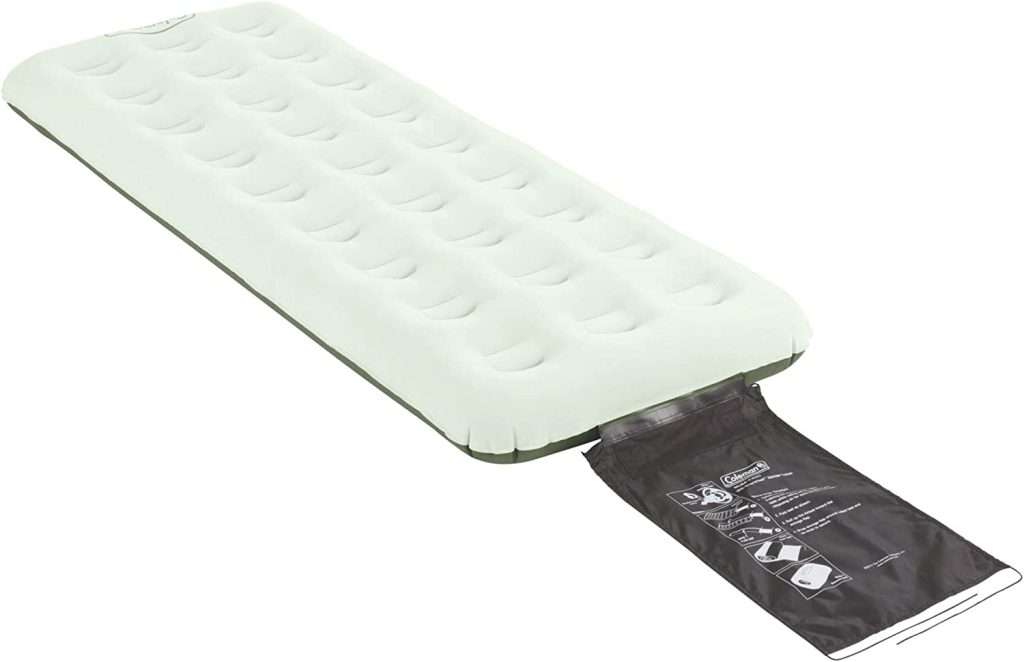 Highlights 
Sizes- twin and youth
300-pound weight limit
Built-in wrap-n-roll storage system
Weighs 4 pounds when deflated
Pump not included
The Coleman Easystay is for outdoor adventurers who prefer the most compact and lightweight comfort items. Weighing only 4 pounds when deflated, this is arguably the most portable camping mattress. It will also interest backpackers, bikers, hikers, and pretty much anybody looking for an inflatable mattress that doesn't add much weight to their outdoor gear. Budget-wise, this is the most affordable air-filled mattress in these reviews. 
The Easystay is a single-high mattress in twin and youth sizes. When inflated, the twin-size model is 73" long, 26" wide, and 6" tall. Its interior features ComfortCoil construction- a technology that enhances support and stability. The mattress also features a double-lock valve to maintain your desired firmness level throughout the night. 
Another notable feature of the Coleman Easystay is its built-in wrap-n-roll storage system for easy packing, storage, and transportation. Note that you'll need to buy the pump separately. Any Coleman air pump will do. 
EZ INFLATE Double High Luxury Air Mattress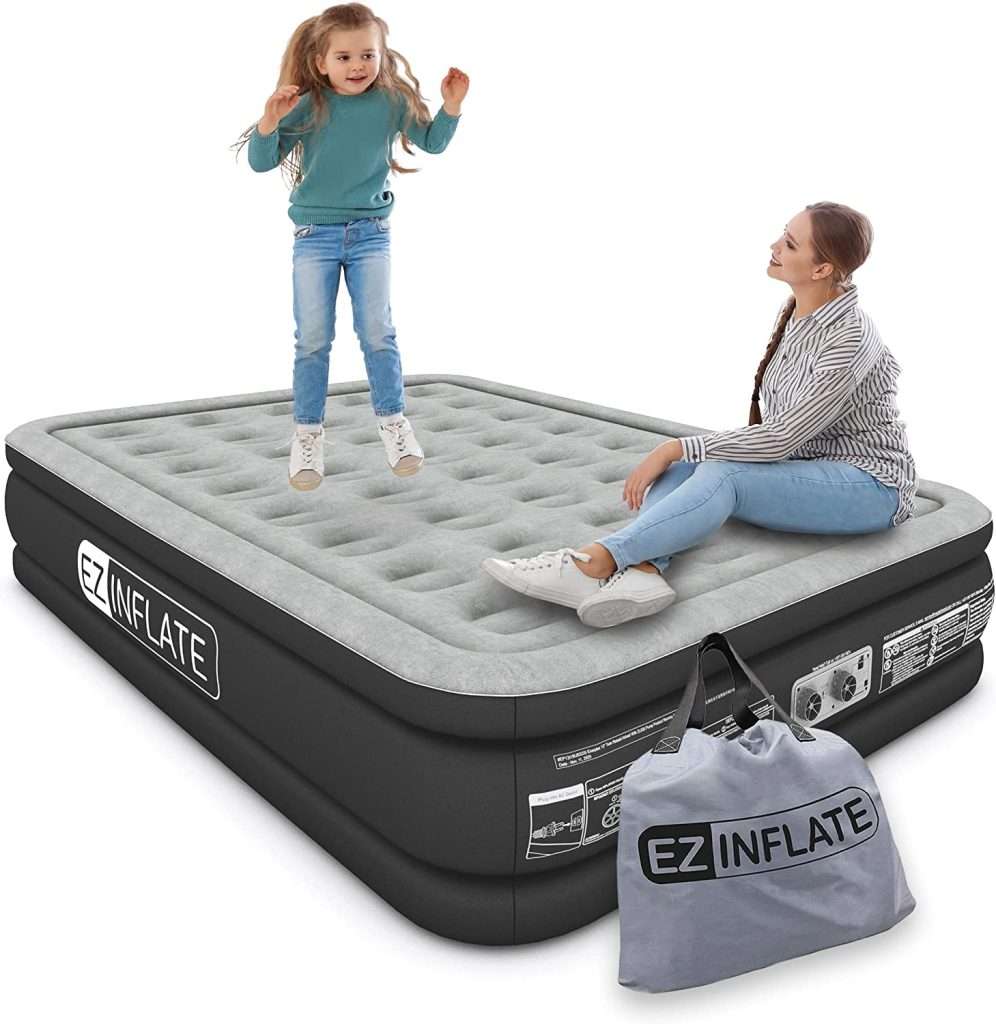 Highlights 
Sizes- twin, full, queen, and king
600 pounds weight limit
Built-in inflation and deflation system 
Triple-layered, picture-resistant design
Sturdy carry bag included
The EZ 16" double high luxury air mattress comes in four sizes: twin, full, queen, and king. It's a little pricier than other models on this list. But it appears to interest more people than other cheap blow air mattresses we've come across for camping. 
Considering its quality, the EZ double-high offers a middle ground between a mattress you can use both indoors and outdoors. It's made of durable PVC and boasts a triple-layer design that makes it puncture-resistant. 
The EZ air-filled mattress has an ultra-soft flocked top to ensure you don't slip around while sleeping. And it also boasts what looks like air coils for enhanced support and stability.
The built-in electric pump takes roughly two minutes to install the EZ air mattress. Deflating it is just as easy. The mattress folds up easily to fit into its sturdy travel bag. 
Buying Guide- How to Choose the Best Blow Up Air Mattress for Camping
Size
The ideal size for your camping mattress will depend on the space available in your tent. Most solo campers are better off with a twin-size air mattress measuring 75" (length) by 38" (width). If you share the tent with a partner, a queen-size air mattress will occupy less space than two twin-size air beds.
Single-Height vs. Double-Height Air Mattress?
Your choice between a single-height and double-height air bed will come down to comfort and portability. Single-height air mattresses for camping are 9-11 inches high. They are ideal for users who don't mind sleeping just a few inches off the ground. On the upside, single tall air beds leave more headroom and are much easier to roll up. They are also lightweight and easily portable. 
Double-height air mattresses are 17" to 21" tall. They take the gold if you want the most comfortable and supportive mattress for camping. But be prepared for their high price tag and weight. 
Lastly, How Do You Inflate It?
The best blow up air mattress for camping should be a breeze to inflate and deflate. Higher-end models have a built-in electric pump. These are the best if you'll pitch your tent at a campsite with electric outlets.
Our advice, however, is to go with an air mattress with a built-in or external electric pump that can be powered using a portable solar-powered battery bank or your car's 12v battery. Even better, get an air-filled camping mattress that can be inflated with electricity or manually using a hand/foot pump.