Best Bamboo Camping Table: Combining Durability, Style, and Functionality
Last updated on July 28th, 2023 at 05:43 am
Camping and outdoor adventures have become increasingly popular, and having the right equipment can significantly enhance the experience. One essential piece of gear is a reliable camping table, and if you're looking for a sustainable and stylish option, a bamboo camping table is the way to go. In this blog, we will explore the benefits of bamboo camping tables, discuss important factors to consider when choosing one, and present our top picks for the best bamboo camping tables on the market.
Our Top Picks
Best Overall – King Camp Bamboo Camping Table – Best Price Here
Best Budget – Dometic GO Compact Camp Table – Get Best Price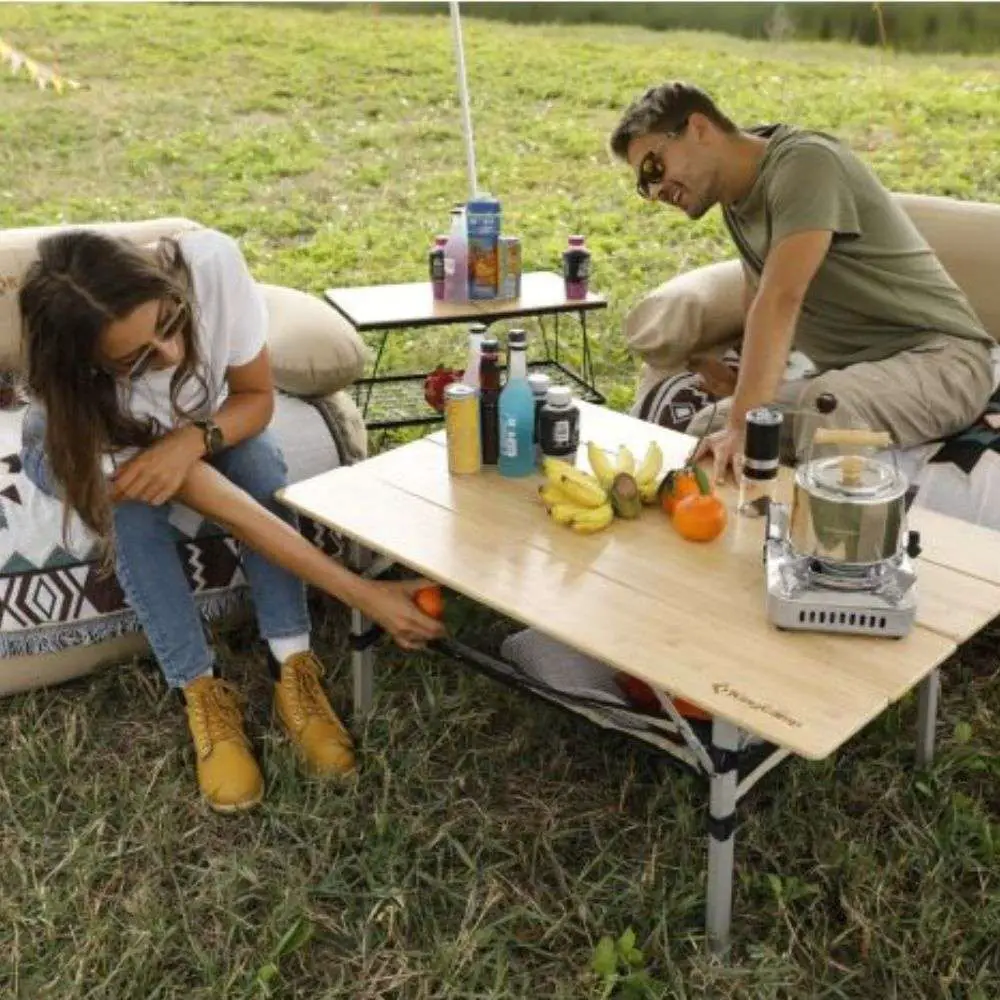 Benefits of Bamboo Camping Tables
Bamboo has gained widespread popularity as a premium material for camping tables thanks to its one-of-a-kind attributes. Here's a rundown of the advantages it provides:
Durability and Strength: Bamboo is known for its exceptional strength, making it capable of withstanding rugged outdoor conditions.
Eco-Friendliness: Bamboo is a sustainable resource that grows rapidly and requires no pesticides or fertilizers. Choosing a bamboo camping table promotes eco-consciousness.
Aesthetic Appeal: Bamboo exudes a natural and timeless beauty, adding a touch of elegance to your camping setup.
Resistance to Heat and Moisture: Bamboo is naturally resistant to heat and moisture, making it suitable for outdoor use and easy to clean.
Factors to Consider When Choosing a Bamboo Camping Table
To ensure you select the right bamboo camping table for your needs, consider the following factors:
Size and Seating Capacity: Determine the table size and seating capacity that will accommodate your camping group comfortably.
Foldability and Portability: Look for foldable tables that come with a carrying case for easy transportation and storage.
Weight and Ease of Transportation: Consider the weight of the table, especially if you plan to carry it on longer hikes or backpacking trips.
Stability and Sturdiness: Check for features like sturdy legs and a reliable locking mechanism to ensure stability during use.
Height Adjustability: Some tables offer adjustable heights, which can be beneficial for various activities and user preferences.
Additional Features: Consider any additional features that might enhance your camping experiences, such as built-in cup holders or storage compartments.
KingCamp Bamboo Camping Table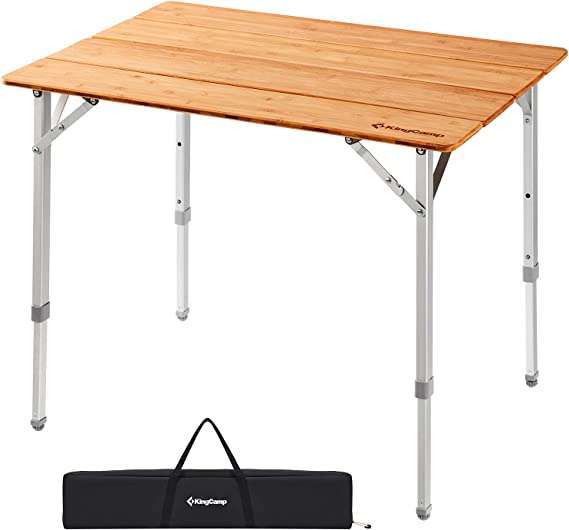 The King Camp 4-Person Bamboo Folding Camping Table is the ultimate outdoor furniture to elevate your camping game. This versatile table boasts a sturdy bamboo construction that's both portable and foldable, complete with ample seating capacity. Our review will delve into the table's features and assess the overall performance, so you can decide if it's an essential part of your outdoor gear.
| | |
| --- | --- |
| Product Dimensions | 39.37″D x 25.59″W x 25.59″H |
| Color | Size 39.3" * 25.6" * 25.6″,4-5person |
| Brand | KingCamp |
| Table design | Dining Table |
| Style | Modern |
Key Benefits
【THICK PURE NATURE BAMBOO BOARD】Bamboo desktop area 39.3*25.6in. This bamboo folding table uses natural bamboo wood with bamboo texture and touched smoothly. The bamboo board is environmental and pretty durable, with waterproof coating and scratch resistance, anti-aging uv treatment and assure it a longer service life.
【THREE POINT ADJUSTABLE HEIGHT】This camp table can be adjusted to three fixed heights according to your different needs. The end of each leg has a adjustment knob for easy leveling. This design greatly facilitates your outdoor life in various scenes.
【HEAVY-DUTY FOLDABLE TABLE】Weight capacity 176lbs, suitable for 4 person use. The thickness of bamboo folding table is 0.6″, and the legs' triangular structure strengthens the table's load-bearing and stability.
【ULTRALIGHT ALUMINUM FRAME】This adjustable height camping table wights only 15.6 lbs. Aluminum brackets are less prone to rust than normal steel. And the weight of aluminum is lighter than steel, the aluminum frame is perfect for your outdoor activities.
【4-FOLD STRUCTURE&NO TOOLS NEEDED INSTALLATION】 This camping table is super easy to install in seconds without any tools and the camp table adopts a collapsible design, the bamboo tabletop and aluminum bracket can be folded in seconds to save space and be carried like a suitcase on your trip, and it also fits most car trunks to meet your camping needs.
【MULTI-FUNCTION FOR DAILY USE】This bamboo portable folding table can be used as a RV table, picnic table, grill side table, dining table, BBQ Table,laptop table, gaming table… Perfect for Camping, Beach, Backyard, Party Patio, Fishing, Sport events, Kitchen, Study and so on in living room, bedroom, indoor or outdoor.
Pros:
Sturdy and durable bamboo construction.
Foldable design for easy transportation and storage.
Ample space for four individuals.
Versatile usage options.
Easy to clean and maintain.
Built-in cup holder.
Cons:
The table might be slightly heavy for backpacking trips.
Limited adjustability in terms of height.
Best Budget Bamboo Camp Table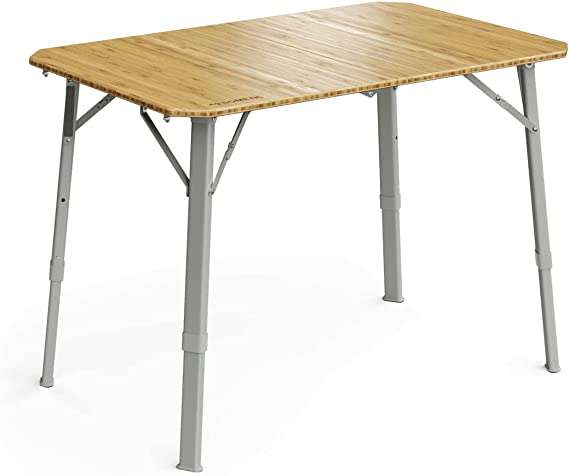 The Dometic GO Compact Camp Table is the ultimate solution for outdoor enthusiasts seeking a portable and reliable table for camping, picnics and other outdoor activities. This well-crafted table is built to withstand the rigours of outdoor adventures, made from sturdy bamboo and high-quality aluminium for stability and durability.
It's designed as a sustainable option with materials that are environmentally friendly and built for longevity. The bamboo surface is not only resilient but also looks fantastic, perfectly complementing any outdoor aesthetic. The lightweight aluminium legs ensure stability while also making it easy to carry, giving you a comfortable space when you're out there with nature.
| | |
| --- | --- |
| Product Dimensions | 5″D x 26.8″W x 21.65″H |
| Color | Bamboo |
| Brand | Dometic |
| Table design | Coffee Table |
| Special Feature | Adjustable Height, Lightweight, Collapsible, Multifunction |
Key Benefits
ADJUSTABLE HEIGHT: The Dometic GO Compact Camp Table has an adjustable height feature, making it ideal for use as a coffee table, kids' table, or dining/prep table.
SEATS 4 ADULTS: With a large surface area, this bamboo table can comfortably seat four adults, making it perfect for camping trips, picnics, and outdoor gatherings.
FOLDABLE AND PORTABLE: The table folds down to half its size, making it easy to transport and store. It is ideal for use in RVs, camping, or other outdoor activities.
STURDY AND RESILIENT: The solid bamboo surface of this camp table is durable and sturdy, while the aluminum legs provide stability. The legs attach at the table corners, optimizing comfort and legroom.
CARRYING CASE SOLD SEPARATELY: The Dometic GO Compact Camp Table comes with an integrated carrying handle for easy transport. However, the carrying case is sold separately for added protection during transport and storage.
Final Thoughts
A bamboo camping table is an excellent investment for outdoor enthusiasts seeking durability, style, and functionality. By considering the benefits of bamboo, important factors during the selection process, and our top picks, you can find the best bamboo camping table that suits your camping adventures. Embrace sustainable camping gear and elevate your outdoor experience with a reliable bamboo camping table that combines nature's beauty with practicality.
Pros:
Sturdy and durable bamboo construction.
Foldable design for easy transportation and storage.
Ample space for four individuals.
Versatile usage options.
Easy to clean and maintain.
Built-in cup holder.
Cons:
The table might be slightly heavy for backpacking trips.
Limited adjustability in terms of height.
Key Benefits
【Camping Table with Storage】Our bamboo camping tables feature a mesh storage layer that attaches to the legs, keeping all your camping essentials organized. You can easily stash your snacks, gear, utensils, cooking supplies, and even your keys on the mesh shelf. With everything at arm's reach, you can enjoy a convenient and tidy camping experience!
【Adjustable Height Folding Table】The versatile camping table features adjustable legs that can be set to three different heights (17.7″, 20.5″, and 25.6″), making it suitable for both standing and seating at various chair heights. When used outdoors on uneven ground, simply adjust the feet knob to keep the camp table stable.
【Multifunctional Folding Camping Table】The bamboo folding camping table is ideal for 2-4 person family indoor outdoor use. As portable picnic table, beach table,travel table, it can provid you wonderful experience in your backpacking, camping, BBQ, picnics, beach, fishing, party, rv, and travel.
【Portable Lightweight Camping Table】The camping table top 39.3×25.6 inches is made of natural bamboo, which is UV treatment, water scratch resistance, environmentally and easy to clean. Anodized aluminum alloy square tube legs, making camping tables that fold up lightweight and sturdy.
【Easy To Assemble Camping Table Folding】The collapsible table can be assembled in seconds, without the need for any tools! Measuring 39.7 x 6.7 x 4.7 inches when folded, it's ultra-compact and perfect for camping, backyard use, and tailgating.Made with a premium kingcamp folding top and aluminium legs, this camping table is incredibly easy to set up and store. Comes with a handy carrying bag – pack it up and take it anywhere!
 Package Inclusions
1 ×Folding Table
1 x Mesh storage bag
1 x Carry Bag
Best option for a folding table
My boyfriend would always grumble when I did puzzles on a large cardboard piece on the floor. Understandably, it was killing my knees and back overtime. A card table offered me no respite as it couldn't contain a whole puzzle. Thankfully, I found this table which is just perfect! I sit myself in a chair with good body posture and work my puzzle on the smooth table top, hardly noticing where it folds. The height is adjustable too, which is fabulous. The table is easy to fold and set up and feels exceptionally robust and well-made. I promise that it's an excellent purchase and urge you to check it out today.
Final Thoughts
The King Camp 4-Person Bamboo Folding Camping Table is an essential accessory for experienced camping enthusiasts. Thanks to its sturdy bamboo build, ample seating, and compact folding design, it's perfect for a variety of outdoor activities. Although it's slightly heavy and not very adjustable, it's an excellent cost-effective choice. If you're looking for a durable and versatile camping table to enhance your outdoor exploits, be sure to give the King Camp 4-Person Bamboo Folding Camping Table some thought.